So, you'll confess to being a sports junkie but at the same time, you've also got a caring eye on the planet and do whatever you can to maintain a sustainable lifestyle.
In today's world, a variety of sustainable holidays let you pursue your wilder adventure sports dreams through eco-friendly and environmentally acceptable packages.
About Us
Sports junkies like to take a walk on the wild side – indeed, they'd prefer to run, jump, or leap rather than just walk their way through any holiday. And the greater the adventure, of course, the greater the risks.
Our Sports Travel Insurance is therefore designed to meet the risk of any injuries you suffer by covering your emergency medical expenses – including the cost of repatriation, if necessary. Added to that is further cover, extensive enough to make ours an especially worthwhile travel insurance package.
Sustainable holidays
For the eco-conscious sports junkie, one of the biggest challenges is the question of transport – not only travelling to and from the chosen destinations for your sports but getting around once you've arrived there.
Recent years have taught us all that it is through the spiralling demand for international travel that some of the more extensive environmental damage is done. So, here are some suggestions for more sustainable holidays for sports junkies.
Shank's pony – walking holidays
If you're worried about the environmental damage done by motorised transport, simply take to your own two feet.
You could pick practically anywhere in the UK or Europe to organise a walking tour, of course, but some destinations might prove a greater appeal – and offer more adventure to the sports enthusiast – than others.
Exodus Travels, for instance, focuses on the remote and rugged south-west corner of the Greek island of Crete for a 7-day adventure along ancient trails and shepherds' trails through rocky gorges and boulder-strewn coastal paths – when you're not on foot, you're as likely to be covering the intervening few miles by boat.
Getting to Greece, there are two eco-friendly routes you could try* going from:
–  the UK by train to France and on to Italy and getting a ferry;
–  from the UK via train via France, Germany, Hungary, Serbia and Bulgaria to Greece.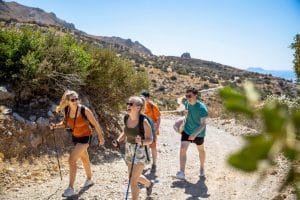 E-bike it!
Coming to the rescue of all those in search of a sustainable holiday without the huff and puff of over-exertion is the electrically-assisted e-bike.
LoireLife Cycling gets you on those two wheels through a range of cycling tours along the charming and visually stunning Loire Valley in central France.
Sat astride one of the company's Gitane Organ' Electric Bikes, you'll find yourself easily covering the daily 45km or so of its Loire Valley Discovery Tour – and still have more than enough energy to enjoy the lavish evening meals at the end of each day.
A cross-Channel ferry, followed by local rail services by SNCF will help reduce your toll on the environment.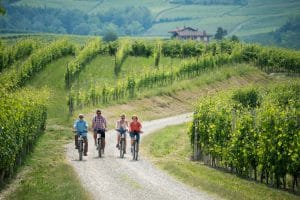 Electric road trip
Continuing the virtues of electrically-powered transport – but in a tad greater level of comfort – is the "grand electric road trip" (the E-Grand Tour) organised by Switzerland Tourism along a route that traverses five Alpine passes, skirts more than 20 lakes, and saunters through the lush vineyards of the Montreux Riviera.
If you don't own an electric vehicle get to Switzerland via the Eurostar, change at Paris and then get a train onwards to your destination.**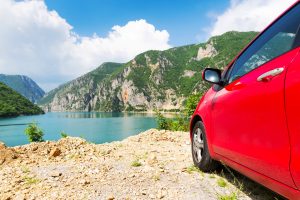 Take to the water
Journeys by sea, of course, are typically more eco-friendly than jetting away somewhere – and they've just got eco-friendlier still thanks to a new ship that Brittany Ferries has put into service on its routes between Portsmouth and Bilbao in Spain and Cherbourg in France.
The 215-metre long Salamanca, carrying 1015 passengers and their vehicles is powered by liquified natural gas (LNG).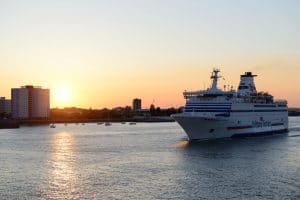 Sails in the sunset
Thanks to the power of the wind, however, you'll never have to rely on any other fuel if you're at sea on a sailing ship.
Sunsail has many years of experience in Mediterranean charters and can bring you the luxury and relaxed pace of life under sail that could be the perfect contrast to those sports junkies taking a rest from their wilder adventures.
You'll have reached your Mediterranean port of departure after an overland trip by rail, of course.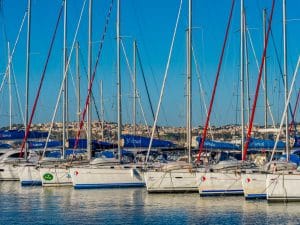 Summary
Sports junkies can be eco-warriors too! All it takes are careful and discerning choices made when you are arranging your next sustainable holiday. Of course, whichever sport and destination you choose, make sure you're fully protected with Sports Travel Insurance.
Further reading – check out our blog on Summer Travel is Back: Our Top Picks for Sports Holidays
* https://rail.cc/train/london-to-agios-nikolaos-crete