You'll know that in your golf bag or cart you'll typically carry two kinds of golf club – woods and irons. The woods you'll usually employ to gain as much distance as possible down the fairway, while the irons will give you a distinctive swing to your stroke.
A hybrid golf club is just that – a combination that gives you the desired qualities of both wood and iron in a single club.
About Us
Whenever you're investing in new golf clubs – or any golfing equipment, for that matter – you'll almost certainly give some thought to the expense of having to replace them if they're lost, stolen, or damaged.
With our comprehensive Golf Insurance, you can safely put away such worries as well as any concerns about your public liability if you injure someone else or damage their property, together with your own personal accident cover.
About hybrid golf clubs
They were developed around 25 years ago and have since become a go-to, all-round, utility, or "rescue" golf club known for its forgiving ways and ability to fly the ball higher into the air with less effort.
Purpose
Hybrid golf clubs address some of the difficulties commonly encountered by golfers attempting to use the so-called "long" irons – numbers 1, 2, 3, or 4. It's notoriously difficult to get consistent results with these clubs, so that 1 and 2 irons, in particular, tend to be used only by the best players.
Hybrid clubs present a solution to the challenges of long irons and provide a welcome alternative.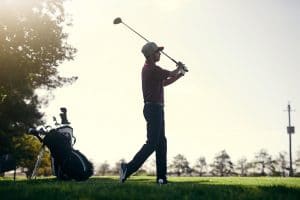 When to use a hybrid club
Typically, a hybrid club is chosen when play is still some way away from the green – with, let's say, 170 yards or more still to go.
The club can be used off the tee itself, or when you are already in play, from the fairway or the rough.
Although not impossible, hybrid clubs are generally not used once you've approached the green and are chipping around it.
Do you need a hybrid golf club?
To answer that question, you might want to go back to some of the reasons for using one.
Imagine you've taken your tee shot with the appropriate wood driver. Yet you still find yourself 200 yards or so away from the green. Conventional advice would have you pulling a 3 iron from your bag to take the next shot. Even if you've picked the right club, though, it is likely to be difficult to get enough force through the stroke to reach the height the ball needs. So, instead of a clean strike, you scuff or hook the ball.
A hybrid golf club could help you avoid all these unfortunate events – and that could prove reason enough for having one in your bag. You might find it especially useful when you need to recover shots from the rough since they'll be less prone to snagging or catching in the long grass when you take your swing.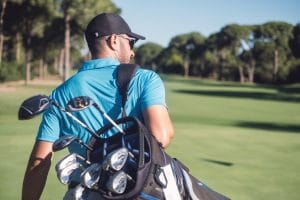 What about the rest of the clubs in my bag?
If you opt for a hybrid golf club, you might want to use it in place of a 3 or 4 iron – or both. The remaining clubs in your bag would then present a fairly standard picture – your main driver, a regular 3 wood, a 4 iron, sand wedge – possibly a lob or gap wedge – and your putter.
Golfers with less forceful swings might choose two types of hybrid club to replace both the 2 to 3 iron selection and the 4 to 5 range. Some bags might even rely on hybrid golf clubs alone, with the sole addition of short irons, wedges, and the putter.
Summary
They've been around for quite a while, but many golfers might still be unfamiliar with the uses and benefits of a hybrid golf club. As you consider the points we've made, you might think about investing in one.