When planning your summer trips, you may think of holidays with family or friends, but why not try solo travelling? Although the prospect of travelling alone can feel daunting, google searches for solo travel locations have seen a rise of 160% in the past year and a recent study found that 58% of millennials travel alone. 
Solo travel boasts many benefits, allowing travellers to be selfish with the activities they choose as satisfying a group's interests can be one of the most difficult things when travelling with friends. There's no need to compromise when you're travelling alone! 
Here at SportsCover Direct, we wanted to uncover the best countries for solo travelling…
Best countries for female solo travellers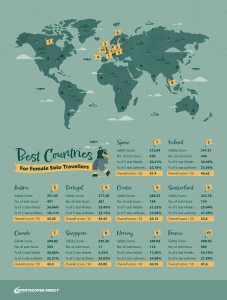 A survey in 2020 found that nearly 50% of women said concerns around safety were the biggest blocker when travelling alone and 31% had anxiety about it. Taking into consideration women's safety scores, the number of tours available, five-star hotels and five-star activities we can reveal the best countries to visit for solo female travellers. 
The best country for female solo travellers is Spain which has an overall score of 47.4/50. The country is the safest for women and also has a high number of solo tours, including a nine-day trip which starts in Madrid and ends in Barcelona. 
Ireland is the second-best country with an overall score of 46.65/50 for female solo travelling. Ireland has 39.49% of five-star hotels according to Tripadvisor, so female travellers will have no worry about finding safe and comfortable accommodation whilst on their travels. 
The third best place for female solo travellers is Austria. The country boasts 401 solo tours, ranging from hiking the Dachstein high altitude path or the Enns cycle path- with something of interest for anyone! 
Portugal has an overall female solo travel score of 44.45 and is the fourth-best country to visit. Tourists can dive into the history of Lisbon or take in the colourful architecture of the gorgeous Sintra. 
Closely following in fifth place is Croatia which has a female solo travel score of 44.15. From waterfalls and forests to caves and intriguing architecture, Croatia is one of the most beautiful places to visit in the world. 
Best countries overall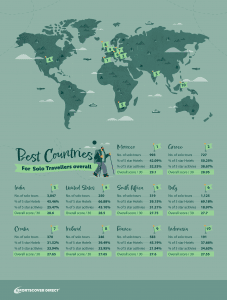 What are the best countries to visit overall for solo travellers? When we look at the number of solo tours, the % of five-star hotels and the % of five-star activities on TripAdvisor Morocco is revealed as the best country for solo travellers. 
52% of the activities listed on Tripadvisor for Morocco are rated with five stars. The best-rated place to visit is Jardin Majorelle, a peaceful and shady garden which contrasts with the busy streets of Marrakech. 
Greece is the second-best place to visit for solo travellers with a score of 28.95/30. Tourists can sail to some of the most idyllic Greek islands from Mykonos to Santorini whilst sipping on cocktails and feasting on Grecian delights. 
With 3,047 solo tours, India comes in third place for solo travellers. No trip to India is complete without seeing the infamous Taj Mahal, for a more active adventure travellers should also visit the Ranthambore National Park. 
The U.S. has a solo travel score of 28.5 out of 30. 66% of the hotels listed on Tripadvisor are rated five-star, providing travellers with somewhere comfortable to rest after touring the different activities the country has to offer. 
Solo tours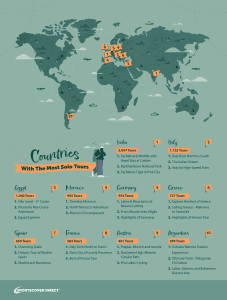 Despite travelling alone, solo travellers often want to meet people on their trips, whether it's locals or other tourists so solo tours are great for this. 
India offers the most solo tours for travellers, with a total of 3,047. The most popular tour according to TourRadar, is a tour around the Taj Mahal and Wildlife with a Royal Stay at Castles. Tourists can see the breathtaking Taj Mahal and then go on to see cheetahs, panthers and tigers on an incredible safari! 
Italy has the second most solo tours, with 1,125. Top tours include 'The Italian Dream' where tourists can have lunch in Tuscany and then discover Bologna's historical city centre. 
In third place, Egypt has 1,040 solo tours. The most popular tour is the 'Nile Jewel cruise' which starts in Cairo and then explores the west bank of Luxor, Kom Ombo and Edfu. 
Top tips for solo-travel 
Research
The most important thing you can do before embarking on solo travel is research. Whether it's researching the neighbourhood you are staying, the accommodation and activities, if you have all the information you need you'll be prepared for anything! 
Find people with similar interests
Solo tours that tie in with your interests are a great way to find connections with similar interests when travelling- as solo travel doesn't necessarily mean travelling alone.
Make sure you're covered
When travelling it's always important to have the correct insurance for the activities you may want to explore from kayaking to hiking, there are many adventure sports that typical holiday insurance doesn't cover. Which is why sports travel insurance policies are perfect for keeping you covered for the expenses of emergency medical treatment if you're injured. 
Stay Somewhere With Multiple Positive Ratings
When travelling alone, you can feel more vulnerable when in an unfamiliar place. Before booking your accommodation, do your research and only stay in a place which has multiple positive reviews. The reviews typically give you an idea of the host, neighbourhood and the standard of your accommodation. 
Methodology 
To uncover which countries were the best for female solo travel we scored the 50 most populated countries in the world on their women's safety scores, the number of solo tours, the percentage of five-star hotels and the number of activities which were rated five stars in TripAdvisor. 
The women's safety score and solo tour were weighted higher with a total of 20 points available and the hotel criteria and activity criteria had five points available with an overall score out of 50. The countries with the highest score out of 50 were ranked the best. The best overall countries had the same scoring system minus the women's safety score. 
The best counties for solo tours were ranked from the countries that had the most to least.