Every winter, thousands of Britons head south to the French Alps for skiing holidays, enjoying some of the best snow conditions, accommodation, atmosphere and cuisine in Europe.
Because of the area's popularity, it's vital to plan ahead and research your options thoroughly, so that you and your companions get the best experience possible. In particular, there are so many different resorts to choose from that it can be hard to know which one to pick.
In this blog, we'll explore why ski holidays in the French Alps are so popular, the key things to consider when planning your trip, and our top choices of resort.
Why is a French Alps ski holiday so popular?
There are lots of reasons why France is such a popular choice among UK skiers. One of the main factors is accessibility: as you'll read below, the region is easily reachable by road, rail and air, and it's one of the closest winter sports hubs to the UK geographically.
Another aspect that British skiers particularly enjoy is the food and drink: France is world-renowned for its cooking, and there is plenty for visitors to savour after they've finished on the pistes for the day. And then there's the reliability of the conditions – unlike many places, the French Alps don't tend to lack snow if the weather isn't as cold as expected, meaning that skiers can travel in confidence that most or all lifts will be open.
What should you consider when planning a French Alps ski holiday?
In order to get the best possible ski holiday in the French Alps, there's lots of planning to do before you go. In particular, make sure you cover off these four areas:
Piste variety
The great thing about a ski holiday in the French Alps is that there's so much variety. There are resorts that cater for all abilities, those that present a challenge to more advanced skiers, and even those that are mainly focused on snowboarding. Working out which resorts cater for which types of skiers can help you get the best experience for you and your group.
Accommodation
As the French Alps is an extremely popular winter sports destination, it's vital that you book your accommodation as early as you can. Make sure you consider the overall character of the resort when you book and that it fits in with your preferences: for example, if you want a peaceful night's sleep or travelling as a family, a party resort like Val Thorens probably isn't for you.
Travel
The most popular airports for travelling to the French Alps are Chambery, and Geneva in Switzerland (many find it easier to fly into Geneva and cross the border into France). You also have the options of driving down through France, or taking the dedicated ski trains from London that Eurostar runs during the winter. Don't forget to factor in the additional cost of taking your skis, which can be substantial when travelling with some of the 'low-cost' airlines.
Insurance
You may think that by possessing a European Health Insurance Card (or its post-Brexit replacement, the Global Health Insurance Card) that you're covered if you need medical attention while away. This is only partly true, as the provisions of EHIC or GHIC only extend to basic medical cover. If you need a long hospital stay, air rescue, private medical care or repatriation, healthcare costs can quickly ramp up, which is why taking out insurance cover is absolutely essential.
Our favourite resorts for French Alps skiing holidays
There really are so many different ski resorts in the French Alps to choose from that we can't list them all here. Instead, we've picked out four of our favourites, which between them cover every type of group and level of ability:
Paradiski
The Paradiski region is a combination of three major resorts: La Plagne, Peisey-Vallandry, and Les Arcs overlooking Mont Blanc. It gives you more skiing than you could ever want: 264 pistes totalling more than 250 miles in length, off-piste options everywhere, and comprehensive accommodation choices. There really is something for everyone, although La Plagne is the stand-out choice for families.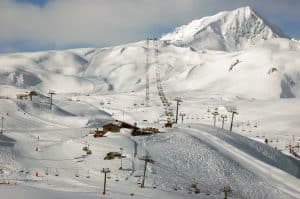 Portes du Soleil
Portes du Soleil is an enormous ski complex that straddles the border between France and Switzerland. Nearly 300 pistes are accompanied by a complete range of accommodation options, from budget chalets to five-star hotels. It's a great place for food and drink in the evenings, too – as long as you bear in mind that you might need Swiss francs as well as euros…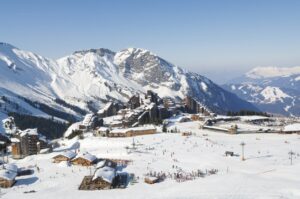 Val Thorens
If you're travelling at Christmas or even at Easter and you want a cast-iron guarantee of snow, Val Thorens is your best bet. It's the highest ski resort in Europe at 2,300 metres above sea level, and most of the accommodation there is ski-in, ski-out. There's plenty off piste choice, especially as Courchevel and Meribel are within easy reach, and it's a great town for partying in the evenings, too.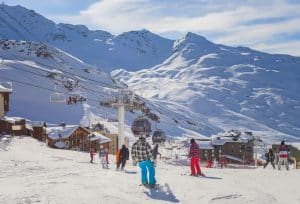 La Clusaz
If you're looking for a trip that's a little quieter and off the beaten track, then the village of La Clusaz is a good alternative option. It has a traditional Alpine feel to it, with around 80 miles of pistes, many of which are good for beginners. It's also easy to reach, taking only around an hour to drive there from Geneva airport.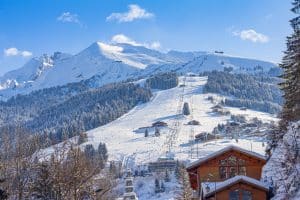 Get ski insurance with SportsCover Direct
Wherever in France you intend to ski this season, make sure you've got the right insurance cover in place before you go. At SportsCover Direct, we've been insuring skiers like you for 30 years, helping you get peace of mind when you travel and confidence that you won't be out of pocket if anything goes wrong.
When you take out one of our ski insurance policies, you're covered for personal accidents and injuries, any medical expenses not covered by EHIC or GHIC compensation for travel disruption including luggage that's stolen, damaged or lost, and much more.
Take a detailed look at our competitively-priced ski insurance policy options here.