If you're irritated by crowds of people on your favourite runs, bored of queues for the ski lifts, or concerned about the risk of collisions, then there's always an alternative for you to explore on your next ski holiday.
Off-piste skiing is the ultimate adventure, where you descend unprepared slopes that aren't marked by poles, and where you have the freedom (within reason) to ski where you want.
It's understandably a popular winter pursuit, and there are stunning backdrops to enjoy all over the world. But off-piste ski holidays have to be planned and considered carefully, especially from a safety perspective. This guide highlights the benefits of off-piste skiing, explores a selection of top destinations, and summarises some key things to bear in mind before you go.
Why go off-piste skiing?
Off-piste skiing can be an extremely liberating activity. Not only does it mean you can get some space to yourself and ski on virgin powder, but it also gives you a real sense of adventure and a chance to explore some breath-taking scenery. Being in a situation where it's just you, your skis and the elements can give you a real adrenaline rush and test your fitness and skills to the limit.
However, it's not as simple as clipping into your skis and going. Many people choose to go on off-piste guided ski holidays, where a professional local guide takes small groups across a selection of locations. This gives them the sense of freedom that off-piste skiing provides, as well as the reassurance that they're in good hands and are only exploring areas that are safe. Independent off-piste skiing should only be undertaken by highly experienced and confident skiers, so if you haven't done much of it before, a guided trip is the best place to start.
Our favourite off piste ski holiday destinations
There are superb off-piste skiing opportunities all over the world: so many, in fact, that we couldn't possibly list them all here! Instead, we've picked out five of our favourites – three in the Alps and two in North America – which combine off-piste adventure with good access to accommodation and facilities:
Chamonix, France
Starting high in the French Alps, the Vallée Blanche just outside Chamonix is probably the world's best-known off-piste run, dropping more than 2700m over its 20km route. There's no surprise that skiers the world over have it on their bucket list, given some of the stunning scenery that surrounds it. Additionally, areas like Les Houches and Balme are good powder runs that don't pose too many hazards, which are ideal for those who want to try going off-piste for the first time.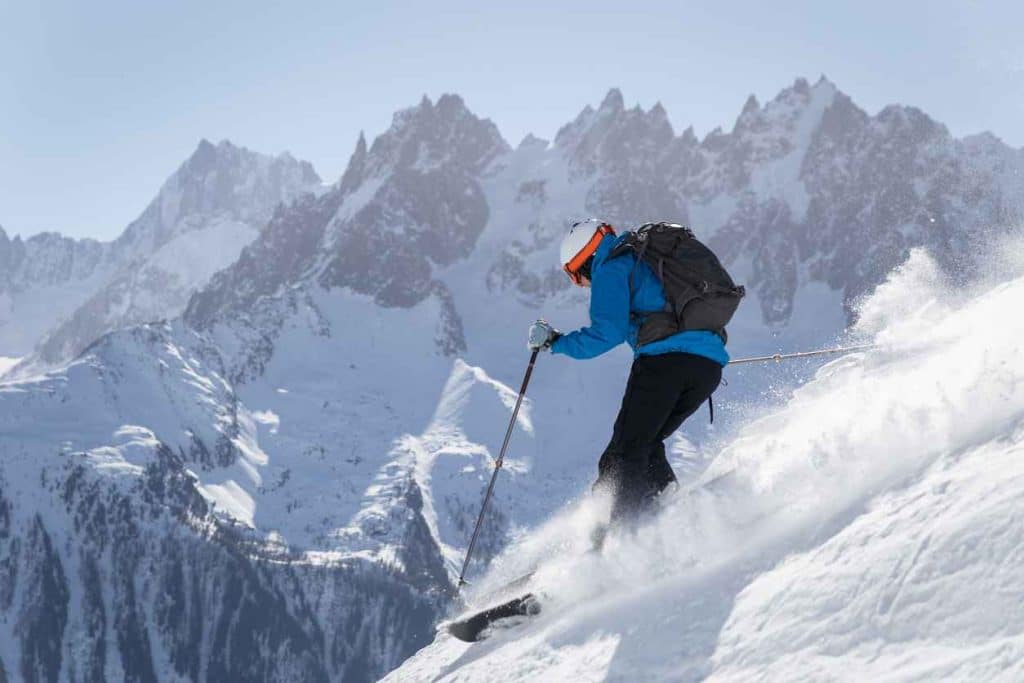 Verbier, Switzerland
Verbier is manna from heaven for skiers that love to stray off the beaten track. It's teeming with ski lifts, and the towering Mont Fort summit above the town only has one recognised piste, meaning the rest of it is free to be explored. A wide range of environments, from high peaks to tree-lined slopes, means there really is something for everyone. And if you're feeling particularly bold, try the Bec des Rosses – it isn't for the faint-hearted…
St. Anton, Austria
This Austrian resort has a reputation for its rest and relaxation as much as its skiing – but if you want to get up to speed with off-piste skiing, this can be to your benefit. There are plenty of companies based in St. Anton that operate off-piste guided ski holidays, helping you hone your skills before heading onto wilder slopes. There's a good mix of gentler slopes and steeper drops, giving everyone in your group plenty to choose from throughout your stay.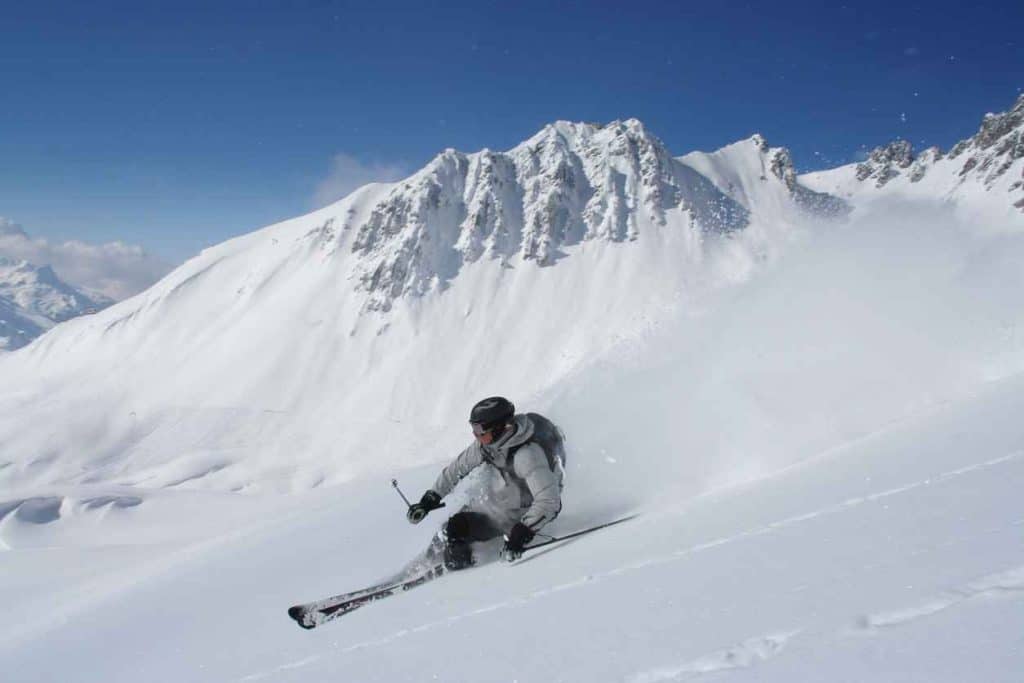 Jackson Hole, USA
It wasn't so long ago that off-piste skiing – or 'backcountry skiing', as it tends to be called in North America – was frowned upon or even banned in most US resorts. But times have changed, and there's a whole new world of powder to sample on the other side of the Atlantic. We recommend Jackson Hole in the state of Wyoming, which is full of incredibly deep descents which will test your speed control but are hugely rewarding if you get them right.
Whistler, Canada
Canada is known for wide open spaces, and you'll certainly get plenty of that in Whistler, British Columbia – there are literally hundreds of thousands of acres to explore. Some of the runs are well-known in town, but the local guides (of which you'll find plenty) are full of trade secrets and have their own favourites they'll recommend. It's one of North America's premier ski destinations – and it won't take you long after you arrive to realise why.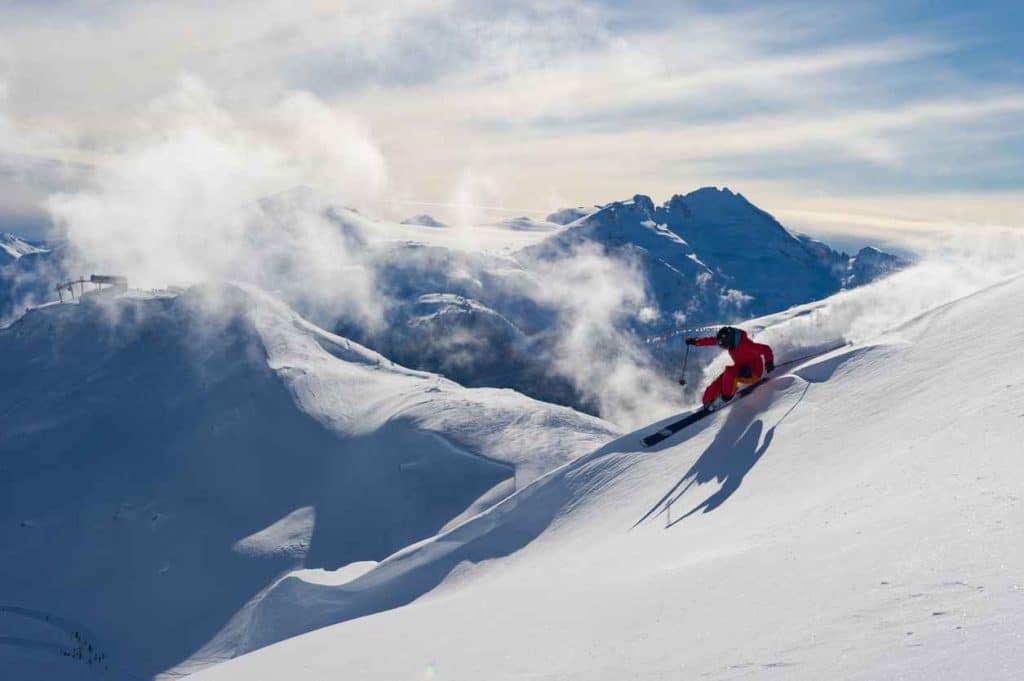 Key things to remember about off-piste skiing
Perhaps the most important thing to bear in mind when skiing off-piste is to expect the unexpected. Runs that haven't previously been checked by professionals may have sudden or concealed hazards, and you should ski sensibly so that you can take avoiding action if necessary.
Another vital responsibility is to listen to local expertise. The people that live and ski in the area will know the landscape much better than you, so you should heed their warnings of avalanches and steer clear of areas they say aren't safe.
Both of these factors run alongside the need for good-quality safety gear and extensive insurance cover, as you'd use on any ski holiday.
Get off-piste skiing insurance with SportsCover Direct
Off-piste skiing requires plenty of confidence, and knowing that you have comprehensive insurance is a big part of that, especially as there's the risk of getting hurt in a remote location.
At SportsCover Direct, we can provide competitively priced policies that cover off-piste skiing specifically, including independent skiing without the accompaniment of a guide. Our policies can cover up to 21 days of off-piste activity per trip, and up to 31 days on an annual policy, and can reimburse you if an avalanche closes your resort, or if a lack of snow forces you to travel further afield.
Get more detail on everything our off-piste skiing insurance has to offer.