Sport England's latest Active People survey showed positive results for the number of people taking part in sport, with numbers up in a variety of different activities and a record number of women getting active on a regular basis.
The likes of swimming and football are top of the list in terms of specific sport people are taking part in, but more participants doesn't necessarily mean more chances of injury.
The former doesn't necessarily seem like a sport with a high risk of injury, but with 2.52 million people swimming once a week, it's somewhat surprising that SportsCover Direct haven't had a single sports injury related claim for the sport in the past 12 months.
In fact, of the five most popular sports in the UK, only cycling features in the top quintet of sports for injury claims in the last year.
Mishaps on two wheels (be it BMXing or road cycling) made up for 31 per cent of sports injury claims for SportsCover Direct.
Two other sports join cycling to make up over 60 per cent of sports injury claims in the past year with skiing (20%) and rugby (union and league) (12%) perhaps two of the less surprising results.
The likes of boxing and martial arts, both in Group 6 – one of our highest risk groups – saw no claims for sports injury in the past year.
Even football, with millions playing and a reputation for Sunday league games often seeing the tackles flying in, made up just 3% of injury-related claims.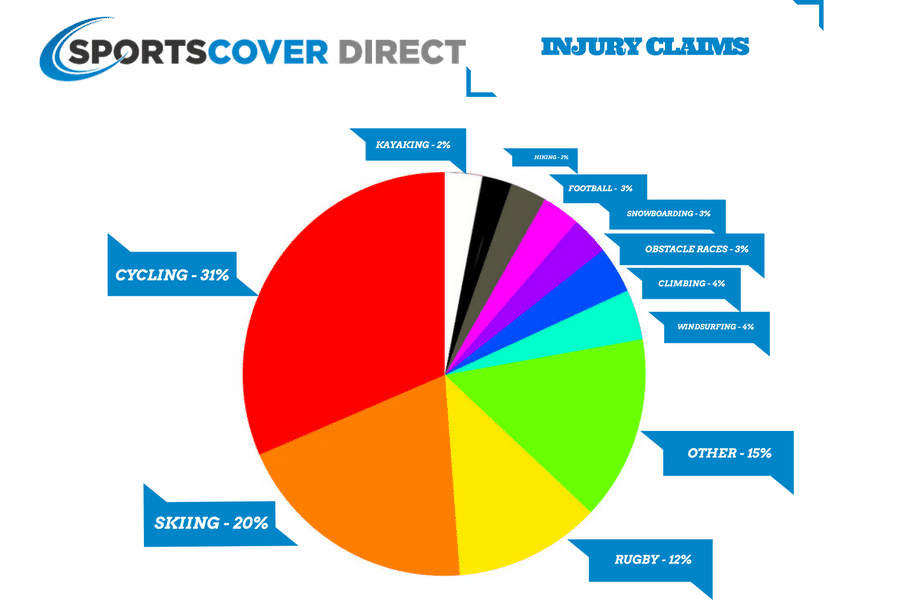 In total SportsCover Direct saw claims for injuries for 27 different sports in the past year (amalgamating all cycling and skiing disciplines).
While the number of people taking part in sport is on the up, claims have fallen in the past year.
Across our Sports Travel Insurance, Activity TopUp and Sports Accident Insurance products claims have gone down 25% in the same 12-month period.
So with participation levels up, but injuries down, it appears the amateur sportspeople across the UK are becoming more adept at taking part in sport without it ending in tears.