It's no surprise that plenty of people love a getaway to a ski resort; in fact, around 1.5 million Brits go on skiing holidays each year. Do you consider yourself a fan of this type of break, or are you put off by the part where you're expected to ski? Well, you're not alone – research this year showed that 36% of people who go on ski holidays want to take part in non-ski activities.
It might seem unexpected, but you're actually well-catered for if you've no intention of going near any skiing gear. There are plenty of ways you can make the most of a skiing holiday without actually skiing. In fact, there are so many things to do, you'll wonder how you ever would've had time for long sessions on the slopes anyway.
In this article, we'll explore winter snow holidays for non-skiers, including non-sporting activities, alternative sports, and the best ski resorts for non-skiers.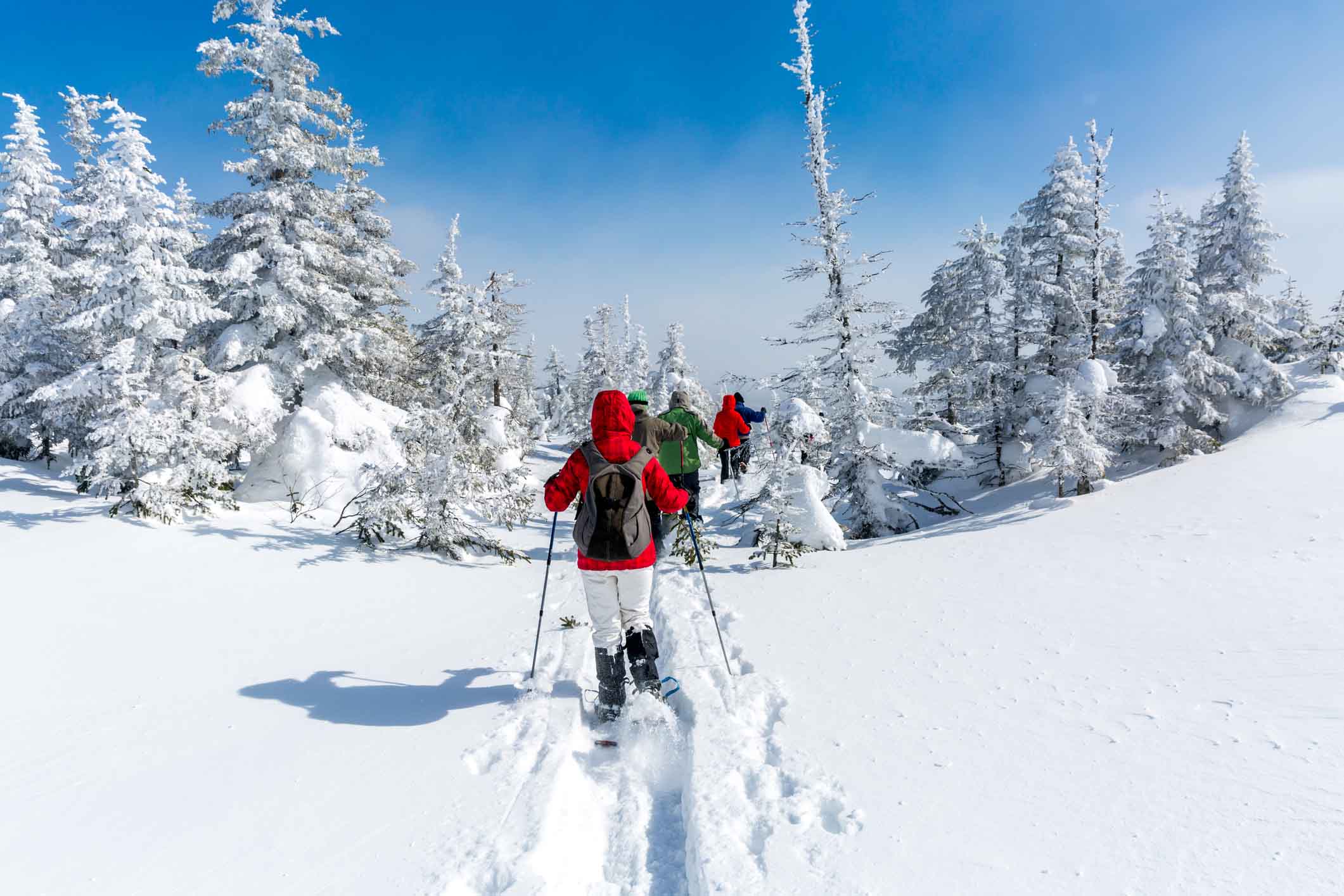 What to do on winter snow holidays for non-skiers
Wondering how to ski without skiing? Ski trips offer much more than you might expect, so there are plenty of other ways to enjoy your winter getaway.  Whether your priority is how you can make skiing more fun, staying warm and dry, relaxing, or learning a different kind of sport, there's something for everyone.
Remember that the availability of these activities may vary depending on the ski resort and the location of your ski trip. It's a good idea to plan ahead and research the options at your destination.
Snowshoeing
Snowshoeing is a great way to discover beautiful winter landscapes. Many ski resorts have designated snowshoe trails for this activity, which doesn't require any special skills. It involves wearing specially designed footwear called snowshoes, which distribute your weight over a larger surface area, preventing you from sinking deep into the snow.
Ice skating
Many ski resorts have ice skating rinks where you can glide on the ice. Some even offer night skating under the stars. An exercise successfully combining fun and fitness, it strengthens leg muscles, enhances balance, and improves cardiovascular health. Skating engages the core, helps tone abdominal muscles, and promotes flexibility. As a low-impact activity, it's also gentle on joints, making it suitable for all ages and fitness levels.
Snowmobiling
For those seeking an adrenaline rush, snowmobiling can be a thrilling adventure. You'll travel on this motorised vehicle with skis in the front and a continuous rubber track in the rear, making it an exciting way to get around. One of the reasons snowmobile tours are so popular is because you can explore remote areas like backcountry and trails during winter months, which might otherwise be difficult to access.
Sleigh rides
Who doesn't love to ride through a winter wonderland? You'd be hard-pressed not to enjoy a peaceful ride through snow-covered landscapes on a horse-drawn sleigh. It's an activity that's both romantic and family-friendly, depending on the company of course.
Indoor activities
Ski resorts often have indoor amenities such as spas, fitness centres, and swimming pools for either relaxation or exercise, or a bit of both. You could indulge in massages, hot tubs, or other treatments that will take your break to the next level. You could also visit local shops, boutiques, and art galleries in the nearby town or village for unique souvenirs and gifts.
Après-ski
Whether you've had a day on the slopes or not, everyone's welcome to enjoy some après-ski activities at the resort or local area. Examples include savouring hot cocoa by the fireplace, indulging in gourmet dining, enjoying live music, dancing at bars, and participating in social events like wine tastings and bonfires.
Snow tubing
If you're looking for a fun and family-friendly activity, try snow tubing. This thrilling, accessible winter activity, involving sliding down specially designed snow chutes in inflatable tubes, is loved for its simplicity and pure fun. It requires no special skills, making it suitable for all ages. Racing down snow-covered slopes on inflatable tubes provides an adrenaline rush, plenty of laughter, and an unbeatable sense of freedom.
Winter festivals
Check if there are any winter festivals or events happening in the area during your ski trip. These often include cultural activities, music, and entertainment.
Photography
Ski trips provide ample opportunities for unique photography, so capture the stunning winter scenery with your camera.
Snowcat tours
Some resorts offer snowcat tours, where you can ride in a specialised snowcat vehicle to explore off-piste terrain.
Winter wildlife watching
If you're in an area with wildlife, you could embark on a guided tour to observe winter animals in their natural habitat.
Cross-country skiing
Okay, so this is still technically skiing, but cross-country skiing offers a different kind of experience, which is much easier than the downhill version of the sport. You still get the benefits of exercise while taking in the winter scenery, at a much gentler pace.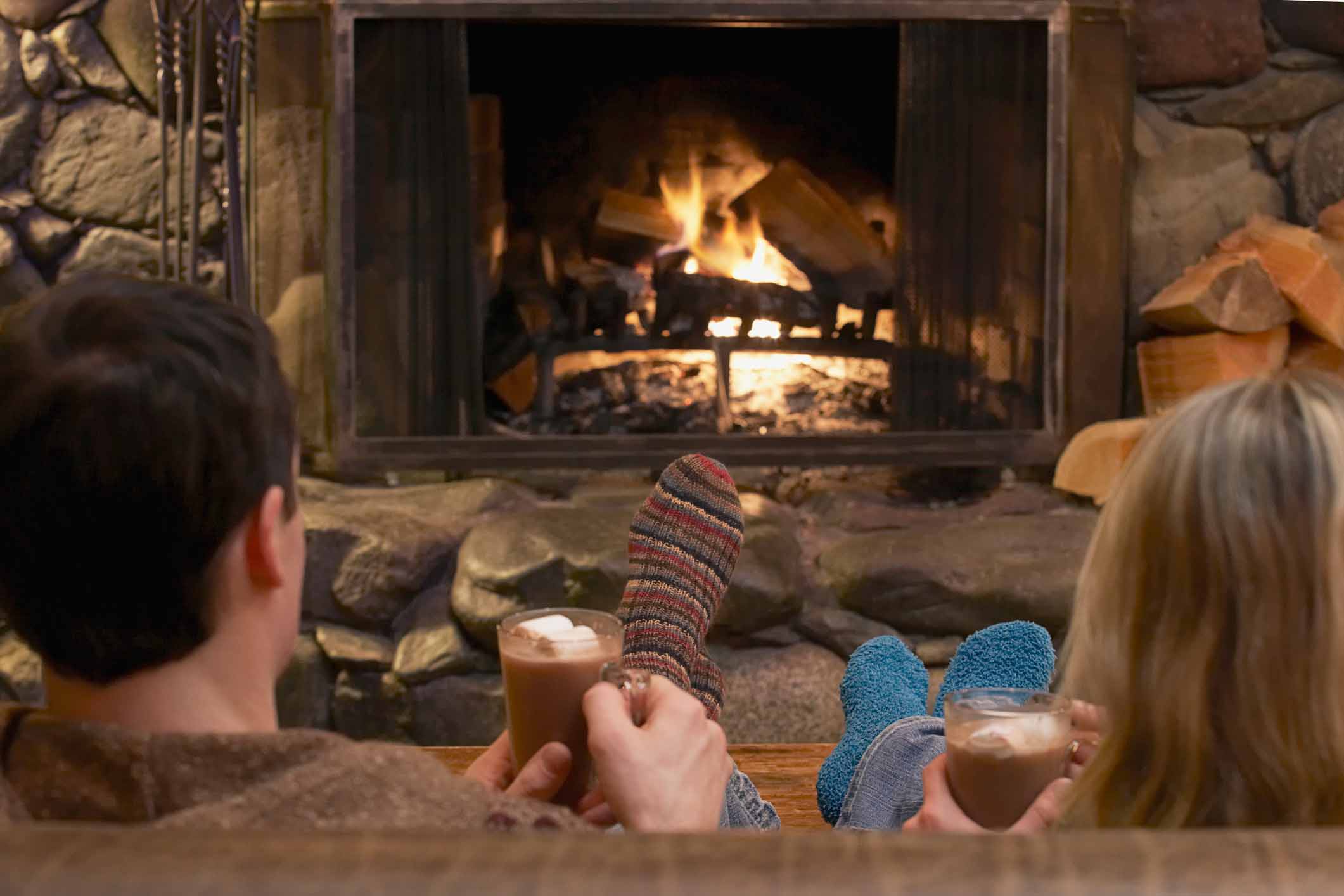 Best ski resorts for non-skiers
For anyone wondering if you can visit a ski resort without skiing, the short answer is yes – although some destinations will cater for non-skiers more than others. There are plenty of these out there, though, so you won't be short on options.
We've put together a list of some of the best ski resorts known for their non-skiing activities.
Winter snow holidays for non-skiers in Europe
Europe is a safe bet for finding plenty of inspiration for cosy, festive breaks, which let you take in the striking surroundings without having to ski. From France to Switzerland, Spain to Austria, there's no end to the potential memories you could make, year after year. The only difficulty is deciding which one to head to first…
Take a look at some of the best winter snow holidays for non-skiers in Europe:
Zermatt, Switzerland: Zermatt is car-free and surrounded by the stunning Swiss Alps, with the three main local mountains being Matterhorn Glacier Paradise, Gornergrat, and Rothorn. Non-skiers can take a ride on the Gornergrat Railway for breathtaking views, enjoy spa facilities, or take scenic walks around the village. If you're into hiking, the Five Lakes Trail is renowned for providing you with incredible views on the route around lakes, hillsides and woods.
Chamonix, France: The home of the 4810m-high Mont Blanc combines both natural beauty and thrilling culture. Famously featuring the tallest mountain in Western Europe, Chamonix offers a wide range of mountaineering activities, along with plenty of other ways to while away your leisure time. The vibrant town is dotted with shops and cafes, museums, galleries and a cinema.
St. Moritz, Switzerland: The elegant St. Moritz is known for its luxury and spa facilities, as well as having hosted the Winter Olympics twice. Non-skiers can enjoy thermal baths, gourmet dining, and high-end shopping, as well as activities like tobogganing, horse riding, tennis and sailing. Plus, the location boasts over 300 days of annual sunshine.
Vall de Núria, Spain: The special experience of being at this Pyrenees-based resort starts with the magical rack railway you'll need to use to enter it. Vall de Núria is known as an important religious site, with a church you can visit. You can also partake in snowshoeing expeditions and scuba diving in the lake.
Innsbruck, Austria: You can find plenty of magical winter holidays in Austria for non-skiers, including this charming Alpine city surrounded by mountains. Non-skiers can explore the old town and take in its historic buildings, visit the Golden Roof, and take a cable car ride to the Nordkette for panoramic views. The city also has museums and cultural attractions aplenty.
Hallstatt, Austria: Another Austrian winter holiday worth adding to your list, this idyllic village is a UNESCO World Heritage Site sitting by a serene lake and surrounded by snow-covered mountains. Explore the charming streets, take a boat ride on the lake, and visit the historic Beinhaus (Bone House).
Ortisei, Italy: Ortisei is the main village of the Val Gardena area, in the heart of the beautiful Dolomites. It's known for its incomparable beauty, with endless awesome mountains all around and a pretty town centre. Featuring an array of cafes, restaurants and pubs, as well as seven different shopping centres, it also has a hot spring, ice rink and six toboggan runs.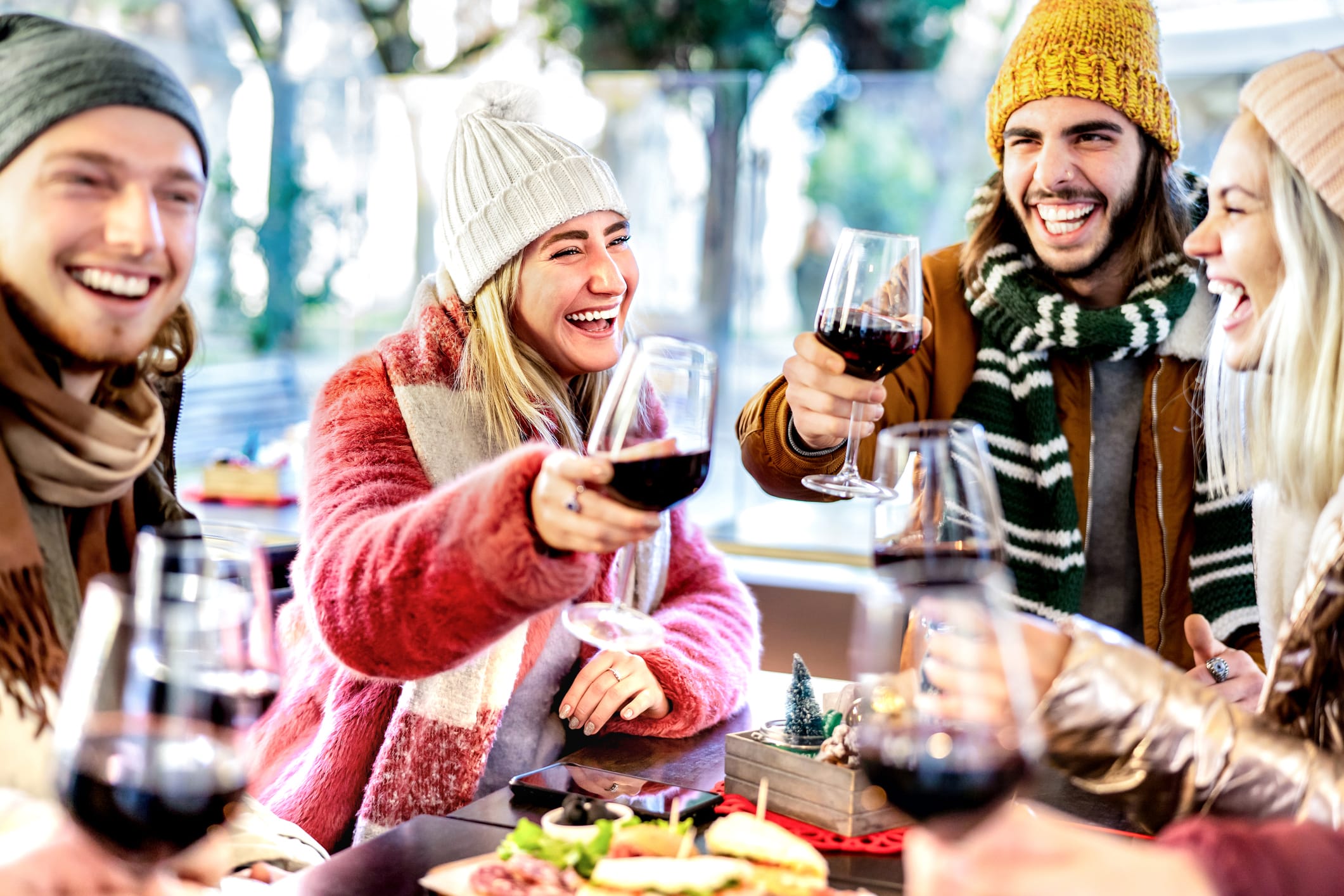 Winter snow holidays for non-skiers in the rest of the world
Aspen, Colorado, US: Aspen is famous for its world-class skiing, but it also offers a range of activities for non-skiers. You can explore the beautiful town, enjoy high-end shopping and dining, visit art galleries, or take part in outdoor activities like snowshoeing and dog sledging.
Whistler, British Columbia, Canada: Whistler might be the largest ski area in North America, but it isn't just for skiers. It's also known for its vibrant village with shops, restaurants, and entertainment. You can hike the snowshoeing trails, go zip-lining, ice skating or bobsleighing, and enjoy the après-ski scene. There's also a Scandinavian spa, breweries, dog sledging, and the incredible Cloudraker Bridge walk across a glacier.
Lake Tahoe, California/Nevada, USA: Lake Tahoe is a destination with multiple ski resorts, but it also offers a variety of activities for non-skiers, such as gondola and sleigh rides, ice skating, and snowshoeing. Explore the beautiful lake itself and hike in the surrounding forests, or take a boat to Vikingsholm Castle, on the shore of Emerald Bay.
Jackson Hole, Wyoming, USA: While Jackson Hole is a mecca for skiers and snowboarders, it also has attractions like the National Elk Refuge, snowmobile tours, and a charming town to explore. The various national parks are home to wildlife tours where you can spot moose, deer, bison, elk and bears. Snowtubing at Snow King Mountain is a highlight if you want to make your inner child happy.
Park City, Utah, USA: Park City has a historic downtown area with shops, galleries, and restaurants. You can while away many hours just perusing Main Street. Non-skiers can take a scenic ride on the Park City Mountain Resort's gondola, go snowshoeing, zip lining or rock climbing, or enjoy the Sundance Film Festival (in January). There are also 32 spa facilities, for resting aching feet or indulging in a treatment just because.
Breckenridge, Colorado, USA: Breckenridge offers a historic town with museums, shopping, and dining. Non-skiers can explore the area's beautiful trails on snowshoes or take a scenic ride on the BreckConnect Gondola. The picture-perfect town is an attraction in itself, which is lit by twinkling lights after the sun goes down. The Arts District offers a generous amount of creative activities like art workshops, craft-making classes and theatre production. There's also a 750-seat live music venue, the Riverwalk Center.
Queenstown, New Zealand: Queenstown is a year-round adventure destination. In winter, non-skiers can enjoy bungee jumping, jet boating, horseback riding, wildlife and wine tours, among other activities. There are an impressive 31 spas, so choosing a gentler pace isn't just accepted here; it's expected. In between unwinding, you can browse one of the city's 51 shopping centres.
Get Winter Sports Travel Insurance with SportsCover Direct
Taking off on a picturesque trip to remember? Don't let anything spoil your fun this winter. Whether you're skiing or not, you'll need the right insurance for any kind of winter sport activity, so that you can focus on fully enjoying your break.
SportsCover Direct's Winter Sports Travel Insurance offers cover for over 500 sports, with financial peace of mind for emergency medical costs, cancelled trips and more. If you have existing travel insurance, simply opt for our bolt-on to add the right kind of protection for your needs. You can also choose Sports Accident Insurance, which features personal liability and income protection if anything should happen to you.
Find out more and get an online quote. If you need any support at all, our friendly team are on hand to answer any questions.
This blog has been created as general information and should not be taken as advice. Make sure you have the correct level of insurance for your requirements and always review policy documentation.