Snowboarding and skiing are both popular winter sports that involve traversing snow-covered slopes at high speeds, but they have several key differences.
You'll need to do your research to understand the specific factors when deciding between snowboarding vs skiing. Everyone's priorities are different – are you looking for more enjoyment, to progress quickly, or to feel as safe as possible? These winter sports offer plenty of differences, in areas such as difficulty, equipment, technique, and culture. Snowboarding is an exciting choice for anyone appreciating a freestyle approach to winter sports, while skiing is rewarding in its challenges and gives you better views as you face forward.
If you're wondering what is harder, skiing or snowboarding, we have all the answers you need in this complete guide.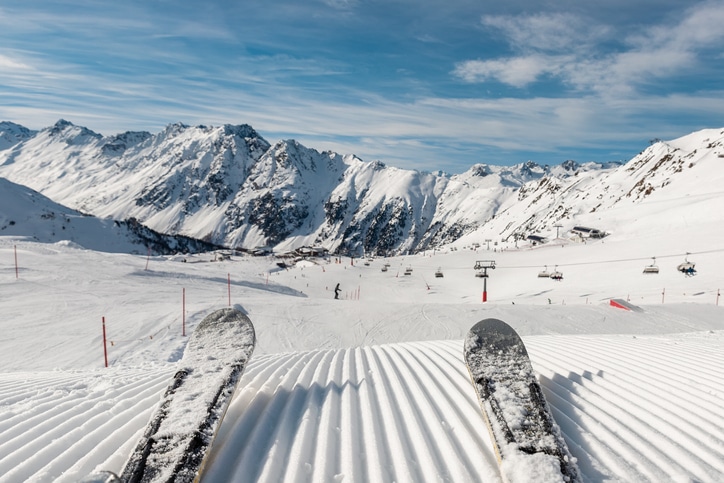 Snowboarding vs skiing differences
Here are some of the main differences between snowboarding and skiing.
Equipment
Snowboarders use a single, wide board with bindings that secure both feet to the board. They stand sideways on the board, with one foot leading and one foot trailing.
Skiers use two narrow skis with bindings that secure each foot independently. Skiers face forward and have one ski on each foot.
Technique
Snowboarders make turns by shifting their weight and using their bodies to steer the board. They use their heels and toes to carve through the snow and control their direction.
Skiers make turns by shifting their weight and edging their skis. They can use various techniques, including parallel skiing (skis aligned) or the snowplough (skis in a V shape), to control their speed and direction.
Balance and movement
Snowboarders need good balance and use their core muscles to maintain stability. They typically face downhill and have a lower centre of gravity.
Skiers have more independent leg movement and face forward, which some people find offers a more natural, intuitive feel.
Learning curve
Some people find learning to snowboard a bit more challenging initially, as it can be harder to balance and turn. However, once the basics are mastered, many people progress quickly.
Skiing is often considered easier for beginners due to the more natural stance and easier mobility of the legs. However, the learning curve can vary depending on the person.
Terrain preference
Snowboarders may prefer terrain parks, halfpipes, and powder snow, due to their ability to perform tricks and jumps on a single board. It's also popular with a younger demographic.
Skiers often enjoy a wide range of terrains, including groomed slopes, moguls, backcountry skiing, and cross-country skiing. Skiing appeals to a broader group, including families and older people.
Culture and style
Snowboarding has its own distinct culture and style, with influences from skateboarding and surfing. It's often associated with a more laid-back, alternative lifestyle.
Skiing has a diverse culture, with different disciplines like alpine skiing, Nordic skiing, and freestyle skiing. It can be seen as more traditional, and it accommodates a wide range of preferences and styles.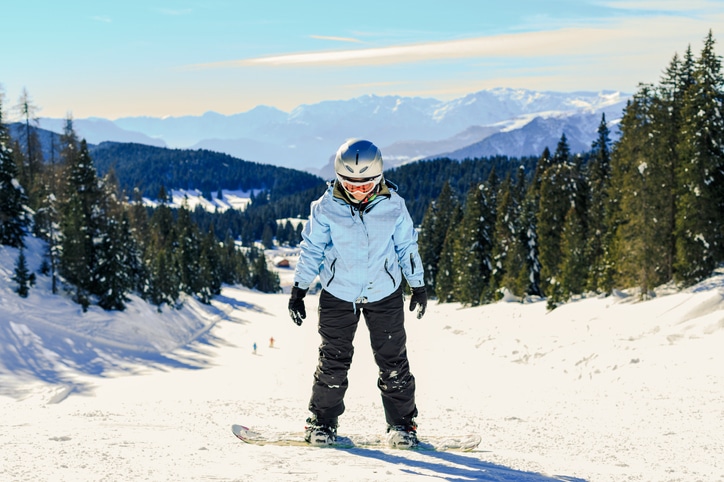 Snowboarding vs skiing difficulty
The difficulty of snowboarding versus skiing can vary from person to person and depends on several factors, including individual preferences, physical abilities, and prior experience with similar sports.
When it comes to what is easier in skiing and snowboarding, the perceived difficulty is pretty subjective. Some people might find that snowboarding comes more naturally, while others may prefer the feel of skiing. The key to success in either sport is patience, practice, and taking lessons from qualified instructors. Over time, with experience, many people become proficient and comfortable in both snowboarding and skiing, and the difficulty of one over the other becomes less of a concern.
Here are some general considerations regarding snowboarding vs skiing difficulty.
Snowboarding
The jury has been out for years on whether snowboarding is a high-risk sport, for various reasons. Although it does come with risks, particularly for beginners, different studies have shown conflicting results when it comes to whether it's more or less risky than skiing. There are different considerations, such as whether snowboarding beginners are less likely to wear helmets than novice skiers, thereby increasing the possibility of head injury.
Here's an overview of snowboarding difficulty:
Learning curve: Snowboarding can have a steeper learning curve for some people, especially when it comes to initial balance and getting used to the sideways stance. The single board and the need to use your body to make turns can be challenging at first.
Falling: Snowboarders often fall more frequently as beginners; getting up from a fall can be a bit tricky due to the one-footed binding setup.
Balance: Good balance is essential in snowboarding, and it may take some time to develop the necessary core strength and coordination to maintain stability.
Skiing
In the beginning, skiing takes more out of you in the leg and thigh areas, so it will help to participate in exercises that will strengthen this area, such as cycling. It can also take longer to reach an advanced level, though this is something to think about once you're past the beginner stage.
Here's an overview of skiing difficulty::
Learning curve: Many people find skiing easier to pick up initially because the stance (facing forward) is more natural, and you have the use of both legs independently. Some beginners find it easier to control speed and make turns on skis.
Falling: Skiers typically fall less frequently when starting out compared to snowboarders, and getting up from a fall is usually more straightforward.
Mobility: Skiers have more freedom of leg movement, making it easier to traverse flat or uphill sections of the slope. This can be an advantage for certain terrains.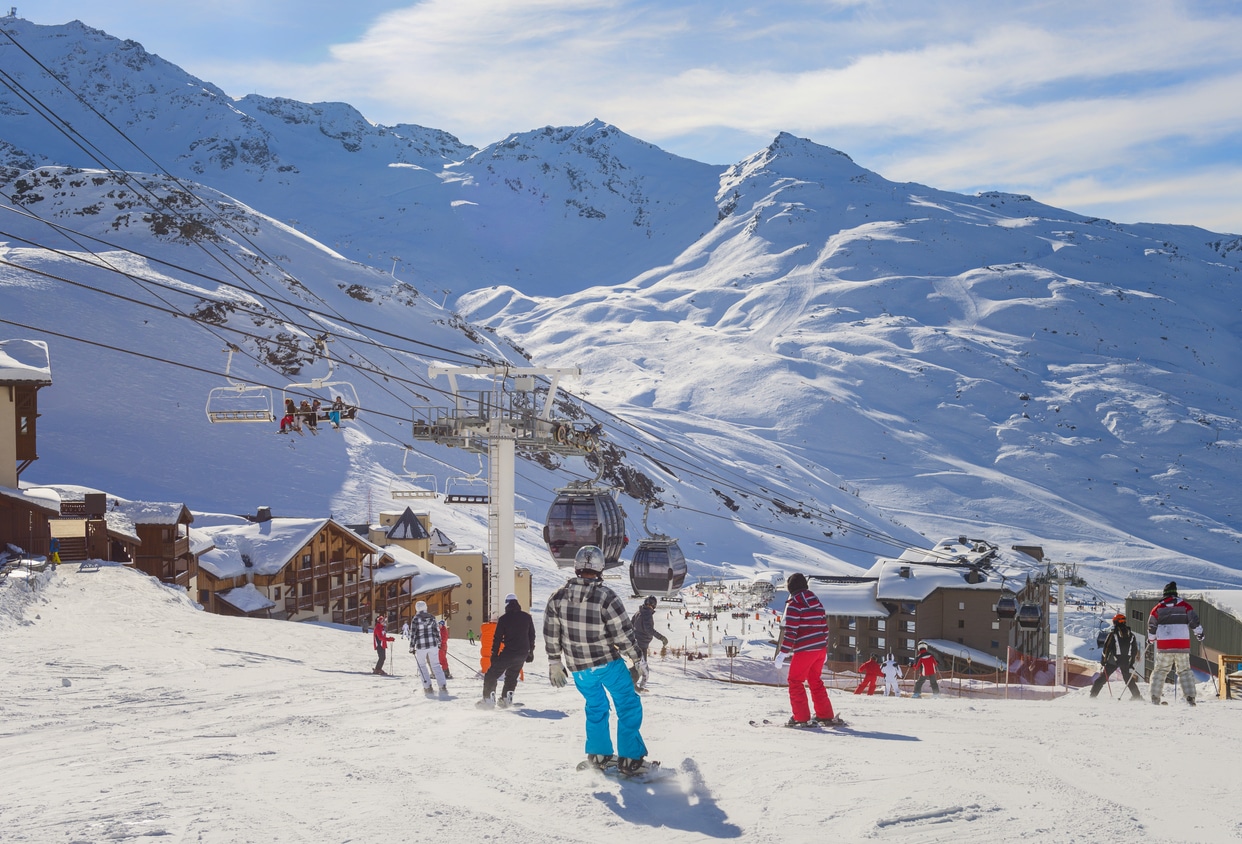 Skiing vs snowboarding pros and cons
So, we've looked at the differences between the two, along with the difficulty level. Here are some of the overall pros and cons of skiing vs snowboarding.
Skiing pros
Skiing offers numerous advantages. For those who love the outdoors, adventure, and snow-covered mountains, it's an exhilarating choice. It can give you breathtaking views, an adrenaline rush from navigating slopes, and a sense of freedom. It gives you an excellent full-body workout, improving strength and balance. The social aspect of skiing is a plus, with opportunities to bond with fellow skiers in picturesque alpine villages.
Skiing cons
​​On the downside, skiing can be costly when you start to add up equipment, lift passes, and accommodation. It also demands time and practice to reach proficiency, and the risk of injuries exists, particularly for beginners. Weather conditions can be unpredictable, affecting the quality of skiing. You'll often need patience when it comes to spending full days on the slopes, otherwise queueing for lifts and crowded slopes could hamper the experience for you.
Snowboarding pros
Snowboarding offers a thrilling experience with several advantages, including a dynamic and stylish riding style. The learning curve can be swift, with beginners often progressing quickly after getting past the initial challenges. Snowboarders enjoy a unique connection with the mountain, as they carve through the snow with a single board. This sport also excels in terrain parks and halfpipes, so if you have one in your region, you have more opportunities to practise tricks and jumps in between trips to the slopes.
Snowboarding cons
Snowboarding's downsides include its demands on the body, especially the wrists and knees, leading to risks of certain injuries. Additionally, navigating flat sections or moguls can be more challenging. The sport's equipment, including snowboard and boots, can be expensive, and it's less versatile on varied terrains.
Snowboarding vs skiing for beginners: which is best?
For anyone asking 'Should I learn to ski or snowboard first?', it's essential to consider your personal preferences, fitness level, and goals. Some people enjoy both sports and switch between them, depending on the conditions and how they feel at that time. Ultimately, the best choice for you comes down to your personal interests and how you want to experience the mountains and snow.
While there's no right or wrong answer, skiing is easier to stay balanced in the beginning, with ski poles available to help you. It can also be less intimidating in terms of physical risks and heights. At the same time, snowboarding can be easier to get the hang of initially as it requires less coordination in your arms and legs than skiing. You can review all of the considerations in this article and decide which feels like the right one for you.
Get Winter Sports Travel Insurance with SportsCover Direct
Don't let anything spoil your fun when it comes to enjoying sports in the great outdoors. If you're planning to head off on your next active adventure, it's good to have peace of mind from the right insurance.
SportsCover Direct's Winter Sports Travel Insurance provides worldwide cover for skiing, snowboarding and over 500 other sports. Our travel insurance offers cover medical costs in case of an emergency, so that's one less thing to worry about if you do happen to have a mishap on the slopes. There are also options for financial protection if your trip is cancelled. If you already have travel insurance, our bolt-on product protects you for winter sports. Meanwhile, our Sports Accident Insurance is designed to give cover for personal liability and income protection.
Read more about your options and get an instant quote tailored to yo
This blog has been created as general information and should not be taken as advice. Make sure you have the correct level of insurance for your requirements and always review policy documentation.