If you're the kind of holidaymaker who prefers a grueling physical challenge and panoramic views reserved for only the most courageous, hiking in Europe is probably for you. It's a good thing, then, that we've done the research to find out the best routes around the continent.
When it comes to planning hiking holidays in Europe, there are so many options to choose from. Do you want to see dazzling glaciers, lush forests, twinkling coastal views or encounter enchanting wildlife? Perhaps you'd like to end your hike on a golden beach; or is swimming in remote mountain lagoons more appealing? Maybe immersing yourself in the wonder of a UNESCO World Heritage is on your bucket list.
Whatever your dream trip consists of and whichever level your hiking experience falls in, find out more in our inspiring guide and plan your next adventure of a lifetime.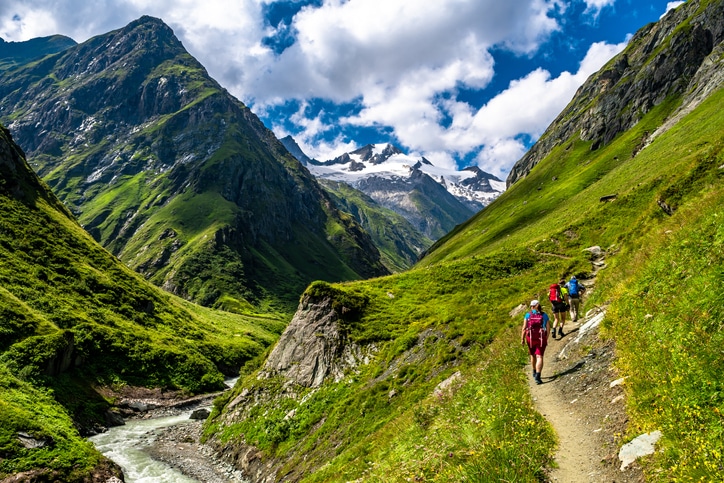 The best places to hike in Europe
If you're wondering where to find the best hiking in Europe, you'll realise upon closer investigation that many countries have something different and special to offer. It all depends on what you're looking for. However, we've rounded up five of the most popular trails that all have their own unique characteristics, spectacular scenery and varied playgrounds to push your physical limits.
Kjeragbolten, Rogaland, Norway
The photo opportunities are undeniable at Kjeragbolten, an experience capped by being able to climb onto the huge boulder between two cliffs situated 1,084 metres above sea level. It's the tallest peak in the Lysefjord, a 26-mile fjord accented by sparkling granite mountains, extravagant waterfalls, breathtaking glaciers and lush villages straight from a fairytale. The hike itself starts at Øygardstøl and is approximately 11 kilometres in length; you should be able to do the round trip in around six to 10 hours. Look out for who might accompany you as you make your way across the route, as you could spot all manner of creatures. Highlights could include golden eagles, falcons, hawks, roe deer, mountain goat, reindeer, seals or chuckling ptarmigan birds.
Laugavegur, Landmannalaugar, Iceland
The most beloved trail in the land of ice and fire, Laugavegur will delight and surprise you with its varied landscapes like nothing you'll find anywhere else. Over the course of 55 kilometres, you can enjoy rainbow-coloured rhyolite mountains, steaming hot springs to entice your aching muscles, dramatic lava fields and glistening glaciers. Taking around four or five days in total, this hike is in the geothermally active setting of the beautiful Fjallabak Nature Reserve, with an altitude of 600 metres, or 1,970 feet.
Alta Via 1, Dolomites, Italy
This majestic route on the Italian Alps is set within a UNESCO World Heritage site (see, we promised you we'd include one). It takes around 10-14 days to complete, though you won't tire of what this magnificent hike has in store. It features everything from tunnels and trenches holding fascinating War War Two bunkers, to Ladin shepherds, who still speak their own language and have a unique culture that's steeped in myth and legend. You can start this hiking route in the north or south; either at Lago di Braies, an aquamarine lake that's worth the journey alone; or at La Pissa, within the vast and diverse Dolomiti Bellunesi National Park.
Plitvice Lakes, Dinarides, Croatia
The largest national park in the country, Plitvice Lakes cover nearly 30,000 hectares of land. Often cited as the most beautiful national park in Europe, it's bejewelled with technicolour forests, meadows, and bodies of water resulting from ancient natural processes that form natural tufa dams. Glittering lakes, creeks, rivers and waterfalls are grouped into upper and lower sections, enclosed by the surrounding greenery and featuring cameos from rare animal species like brown bears, grey wolves and lynx, making it not too dissimilar to a scene from a Disney movie. You can choose from several different routes, but most can be completed in a day, ranging from eight to 11 kilometres and taking between four and eight hours. There are even marked walking trails and boardwalks winding through the trees, with shuttle buses and boats available to help you navigate your way around.
Montserrat, Catalonia, Spain
This rugged mountainous hike can be accessed by train from Barcelona. Making your way to the Benedictine Monastery Santa Maria de Montserrat is a rewarding experience that will gift you with staggering views of Montserrat Natural Park. There is a community of around eighty monks who call the monastery their home. It takes around an hour and a half to get there, covering 3.1 miles, or five kilometres, so it can easily be undertaken as part of a trip to the city. If you'd prefer a longer excursion, make your way to the Santa Cova Chapel, which is along a 1.42km path from the monastery, or to Sant Jeroni, with a 6.4-mile loop that will take just over four hours to complete.
What is the most famous hiking trail in Europe?
The Tour du Mont Blanc is an iconic trek famed for its beauty and for taking you through three different countries over the course of its duration. Spanning Switzerland, Italy and France, it's approximately 170 kilometres long and can be completed in around 10 days. If you want to do part of the route, the Chemin des Rognes hike, on the French side, provides striking views of the Chamonix Valley. It can be accessed by cable car to Bellevue and takes up to around four hours to reach the top.
You could also go for the Glacier d'Argentiere route in the same area, which is a 10-kilometre loop beginning at Lognan cable car station. This trail features more thrilling panoramas over snow-capped mountains, frozen rivers and dense forestland.
Whichever route you choose, you can take on this hike with or without a guide, depending on your experience level, and you won't need a permit. You'll have a choice of whether to stay in local hostels and B&Bs, or to camp in mountain huts.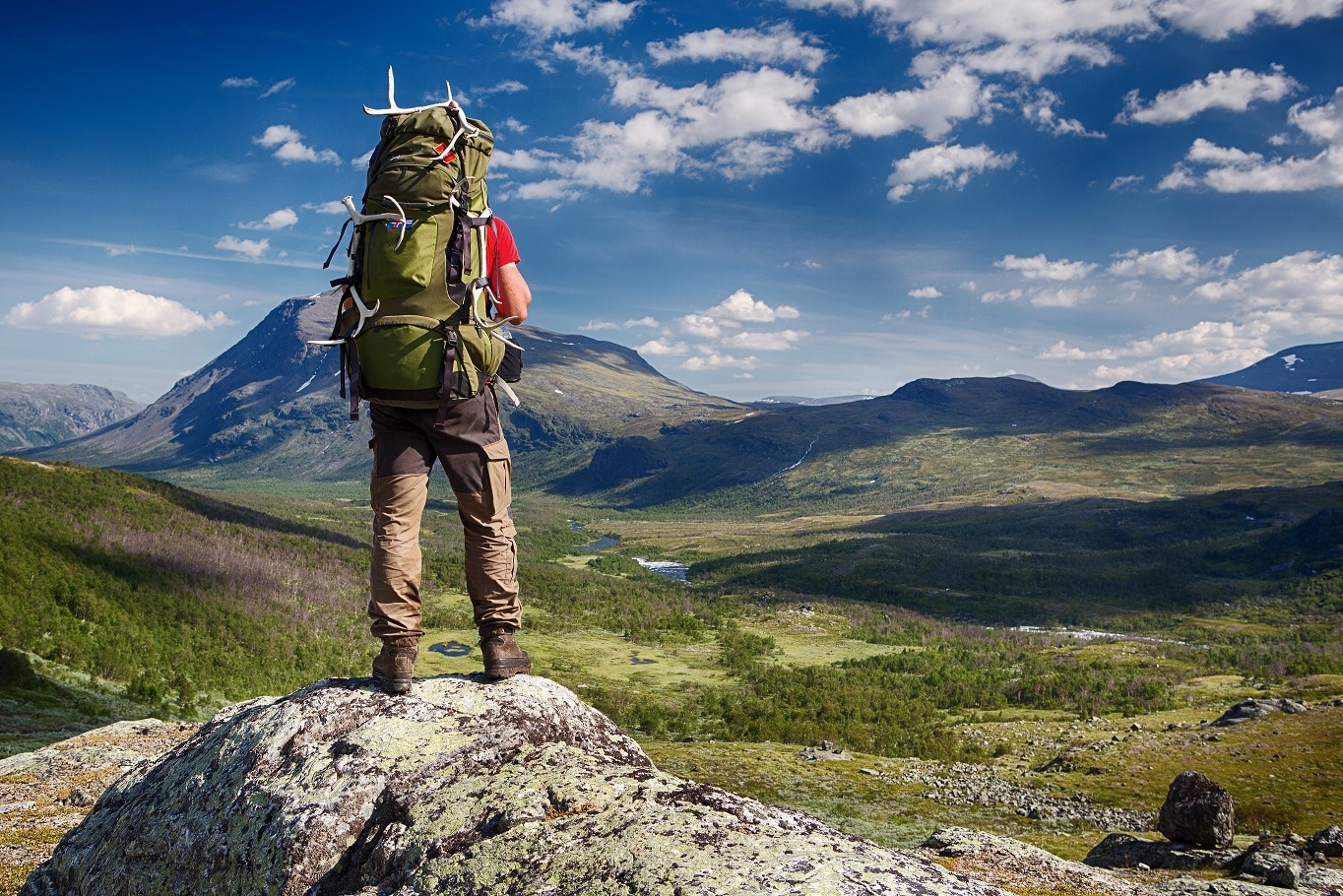 What are the best months to hike in Europe?
Choosing a time to hike in Europe completely depends on your destination of choice. Summer may seem like a good option for enjoying the great outdoors and clear views, but for warmer countries, you'll need to consider the difficulty of hiking in hot weather. For these locations, such as France, Portugal, Greece and Spain, it will be more comfortable to hike in spring or autumn. Outside of the peak summer season, you'll not only benefit from cooler conditions but also fewer crowds.
Certain countries, such as Croatia, also have more bearable temperatures outside of summer but may be more prone to storms around these times, so check advice around specific to where you're going.
If you're hiking in higher elevation areas, like the Alps and Northern Europe, going in the height of summer means you can avoid being snowed in.
What is Europe's hardest hike?
The GR20 trail on the French island of Corsica is infamous for its difficulty level. It's also an exhilarating experience that is considered one of the best hikes in Europe and, in fact, the world. Beware that without considerable training, this arduous long-distance trek will be tough to complete. It's pretty clear why, when you realise it consists of 180 kilometres of mountainous terrain, with 12,000 metres of elevation gain. To hike the full trail, you'll need to set aside fifteen days and prepare for at least six daily hours of walking.
You could always choose to complete the half-route in either the north or the south. However, if you do opt for the full hike, you'll start at Calenzana near Calvi, finishing at Conca. You'll also be rewarded with incredible vistas, featuring changing landscapes of shimmering ocean, pine forests, river valleys and farmland. Camp in huts dotted around the mountain, in close quarters with fellow brave hikers you can't help but bond with.
Get Trekking and Hiking Insurance with SportsCover Direct
Embarking on a once-in-a-lifetime hiking trip, that tests your stamina and takes you across challenging terrain in potentially extreme conditions, is worth insuring yourself for with the best possible cover. You don't want to imagine that anything could go wrong when planning memories to last forever, but you'll also want to be protected in the event that it does. Having the right policy will certainly help you feel reassured as you set out into the big wide world to see what you're capable of.
SportsCover Direct's trekking and hiking insurance has three policy options. The first covers you for travel, including medical costs, trip cancellation and more. You can also select a travel bolt-on that will cover trekking and hiking for your existing policy with another provider. Our sports accident insurance has been designed to protect you while trekking or hiking in the UK, including personal liability and income protection.
Get a tailored quote for our trekking and hiking insurance. If you have any questions, you can call our dedicated team, who'll be able to give you the answers you need.
This blog has been created as general information and should not be taken as advice. Make sure you have the correct level of insurance for your requirements and always review policy documentation.