If you're planning an independent or skippered sailing holiday, and you want to get out of the UK and get off the beaten track, Croatia should be one of your first ports of call (pun intended!).
Sitting opposite Italy on the eastern side of the Adriatic Sea, Croatia has established itself in recent years as one of the most attractive sailing holiday destinations in Europe. It's warm, it's friendly, it's beautiful, and it's only between two and three hours' flying time from the UK, making it the perfect destination for a maritime getaway.
There's plenty to enjoy from sailing holidays in Croatia, but there's also plenty of planning to do, and lots to know before you go. This guide covers all the basics, including what makes Croatia such a stand-out destination, the best time of year to go, and other key things to consider.
Why is Croatia such a great place to sail?
Croatia sailing holidays have a little bit of everything to offer. There are over 1,000 islands in total to explore, as well as hundreds of miles of majestic coastline. The weather is generally excellent (more on that below), with plenty of sea breezes to help you along.
When you stop off in ports and marinas along the way, you'll get a perfect blend of old and new: modern facilities like supermarkets, traditional culture in the old towns, and some excellent bars and restaurants to while away the evenings. Whether you want to work hard and cover plenty of coastline, or take a leisurely and more meandering approach, there is plenty to savour in Croatia.
When is the best time of year to go?
Croatia benefits from the same Mediterranean climate as the most popular tourist destinations in the UK. While this makes it warm most of the year, it can make it uncomfortably hot in the summer months. When you also factor in the busyness and expense of travelling during the British school holidays, it's probably best to avoid sailing holidays in Croatia in July and August.
Instead, we recommend either May or September: the weather will be warm enough to be enjoyable without oppressive heat, the resorts and marinas should be a little quieter, and your flights out there should be much cheaper too.
Best places to sail in Croatia
There are so many different islands and stretches of coastline that the possibilities are virtually endless when planning sailing holidays in Croatia. But generally speaking, you'll most likely find yourself in one of these three areas:
Pula
Pula is a beautiful city to the north of the country, overlooked by a 17th-century castle, and has a large marina within walking distance of the city centre. This makes it an ideal starting point for longer sailing trips if you want to gradually work your way south. If you want to combine your trip with some Italian class, it's easy from here as Pula has a direct ferry link right into the heart of Venice.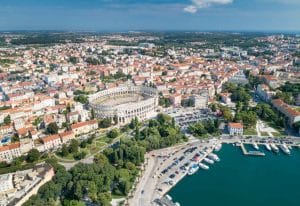 Kornati Islands
The Kornati islands are a large archipelago that stretch for dozens of miles down the central Croatian coast. In fact, there are so many islands that you'll feel like explorers on your own in an unspoilt paradise. Every island has its own blend of forests, coastline and marine life to explore, and you'll feel tranquil and at peace with the world as you bask in the sunshine. Either end of the islands are handy for airports at Zadar and Split, making the Kornatis easily accessible if flying in from the UK.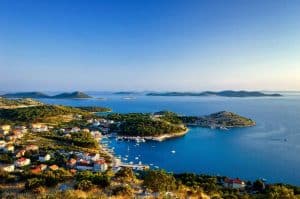 Dalmatian Islands
Further south are the Dalmatian Islands, which pepper the coastline from the Split area all the way down to Dubrovnik in the far south (which also has UK links by air). If you think their name means there's 101 islands, you'd be wrong – there are actually nearly 1,200! Across them all, you're spoiled for choice: if you want to moor up on quiet beaches for a chilled out evening, or you prefer an island marina for some entertainment and nightlife, you'll have plenty of options.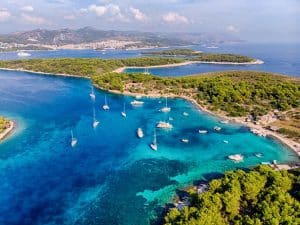 Other key things to consider
One good piece of news that makes travel to Croatia easier is that the country adopted the Euro as its official currency at the start of 2023. If you have spare travel money left over from previous trips, or you're planning a multi-country holiday, this simplifies your travel exchange needs.
However, as with all countries in the Schengen area (another EU initiative that Croatia joined in January 2023), travel for UK nationals is now more complex post-Brexit. At some point in 2023, the EU is due to introduce its ETIAS visa scheme, for which all UK nationals will have to apply in order to gain entry to EU member states. You should keep a close eye out for developments in this area, especially around the date of its introduction and how to apply, although the cost of the ETIAS visa is only expected to be around seven euros.
Get sailing travel insurance with SportsCover Direct
Another essential thing to consider before any Croatia sailing holidays is insurance cover. Sailing can be an exhilarating adventure, but it isn't without its risks; furthermore, if you need rescue or medical help, being abroad can make things much more complicated and expensive.
Protectivity is a leading provider of specialist cover for sailing trips, both in the UK and abroad. Our cover means that if you get ill, get injured, require rescue assistance, suffer transport disruption, or your luggage is lost, we can give you support that means you won't be left out of pocket. Included with our policies is cover for any private medical bills you might incur: this is a vital consideration, as the European and Global Health Insurance Cards only extend to a limited level of healthcare.
We offer special discounted policies for sailing trips that venture no more than 12 miles from the coastline, meaning you can get cover for less if you're zipping between Croatia's beautiful shores and islands. Find out more here.