Even if you have never steered a boat before, you can still enjoy the thrill, freedom and adventure of holidaying on the seas by choosing a skippered sailing holiday.
Relying on a professional skipper means that you can truly relax on your sailing holiday. You are free of any responsibilities for navigating from one destination to another, waking to a different view every day, sampling various local culinary delights and, spending your days as you choose.
About Us
We're here to lend even more comfort and reassurance to your holidays on the ocean wave. Our Sailing Travel Insurance can be tailored to suit charters in coastal waters at home or abroad.
In addition, you have the security of knowing that if any mishap occurs, you are comprehensively covered for emergency assistance and any subsequent medical care needed. Personal liability, indemnity insurance and cover for all your baggage, personal effects, and any travel delays are also included with the protection. (Policy limits apply).
What are skippered sailing holidays?
A skippered sailing holiday is just that – a holiday aboard a chartered yacht or boat which is captained and "driven" by a professional skipper.
All you have to do is tell the skipper where you want to go, your desired itinerary and stopping off points, and he'll arrange it for you. You can be as involved as much or as little as you like in sailing the craft. You might even leave it entirely up to the captain to do all the work and make all the decisions on your behalf.
Choose your sailing grounds
The world is your oyster when you decide on a skippered sailing holiday – you can safely charter a professionally captained craft in so many parts of the globe.
Firm favourites are the Mediterranean and the Caribbean – but charter companies also operate in the Red Sea of the Middle East, the Indian Ocean, Fiji and French Polynesia, and even around the coast of Scotland.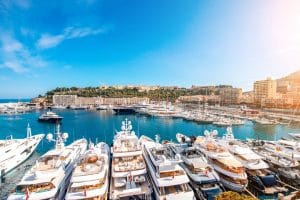 The skipper
When booking your sailing holiday, bear in mind that a cabin will be needed for the skipper. Some boats or yachts will have a separate, individually accessed cabin for the skipper, giving you and your travel mates complete privacy.
You will also need to cover the costs of food and drink for the captain. Invite him or her to join you at mealtimes on the vessel, or you can cover their meal costs if you are dining out.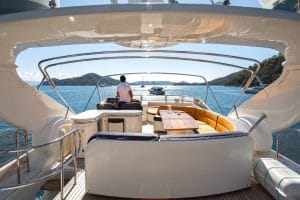 Companies offering skippered sailing holidays
There are many companies offering skippered sailing holidays – and, through them, you will be able to arrange charters in practically any part of the world.
You will want a degree of comfort and reassurance on the status, reputation, and standing of any company in which you are prepared to place your trust.
Whilst we are in no position to recommend or endorse particular charter companies, the following firms are either based in the UK or have major offices here, together with an established presence suggesting reliability and security.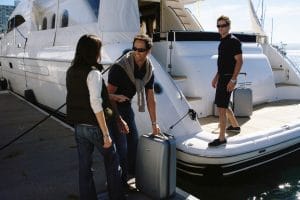 Filovent is a leading French company – with a UK-based sales team – and 25 years' experience in boat rentals, both skippered and self-skippered, day charters, and canal boat rentals.
Burgess is probably one of the biggest international names in skippered sailing charters, and the company maintains offices in London and major capitals throughout the world.
Sailing Holidays is a UK company specialising in all manner of charters – including both "bareboat" sailing (where you hire a craft you will be sailing yourself) and skippered sailing holidays.
Summary
You might regard your skipper as your own private chauffeur at sea. On a skippered sailing holiday, the captain takes up the chores of managing and navigating the boat. But it's you who will be giving the orders.
Of course, you'll want the confidence and reassurance of knowing that you have chartered the vessel and its skipper from a reliable company of good standing – and our handful of suggestions may help you do just that.
If you need some inspiration from our top sailing destination read our blog Sailing Destinations in the UK.