Why should cyclists visit Cyprus?
Located in the Mediterranean Sea, to the south of Turkey and West of Syria, lies the island of Cyprus. There is little documented about Cycling in Cyprus and after a recent trip there, I am confident that it could be a future travel destination for cyclists from all around the world.
What are the roads like in Cyprus?
An instant bonus of cycling in Cyprus is that you ride on the same side of the road as you do in the UK, so there is no need to spend a few rides adjusting to riding on the right-hand side as you would in Spain or France. The second thing that is instantly noticeable, is the road quality, mile upon mile of smooth, wide roads, make the riding feel effortless.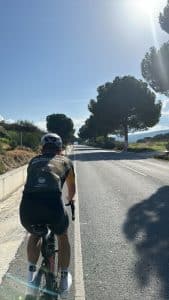 Cycling routes
During my trip to Cyprus I stayed in Chloraka, just to the west of Paphos near the coast. Due to the size of the Island, this meant that my riding was somewhat limited to just the western part of the country. The heatmap below taken from Strava shows just how little of the island I really covered, and I spent 10 days doing some significant rides! The black lines to the west of the island are the routes that I cycled on.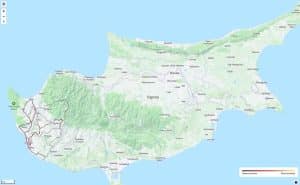 The image below is a slightly more zoomed in version so that you can see exactly where I rode.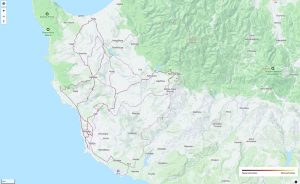 What are the cycling conditions in Cyprus?
The climate in Cyprus makes it ideal all year round, the summer temperatures are slightly warmer than most of the European locations, however in wintertime it still averages high teens in degrees celsius. Compared to somewhere like Mallorca that only recently (January 2023) has seen 10 centimetres of snow, making it far from ideal cycling conditions.
The roads in the hills felt like they were abandoned, we would often go half an hour without seeing a single car. This does mean that if in the hills, you need to be prepared for every eventuality. We got caught in a torrential downpour one day whilst in the hills and were severely under dressed since it was sunny and warm at the coast. We wanted to stop but knew if we did it would be difficult to warm up again and were confident that once down to lower altitude it would warm up and the rain would stay in the hills, this was thankfully the case.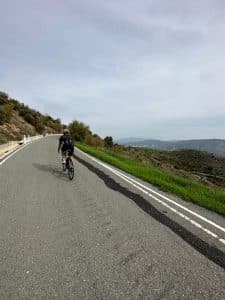 Final tips
To summarise, Cyprus has a lot to offer when it comes to Cycling travel destinations. I only managed to explore a small part of the island and that is without even going very near Mount Olympus, which is a very well-known attraction on the island. I'd highly recommend anyone looking to venture somewhere new to give Cyprus a try, the flights into Paphos were very easy and depart from most of the UKs popular airports. The cost of accommodation and food is reasonably priced making it all in all a good value for money trip away.
Finally, Cyprus also has a lot to offer in terms of tourist attractions, so for those days when you need a bit of rest or something other than riding the bike, you won't be disappointed with what you can do. We hired quad bikes and went exploring on the gravel tracks in the mountains, I would really recommend this since you can go much deeper into the hills and see parts of the island that are relatively untouched.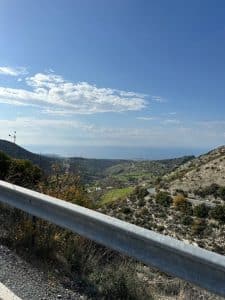 GET CYCLING TRAVEL INSURANCE WITH SPORTSCOVER DIRECT
Every good cycling trip starts with detailed research before you go, including taking out comprehensive insurance cover, so that you can't be hit in the pocket if something goes wrong.
SportsCover Direct's cycling insurance can give you peace of mind when you head out to Cyprus, Mallorca or any other cycling travel destination. Our policies include medical expenses, travel disruption compensation, help if your bike or baggage gets damaged, stolen or lost, and much more.
Our cover starts at just a few pounds a month and can be paid for through flexible payment plans – find out more about our Cycling Holiday Insurance.