With swimming pools closed until at least the 25th July 2020, many swimmers are considering taking a dip in their nearest river. Open water swimming is fast growing in popularity, with an increase in organised swim sessions, as well as more people daring to give wild swimming a try. In less than a decade, the number of people taking the plunge outside has risen from a handful to tens of thousands.
However, before you get in the water there are a few things to consider, most importantly how to keep safe. Here are some tips on how to stay safe and enjoy river swimming.
1) Do your research
Before your swim, do some research into your local swimming spots. Some of the things you will need to find out include: is there a chance of it being polluted, how fast is the current, which direction is the current moving in, where is it possible to safely get in and out, is there much river traffic and is it popular with anglers?
The Outdoor Swimming Society has an interactive wild swim map where you can search for wild swimming locations and add your own favourite swim spots. Talking to local swimmers is the best way to find out the best swim locations – there are some good local swim groups on Facebook that share Intel on where it is safe to swim and where to avoid.
The Rivers Trust has launched an app called 'Is my river fit to play in? which is an interactive map of UK rivers. You can use the search box to find your location or zoom on the map to see the locations of discharges from the sewerage network, which are entering rivers. You should avoid entering the water immediately downstream of these discharges, especially after it has been raining.
This app will also show you the direction of the current. The Environment Agency also has a water quality map which shows the historical water quality, from sampling data over previous months and years, and although not 'real time', this can give a good indication of usual water quality.
2) Safety in numbers
When first starting out, you should swim as part of a group, or at least with one other experienced open water swimmer. Ideally have a 'spotter' e.g. someone on the river bank or maybe in a kayak, who can raise the alarm if you get into difficulty. It is a good idea to take a whistle in your cap to blow in case of emergency as it isn't always obvious to spotters whether you are just waving or trying to alert them about a problem!
3) Get the right equipment
Even in the summer, the UK rivers can be chilly. If you feel the cold, then invest in a wetsuit. Some shops rent them out for the season, which is great if you are not sure whether you will like it and continue. Also, at the end of the season (autumn), some shops will sell ex-hire suits for a drop-down price.
As rivers are shared spaces you need to be seen to be safe. Wear a bright coloured swim cap and a tow-float as these will make you more visible to other water users. Some tow floats have a waterproof pouch so you can keep your valuables with you e.g. car key or even a snack to keep you going if you are doing a long swim.
You may want to use different goggles for open water rather than pool swimming. If it's sunny then wear tinted goggles, which reflect the sun and reduce glare. Some people use bigger goggles to increase peripheral vision but they aren't essential.
4) Get in slowly
Jumping into open water is dangerous as it can cause our system to go into shock, which can lead to hyperventilating and loss of cognitive reasoning. Wade in slowly so that your body can adjust to the conditions it is about to face. Be mindful of how long you are in the water. You might be enjoying it so much that you don't want to get out but staying in too long can cause hyperthermia or cramping.
Make sure you have warm clothes to go home in-even in the summer. Bear in mind that, unlike at the pool, there won't be a hot shower on the river bank, therefore take a hot drink in a thermos to warm you up afterwards
5) Look where you are going
Unlike in a pool, you can't just follow the tiles on the bottom of the pool. You will need to regularly 'sight' i.e. look where you are going. Don't forget to sometimes look behind you for any approaching river traffic. It can be difficult to hear things when your head is underwater and under a swim cap and it is easy to be unaware of boats or kayaks approaching you from behind.
Also be sure to look at the river banks as well as the water, to see if any anglers are ahead. You don't want to get tangled up in a fishing line! You will also need to keep an eye out for any debris floating in the river. There will be more of this after heavy rain. Talking of rain, it is best not to swim in a river after heavy rainfall – as well as debris, it can also wash fertilisers from the fields into the water.
6) Decide on your route
You will need to decide whether to do an out and back swim or just a swim in one direction. Logistically it is easier to do an out and back as you just swim, turnaround, and head back towards where your clothes and belongings are. If you do this it is better to start your swim by going upstream i.e. against the current. If you start by swimming downstream you might underestimate how hard it is to get back and be too fatigued to fight the current.
The other option is to leave your belongings at a certain point, walk along the river bank to where you want to start your swim and swim back to your belongings. The tricky thing with this is what to do with your shoes? If you have a spotter then they can take them for you or some tow floats have enough storage room for small shoes.
Some people get swim shoes so that they can walk to the start and swim in them. Swim shoes will also protect your feet when climbing in and out of the water. They have a tendency to get loose when wet, so get a tight fit.
About the author
Helen is the current overall British Quadrathlon Champion and British Quadrathlon Trophy Series winner. She is also the current middle distance World Quadrathlon champion in her age group and the 2018 age group World Cup Series winner and sprint distance World Champion. Before turning to quadrathlon, Helen was age group World and European Duathlon champion and European Triathlon champion. In 2015 she was part of the One Day Ahead team, which raised £1m for Cure Leukaemia by riding the entire route of the Tour de France one day ahead of the pros. You can follow her on Twitter via @helengoth.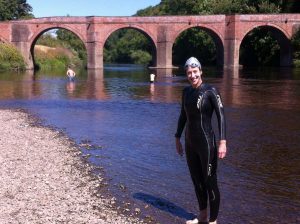 If you thinking of giving river swimming a go, whether that be in the UK or abroad, it is worth considering the idea of taking out Open Water Swimming Insurance to protect you should you have an accident.