With gyms and swimming pools being closed for most of the summer, many people have turned to the water as a place to exercise. One sport that was already experiencing a huge growth in popularity over recent years is paddleboarding, a trend which the lockdown has accelerated. British Canoeing, which includes paddleboarders in its membership, has seen a 40% increase in members since last year, with over 19,000 people joining in the last three months alone. There has also been record sales of paddleboards during the lockdown, with global retailer Red Paddle seeing recent sales double!
The warm weather, combined with the fact that some gyms are still closed and the need to adhere to social distancing, means that paddleboarding is a great way to exercise, whilst exploring areas from a new vantage point. So what is this relatively new sport and how can you give it a go?
What is paddleboarding?
There are two main types of paddleboarding: prone, otherwise known as traditional paddleboarding and stand-up (SUP). Prone is where you lie face down, or kneel on the board and propel yourself using your arms. SUP is where you stand upright and use a single blade paddle to push yourself through the water. In this blog, we will focus on SUP.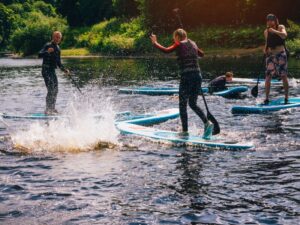 Where can you try it?
In theory you can try SUP on any stretch of water – rivers, lakes, canals or the open sea! If you are a beginner it is a good idea to visit a SUP or water sports centre where you can hire boards and see if you enjoy the experience before investing in your own. You should also consider having a lesson or taster session to learn the basic skills, such as moving from the kneeling to standing position, turning, stopping and the correct use of the paddle. If you plan to paddle independently, then you need to be aware that, officially in England and Wales, a licence is required to paddle on any waterway maintained by the Environment Agency and the Canal & River Trust. Not all waterways in the UK require a licence but most do. You can get one by joining British Canoeing. In Scotland, since 2003, there is a "right to roam" which means you don't need a licence. There are often restrictions on reservoirs depending on the water board and you are not supposed to paddle on aqueducts or locks.
What types of boards are there?
Boards can be either inflatables or hard boards. Being the cheapest and most stable, inflatables are great for beginners. When not being used these boards can be deflated, rolled up and kept in a bag. Although inflatable, the fact that they are made from "drop stitch technology", where small fibers are woven into the inside of the board, means that they are actually very hard and don't feel at all like they are full of air! Hard SUPs are usually made from a foam core and laminated in a layer of fibreglass or carbon to make them hard. Whilst not as easy to store or transport, hard boards are faster and glide through the water better, so are more popular with more experienced SUPers and used for racing. Most boards are 10-11 feet in length and between 32 and 34 inches wide. What size you get will depend on your weight and how stable in water you want to be. Basically, the bigger the board the more stable but the slower the experience will be. Like many sports, manufacturers have seen the market for producing lots of different types of SUPs depending on what type of paddling you will be doing e.g. white water boards, race boards, touring boards, multi-person boards and even yoga specific boards. So take your pick!
What other equipment do you need?
Unlike prone paddleboarding for SUP you will need a paddle. There is a wide range of paddles, from Alloy three piece paddles costing from £50, to top-end carbon blades, which will set you back a couple of hundred pounds. If you are a beginner, you might want to wear a flotation device such as a buoyancy aid or lifejacket for safety. Finally, always sue a leash (most boards come with these but check before you buy). You attach the leash to your ankle and it means that if you fall in the water your board won't float away from you. A great option to get everything you need is to get a SUP pack, which usually includes an inflatable board, snap in fin, paddle, leash, storage bag, pump and maintenance/repair kit.
Who is paddleboarding for?
Paddleboarding really is for everyone. You can go as fast or as slow as you want and there are so many SUP options. You can even try SUP fishing, touring with your lunch attached to the boat, SUP Pilates and yoga classes or even taking your dog for a paddle instead of a walk! It's a great workout for those that want to keep fit as you are using your whole body, including your core to move through the water. According to SUP World Mag, even an easy paddle for an hour will burn 430 calories, which means you really can enjoy your lunch on the board!
If you thinking of giving paddleboarding a go, whether that be in the UK or abroad, it is worth considering the idea of taking out Stand Up Paddleboarding Insurance to protect you should you have an accident.
About the author
Helen is the current overall British Quadrathlon Champion and British Quadrathlon Trophy Series winner. She is also the current middle distance World Quadrathlon champion in her age group and the 2018 age group World Cup Series winner and sprint distance World Champion. Before turning to quadrathlon, Helen was age group World and European Duathlon champion and European Triathlon champion. In 2015 she was part of the One Day Ahead team, which raised £1m for Cure Leukaemia by riding the entire route of the Tour de France one day ahead of the pros. You can follow her on Twitter via @helengoth.