Whether you're new to the thrills and spills of mountain biking or are already a seasoned old hand, there's maybe only one place in the world that you'll be making your pilgrimage to – and that's Morzine.
A ski resort in the winter, Morzine mountain biking is a mecca for mountain bikers the rest of the year. It is situated in the heart of Les Portes du Soleil, in the southeastern region of the French Alps, near the border with Switzerland.
About Us
We are only too aware that those thrills and spills of mountain biking can sometimes result in personal injury that requires – potentially expensive – on-the-spot medical attention or even evacuation back to the UK.
That's what makes our Mountain Biking Travel Insurance so important, along with the cover you'll get for all your equipment – including the bike itself. Personal liability and holiday cancellation or curtailment are also covered by our specialist travel insurance.
Mountain Biking in Morzine
Morzine quite rightly regards itself as the European home of mountain biking – a view shared by the many thousands of enthusiasts who go there each year.
But the town and its surroundings are more than a simple bike park. Mountain biking is the go-to sport but there are also numerous opportunities for other activities such as hiking (there are approximately 500 miles of hiking paths across the region) road cycling, white water rafting, rock climbing, horse riding, swimming, paragliding, and ice skating.
There are bars, restaurants, shops, supermarkets, chemists, and medical centres.
Where to stay
From luxury chalets to well-equipped self-catering apartments and from hotels to affordable hostels, Morzine offers every type of accommodation to suit practically any pocket. Since there is a large permanent population in and around the place, there are also numerous Airbnb hosts.
There are specialist holiday companies that will also arrange accommodation for you – or simply check out the usual hotel and accommodation sites online.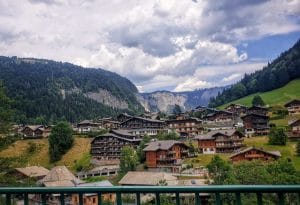 Where to ride
The Morzine area has an extensive trail network that encompasses six major riding zones as well as over 50 official downhill tracks across the resorts.
The choice of where to mountain bike is huge, with gentle, family-friendly trails and activities as well as the more adrenaline-inducing downhill locally built singletrack descents and enduro trails.
There are many different Morzine mountain bike options from purpose-built bike parks to ones off the beaten track. For starters …
Pre La Joux in Châtel offers the Châtel Fun Bike – an activity combining a Mountain–BMX designed for mountain trails and laser shooting.
Les Gets' exceptional bike park has over 80 miles of marked trails, including specially adapted ones for e-bikes. Plus, there are facilities for every level of ability.
Pleney offers a legendary downhill trail, with varied challenges at every turn.
Lift passes
You buy lift passes as and when you need them for each ascent or you can buy a day pass – which, of course, works out more economical. Once you are into the swing of things, you'll also find that the more days you buy for your pass, the cheaper it becomes.
Use your lift pass to make your ascent before a particular descent or use a combination of lifts on some of the marked circular trails.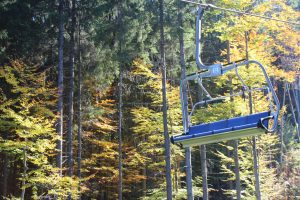 What to take
You can transport your bike and all your equipment to Morzine, of course, but you can also hire anything you need – bikes and all the protective gear – from the many hire shops in the town. Rest assured that our Mountain Biking Travel Insurance also covers any of this kit that is hired to you.
The main mountain biking season in Morzine runs from June to September – peaking in July – so sunny summertime clothing will be the order of the day for most of the time.
Summary
If you've ever tasted the excitement of mountain bike riding, the one place you'll want to go is the alpine resort of Morzine. Not only is the mountainous scenery a stunning sight to behold but offers a host of trails for beginners and experienced riders alike.
Resources:
https://www.seemorzine.com/summer-passes/
https://www.mtbbeds.com/resorts/morzine-mountain-biking-holiday#:~:text=Morzine%20mountain%20biking%20is%20world,Enduro%20trails%20in%20the%20world.