What and who does our policy protect?
To put it simply, our Golf Insurance policy covers three main things…
You're even protected from the costs of the traditional clubhouse drinks round (up to £250) should you be lucky enough to bag a hole-in-one during a round!
We also include cover for single-seater golf buggies as standard. This includes cover for damage to, or loss of, your buggy as well as Personal Liability if you were to injure a third-party whilst driving it.
Not only that, but we'll also replace damaged clubs with brand new alternatives, regardless of their age, if they are beyond repair. We're also pleased that we are able to say we have no single item limits when it comes to equipment claims.
Cover is valid 24 hours a day, 7 days a week, as long as the Golf Equipment is locked away out of sight in a vehicle or a secure building– which can be your home, or at the golf club – and in the event of a claim, there is evidence of a break-in.
This ranges from the costs associated with dental treatment to a lump sum payout should you die or suffer the loss of sight. 
 OF OUR GOLF INSURANCE CLAIMS**
FOR EACH GOLF INSURANCE CLAIM**
How to compare golf insurance?
When it comes to comparing golf insurance from SportsCover Direct with other providers, some will offer free gifts or other extras, but it's important to remember what the biggest factors are in your policy.
What to look for when comparing golf insurance
Firstly, with any golf insurance comparison; look at the individual benefits. What are you covered for, and for how much could you claim? SportsCover Direct's policy includes benefits such as personal liability for golfers, 24/7 equipment cover and hole in one indemnity, providing a helping hand when it comes to that post-round bar bill!
Also, compare the excesses you would have to pay. If you make a claim, most policies would require you to pay the first part of any claim. You can see compare the excesses on our golf insurance policies by clicking on the 'i' symbol on the quote page.
Finally, think about the price you are being asked to pay. Our policy is very competitively priced to provide you with comprehensive cover for as a little as £2.24 a month in the UK, or £3.64 for worldwide cover. Just click the 'Get A Quote' button to start your quote.
Get complete peace of mind for just £2.24 a month
Award-winning, Ultimate Flexibility, 24/7 Golf Insurance
Or Call us on 01494 484800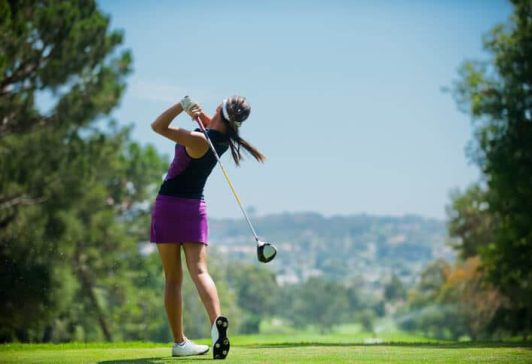 Golf insurance is designed to financially protect you against compensation claims should you accidentally injure a member of the public or damage their property whilst out playing a round of golf.  
Golf insurance will also include protection against damage, loss and theft of your golf equipment. As one of the best golf insurance providers in the UK, our policy will protect your golf equipment 24 hours a day, seven days a week, on and off the course. A benefit that is not always offered by other golf insurance providers.
Frequently Asked Questions
* No cancellation fees only applies to policies bought on monthly subscription.
**Data relates to Golf Insurance claims from April 2019 to March 2020 inclusive.
Get Complete Peace of Mind for JUST £2.24 a month