Most golfers will have a favourite course to play, whether it's their regular, local course or something a bit further afield. And while the UK has some top courses golf fans can tee off, you usually have to travel overseas for something really unique.
So forget the Links courses of Scotland and the traditional golfing establishments such as Wentworth, we've picked out 10 courses from around the world that offer a really unique 18 hole experience.
Coober Pedy Opal Fields Golf Club, Australia
Finding the 'greens' in regulation at Opal Fields is tough; simply for the fact that there 'greens' are in fact black. Situated halfway between Adelaide and Alice Springs in the town of Coober Pedy, the course transverses an expanse of South Australian desert.
Expect a good roll from your drives as they bounce along grass-less, dusty fairways leading to (literally) well-oiled putting surfaces coated in a black substance that compounds the dirt to prevent the greens from blowing away.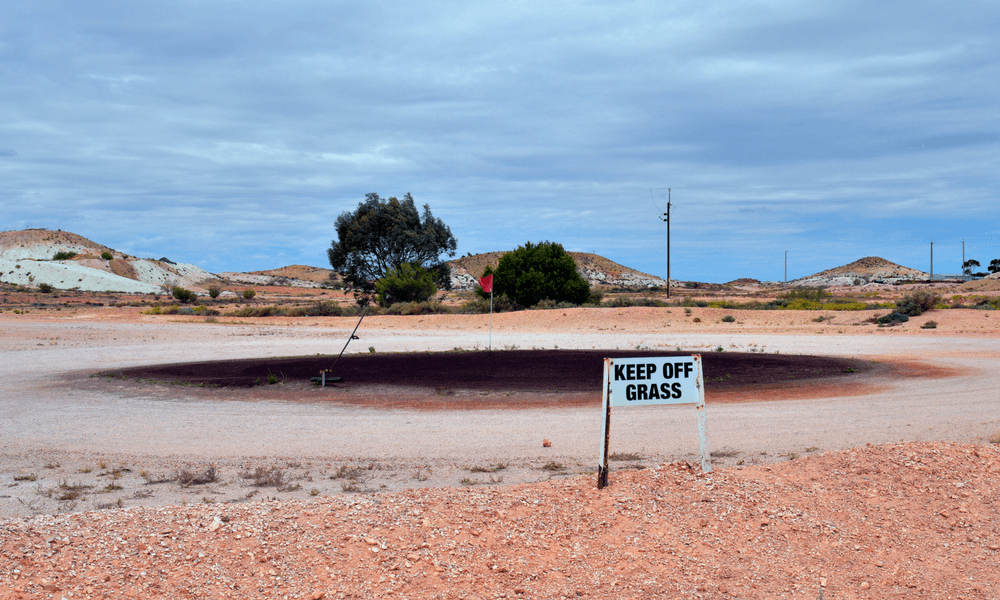 Royal Colombo Golf Club, Sri Lanka
At a first glance,as you enjoy the comforting warmth of the Indian sub-continent, this course in Sri Lanka's capital may not seem like a particularly unique experience. That is, until you're waiting to drive your tee shot at the 2nd, and a packed commuter train runs along the length of the fairway!
In total, four of the holes at this 139-year-old course are intersected by the local steam railway delivering workers and hawkers alike to their place of business in Colombo.
It's not every day you see a train pass through the middle of the golf course. Royal Colombo Golf Club,#SriLanka @markchakagolf @GOUSJACQUES pic.twitter.com/DswbVq2KtS

— Chaka Travel (@chakatravel) April 6, 2017
Himalayan Golf Club, Nepal
Few courses around the world give you that instant 'wow factor' quite like the Himalayan. The famous mountain range present golfers with a course located in a deep, natural amphitheatre, with stunning views of snow-capped peaks and dramatic drops.
The fifth hole at the Himalayan has even been nominated as one of the best in the world, with the green situated on an island in the middle of the Bijayapur river, making it the only natural river island hole in the world.
Himalayan Golf Course – Pokhara, Nepal.#Himalaya #Nepal #Annapurna pic.twitter.com/avRjWlLxxU

— The Globe Golfer (@GolfingAwesome) November 19, 2013
Merapi Golf Course, Indonesia
Where else can you tee off from a mountainside overlooked by one of the world's most active volcanoes? This course on the Indonesian island of Java gives golfers the opportunity to play high up on the slopes of Mount Merapi, top views no doubt, but also the slight unnerving feeling that the volcano has erupted violently twice in the last 12 years.
Put the imposing Merapi to one side and the challenging greens that finish off the 18 holes on this course are surrounded by lush, tropical jungle, that really give golfers the feeling that they are playing somewhere really special.
#pict: Nggak tahu bagaimana nanti perasaanku kalau harus jauh darimu .. dari Merapi Golf #jogja @erwina_sp:pic.twitter.com/oem85ldSEQ

— SelarasEstikaEmedia (@SeeJogja) December 24, 2017
Uummannaq Golf Course, Greenland
This one is undoubtedly the most unique course in our list, and probably the world. While Coober Pedy may be lacking grass, Uummannaq, delivers golfers with a different lie altogether, with the entire course set on ice.
Home of the World Ice Golf Championships, it's probably wise to wrap up warm if you're heading for 18 holes here, as temperatures can drop as low as -18 degrees centigrade, with the town situated 500 miles inside of the Arctic Circle. Don't worry about losing your ball on the white snow; all golfer are provided with fluorescent orange one to play with!
Este campo de golf de hielo está situado en la pequeña isla de Uummannaq y tiene el honor de ser el primero de Groenlandia. Desde 1999 acoge el Campeonato Mundial de Golf sobre hielo. Los jugadores que participan deben jugar con una pelota de golf roja ⛳?️‍♂️#uummannag pic.twitter.com/MQCwvpcF7v

— Viajes Premier Class (@VPremierClass) December 27, 2017
Rotorua Golf Club, New Zealand
Otherwise known as "Arikikapakapa" – "the gentle sound of plopping mud" in Maori, Rotorua Golf Course claims to be the only course of it's kind in the world.
Regarded as the world's only geothermal golf course, rather than standard water features such as lakes and streams, golfers here must avoid the bubbling mud pools that are found both on the course, and all around the town three hours south of Auckland.
Tornio Golf Club/Meri-Lapin Golf Course, Sweden/Finland
Another 'world exclusive' takes us to Scandinavia to the only golf club on the planet that spans two different countries. With 11 holes located in Sweden and seven in Finland, not many can say they've walked across an international border on the golf course.
Not only that, but at Tornio/Meri-Lapin, because the border between the two countries transverses two time zones, there's every chance that by the time your tee shot on the par 3 6th hole lands on the green, it's effectively been in the air for over an hour!
#CuriosidadesMGT
El Tornio Golf Club te permite jugar en 2 países: 9 hoyos en Suecia y 9 hoyos más en Finlandia. pic.twitter.com/QHPaVKV5kM

— Mexico Golf Tour (@MexicoGolfTour) April 23, 2016
Nullarbor Links, Australia
While Nullarbor Links cannot boast borders crossing, it's undoubtedly the longest golf course in the world. Spread out along a 848 mile stretch of Southern Australian road, the 18 holes are in fact shared between 15 courses along the rugged route.
Fairways really deliver the feeling of playing in the Outback, while the average 48 mile drive between tees gives a round at the Nullarbor Links somewhat of a special challenge to golfers. Purchase a scorecard at Karlgoolie Golf Course or Ceduna Golf Course (at either end of the route), complete all 18 holes and receive your certificate for playing the 'Worlds Longest Golf Course'.
#Nullarbor Links #Golf Course spread out across #EyreHighway with 18 holes spanning 1365km. pic.twitter.com/CSJQvdB12q

— Nullarbor Roadhouse (@NullarborRH) July 17, 2016
North Star Golf Course, USA
From the world's longest course, to North America's northernmost 18-hole challenge. Situated in Alaska, it's pretty likely that you will spot some of the local wildlife along the way. So much so, that as part of your scorecard, visitors also receive a wildlife checklist to tick off along the way.
Whether you spot bears or coyotes, one local rule is worth baring in mind: "When a raven or fox steals a golf ball, a replacement may be dropped without penalty at the scene of the crime." Still, you'd probably rather it was a raven meddling with your ball than a bear!
Cape Kidnappers Golf Course, New Zealand
While this course located in Hawkes Bay on the east coast of New Zealand's North Island may be picturesque, you don't want to be slicing your drive. That is, because anything that isn't hit reasonably straight from the tee on some of the holes here could see your ball plummet 130 metres down rocky crevasses and sheer cliff-faces.
The Par 5 15th – known as the Pirates Plank is of particular note. Overshoot the green here and it will be 14 seconds before your ball finally reaches the crashing waters of the Pacific Ocean below, such is the drop.
Cape Kidnappers Golf Club, Hawke's Bay, New Zealand pic.twitter.com/H4FajAvZgO

— Great Golf Holes ⛳ (@GreatGolfHoles) April 6, 2016
Kantarat Golf Course, Bangkok
Normally, golf courses are not the sort of thing that can be easily 'squeezed' into a small amount of open space. Hats off to the Thais, then, who took it upon themselves to fill the gap between the two main runways at Bangkok's Don Muang Airport with what is likely to be one of the world's noisiest golf courses.
The airport was previously the hub of all air traffic into the Thai capital, but with the majority of international flights now coming into Suvarnabhumi Airport on the other side of the city, bosses were keen to keep finances flowing healthily. And thus, this truly bizarre airport was born.
Delaying my approach to the green at BKK Don Muang's golf course until the BA 747 has passed. #avgeek pic.twitter.com/fnYQIbcFUk

— Robert Scott (@rascottdotcom) September 11, 2016
Whether you decide to keep your golf close to home or travel to one of these truly unique golf courses, make sure you're covered. Our Golf Insurance can protect you and your clubs from injury and financial loss wherever you are in the world.
Get your quote today!