If golf is your sport, the perfect trip abroad is likely to feature the fairways of one course or another. But golf courses can prove very different in other parts of the world – some are far from run of the mill and instead offer an entirely unique location or set of features to challenge even the lowest of handicaps.
Here, we've picked out what we consider to be the 10 most unique golf courses you're likely to find anywhere in the world.
ABOUT US
Backed by almost 30 years in the business, we are one of the UK's leading online providers of golf insurance. Even when you're up against the most unusual or challenging of conditions – as you're likely to find on our featured courses – you can rest assured that your third-party liabilities, your own safety, and the protection of your golfing kit and equipment are all fully covered.
Coober Pedy Opal Fields Golf Club, Australia
In the middle of Australia's vast outback – roughly halfway between Adelaide and Alice Springs – you'd expect the going to be tough.
But at Opal Fields, neither fairways nor greens are at all green but painted an ominous, oily black. That's what it takes to prevent the grassless, dusty ground from simply blowing away.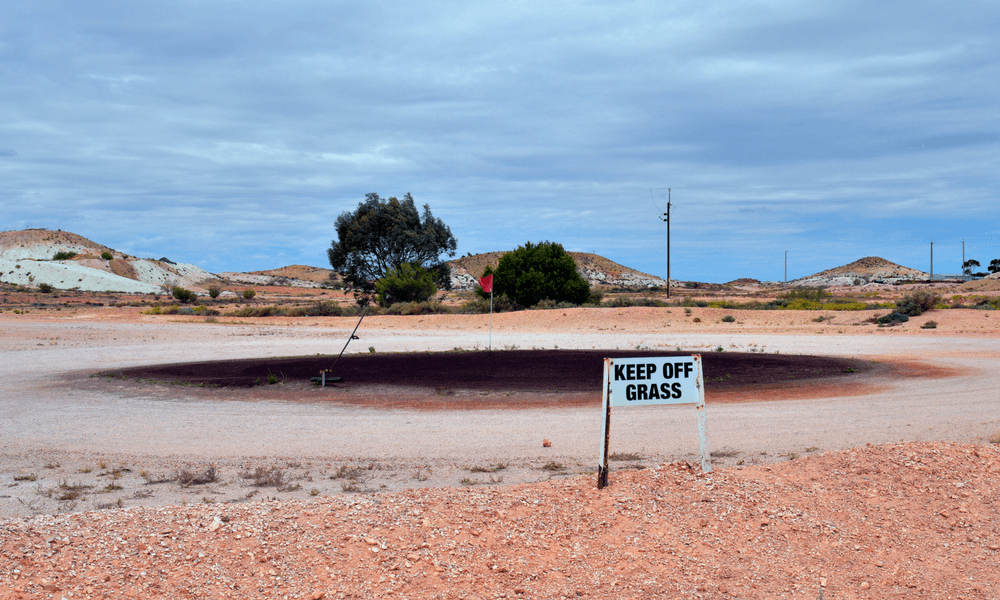 Royal Colombo Golf Club, Sri Lanka
Of course, you've shouted "fore" as you swing to alert others to clear the way as you're coming through.
You will be tempted to do just that as you take your drive from the 2nd tee at the Royal Colombo Golf Club – just as you realise it's a packed commuter train running the length of the fairway. You'll be surprised to discover that the same railway line crosses at least three other holes on the course.
Himalayan Golf Club, Nepal
Some golf courses and links might have a picturesque range of hills or mountains as their backdrop. None will create the stunning, breath-taking panorama of the snow-capped peaks of the Himalayas.
At its fifth fairway, the Himalayan Golf Club boasts what has been voted one of the best holes in the world – the green sits on an island in the middle of the Bijayapur River.
Merapi Golf Course, Indonesia
From the world's highest mountain range to a golf course overlooking one of the world's most active volcanoes.
As you make your way up the slopes of Mount Merapi, on the Indonesian island of Java, the golf course allows you to take in majestic views but you'll be forgiven a nerve or two as you reflect on the fact that the volcano erupts regularly.
Uummannaq Golf Course, Greenland
Remember Coober Pedy Opal Fields' lack of grass? Here's another where you're unlikely to see a single blade. But that's because Uummannaq Golf Course is set entirely on an ice field.
Indeed, the course is home to the World Ice Golf Championships – so you'll want to wrap up warm.
Rotorua Golf Club, New Zealand
Because it's the world's only geothermal golf course, the usual water obstacles of lakes and streams are here replaced by geysers and bubbling mud pools.
The Rotorua Golf Club can be found just three or so hours south of the capital Auckland – and we prefer its original Māori name "Arikikapakapa", which literally translated means "the gentle sound of plopping mud".
Tornio Golf Club/Meri-Lapin Golf Course, Sweden/Finland
International golf takes on a whole new meaning when you can travel in two separate countries in a single round.
At the Tornio Golf Club/Meri-Lapin Golf Course, you'll find 11 holes in Sweden and a further 7 holes across the border in neighbouring Finland. That also involves crossing a time zone at the par 3 6th hole – so, take your tee shot and, before the ball lands, it will have been airborne for more than an hour.
Cape Kidnappers Golf Course, New Zealand
You'll have experienced the ups and downs of golf, of course, but none are likely to have involved the vertiginous drops you will encounter here at Cape Kidnappers Golf Course, overlooking the Pacific Ocean on the east coast of New Zealand's North Island.
Sheer cliff faces and rocky crevasses are waiting to gobble up any ball that you hit anything less than full and square.
Nullarbor Links, Australia
It's back Down Under for no. 9 on our list – and this golf course that is billed as the longest in the world.
With an average 48 miles to drive between the successive tees of this 18 hole course, its claim to fame is easy enough to credit – strung out along a total of 848 miles of Southern Australia's coastline across no fewer than 15 separate golf courses.
North Star Golf Course, USA
This Alaskan golf course is included because of the variety of wildlife you're likely to encounter as you play North Star's 18 holes on the northernmost course of the Americas.
Lost a ball? Beware it wasn't a bear, coyote, raven, fox, or some other critter that made off with it!
Whether you decide to keep your golf close to home or travel to one of these truly unique golf courses, make sure you're covered. Our Golf Insurance can protect you and your clubs from injury and financial loss wherever you are in the world.