When we travel, it allows us to step outside our comfort zone and explore a new culture, cuisine, and meet new people. With every country in the world offering a different experience, we've looked at where the most beautiful countries in the world are to visit and the best sports activity to encourage exploration.
The 10 most beautiful countries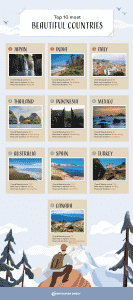 To discover which countries in the world are the most beautiful, we used a seed list of locations that feature in 'most beautiful' articles online and then gathered the YouTube search volume, Google search volume, the number of hashtags on TikTok, and the number of hashtags on Instagram to discover which of these beautiful countries are being filmed and photographed the most online. 
From futuristic skyscrapers to bamboo forests, Japan is like nowhere else on the planet, with a score of 91/100 it's the most beautiful destination for travellers to embark. For tourists looking to take in the beauty of Japan they should visit Miyazaki. Its coastline stretches 300 kilometres: Miyazaki has jaw dropping beaches which are best experienced by surfing along the waves. 
In second place is India, which has a beauty score of 89.5/100. With every turn, a new experience is to be had in India as there is a breadth of things to do. India's smallest state, Goa, is one of the most beautiful areas to visit, characterised by its colourful houses, waterfalls and breathtaking beaches and is a must-see location for those visiting India. To take in its vast beauty, parasail along the Calangute Beach where travellers will be able to see for miles due to the glorious clear skies and catch a glimpse of the majestic Fort Aguada. 
The third most beautiful country in the world is Italy, with a beauty score of 86/100. From historic architecture to mountains and lakes, the country boasts plenty to enjoy. For tourists wanting to visit they should opt for cycling around Sanremo. A smaller, coastal city based in the north west of Italy, it has lots of areas to explore such as the Villa Nobel or the Regina Elena Gardens which is full of palm trees and has a spectacular panoramic view of the old Sanremo.
The 10 trending locations on social media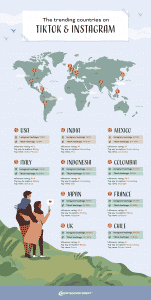 With over 1 billion active users on TikTok and Instagram, it's fair to say that when we see a beautiful location we can't help but post a picture of it online to share with friends and family. With TikTok recently dethroning Google as the most popular website, it's now being used to not only share content but also as a source for advice and tips on where to travel.
To see which countries are trending the most online, we looked at the total number of hashtags for each country on TikTok and Instagram to give them an influencer rating out of 50.
The top location is the United States, which has 128m hashtags on Instagram and 151bn hashtags on TikTok giving the U.S. an influencer rating of 47.5/ 50. With the skyline of New York, the endless horizon of the Grand Canyon and wonderful beaches of Florida it's no wonder visitors are reaching for their phones to snap a video or picture to post online. The best way to explore the U.S. is via bike. A must-see location to take a ride is down the beach in Santa Monica, where you can watch the sunset over the ier, a favourite spot for locals.
In second place is India, which has a total of 181m hashtags on Instagram and 96.9bn on Tiktok. For those looking to get their perfect pic for the Gram, they should parasail along the beautiful beaches in Goa.
Mexico is joint second with 90.8m hashtags on Instagram and 214.9bn hashtags on Tiktok giving it an influencer rating of 47/50. The best way to explore the beauty of Mexico is scuba diving in Los Cabos. Home to sea turtles, hammerhead sharks, sea lions and more than 900 species of reef fish, this is a once in a lifetime destination to see some of the world's most beautiful creatures.
Thinking of travelling?
When going on holiday, safety is always important. Remember to double check your insurance policy if you're hoping to take part in sports when away as standard holiday insurance doesn't always cover these activities. 
Taking out sports insurance can help keep your mind at ease as if you take part in a sporting activity and fall injured you won't be left with a hefty bill.
Methodology 
To uncover which countries were the most beautiful to travel to, the team at SportsCover Direct created a seed list of countries who were featured in rankings of the most beautiful countries in the world. 
They then looked at global search volume on YouTube for the countries + travel to show the number of people searching for travel videos, the number of hashtags on TikTok and Instagram to show the 'postability' of each country, and also the global search volume on Google for the countries + travel to show the number of people searching for information on travelling to each country. 
Each country was then ranked out of 25 for each category and given an overall 'beauty score' out of 100. 
To determine which countries were the best for social media, the team looked at the number of hashtags each country had on TikTok and Instagram. The countries with the most hashtags were ranked higher, and each county was given an overall score of 50. 
The way to explore each country was calculated by looking at the sport which had the highest number of activities on Tripadvisor. The must-see locations were uncovered by looking at the top rated location for each sport in Tripadvisor.