November to February are the months where cyclists often find themselves riding on stationary trainers or just not riding at all, waiting for the weather to improve or to avoid the cold, wet and quite frankly bleak UK climate.
It's at this time of year you will often see professional cycling teams head south to warmer climates and get the miles in for the upcoming season, so why not do the same?
Well…there are pros and cons of an intensive cycling holiday and this post will touch on a few of the key considerations. The winter months are the most popular times to head abroad but the following points should be considered for a cycling holiday at any time of year.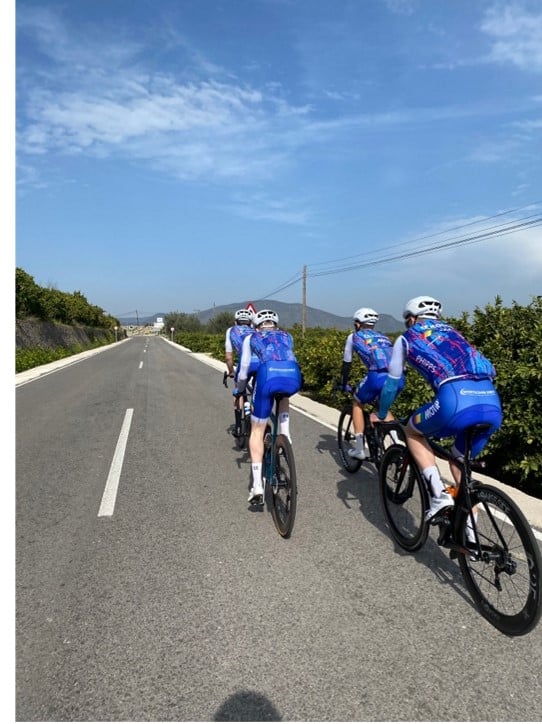 Warmer, better roads and amazing views!
The weather is warmer, the roads are smoother and the views are better, these three things are all conducive to getting out on your bike for as long as you can each day.
If you are looking to get fit for a sportive, race or just general riding then a trip focussed on getting the miles in seems like an easy way to get that fitness back all whilst getting some valuable Vitamin D and topping up those tan lines.
You are most likely to be forced to negotiate some significant hills when abroad, so just having to get up these will force you out of your comfort zone and take your fitness to the next level. The long, and often technical downhills will also be great to hone your technical abilities and improve your cornering, all valuable skills no matter what your ambitions are.
Don't over-do it!
It's commonplace for people to not ride much over the winter and have a week cycling trip planned for February/March time, and then get carried away on a trip abroad and return with extreme levels of fatigue.
Extreme fatigue can be caused by overtraining, which is a state caused by a sudden and significant jump in training volume or intensity.
On a cycling holiday you are likely to encounter a natural increase in both, with the steep climbs and more regular riding. However, doing too much too soon can be negative to your longer-term progression and when returning from the holiday your body could require weeks to recover.
This weight of fatigue can also cause other negative consequences such as increased irritability or constant hunger resulting in weight gain. These negative consequences are extremely rare and are only caused by ignoring general symptoms of fatigue and not listening to your body. If you feel tired and don't want to ride your bike on a day of your holiday, then don't! Your body is probably trying to tell you it needs some more time to recover.
How to mitigate injury
 Another common issue of sudden increases in training volume and intensity is injury. The most common injury among cyclists is knee injuries, and so exercising caution when heading abroad will be the best course of action.
If you start to feel any new pain in any part of your body then stop and let it rest, sometimes an easier day or just a good night's sleep is enough to put the injury to bed.
Another regular issue of increased time in the saddle is discomfort in the pelvic region. This can be mitigated by using bib shorts that you are familiar with and know do not cause you any issues. Since many people will hire bikes when they head abroad, perhaps taking your own saddle could help with this if you have had trouble in the past.
Measuring your saddle position at home to ensure the hire bike is set up as similarly as possible will also help with this. The main take away here is listen to your body! If you are experiencing pain that you do not normally, then stop and address it.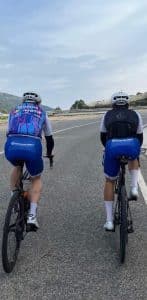 Final Considerations
A cycling holiday is a great way to soak up some sun and improve your fitness. Exercising caution when it comes to how much time you spend on the bike will mean that you come back from the holiday with tolerable levels of fatigue in the legs and are ready to smash your goals! Listening to your body and knowing when it is telling you to spend a day next to the pool is going to be best for you in the long run.
If you are wondering where to head away to then why not give Cyprus a try? Check out one of our latest blog posts about cycling in Cyprus.
Or if you are looking to participate in a multi day cycling event then take a look at another of our posts about some of the best multi day events around the world.
GET CYCLING TRAVEL INSURANCE WITH SPORTSCOVER DIRECT
Getting insurance for these trips is a must, so take out cover today with SportsCover Direct. Our cover starts at just a few pounds a month and can be paid for through flexible payment plans – find out more on our cycling insurance here.