If you're looking for a place to go on an adventure holiday, then places like France, the United States or even Scandinavia are probably near the top of your list. One that you might not have considered – but is absolutely worth checking out – is Croatia.
Across the Adriatic Sea from Italy, Croatia is more popular with tourists than ever before. As a country, it has blossomed after gaining independence from the former Yugoslavia, and then joining the European Union in 2013. And while it's often considered as a location for summer holidays on the beach and by the pool, there's also plenty to explore if you like your trips to be much more active.
This guide will tell you exactly why Croatia adventure holidays are some of the best in Europe. It's full of ideas for thrills and sightseeing, across land, sea and air, and we'll also give you some planning tips so you can make your trip the best it possibly can be.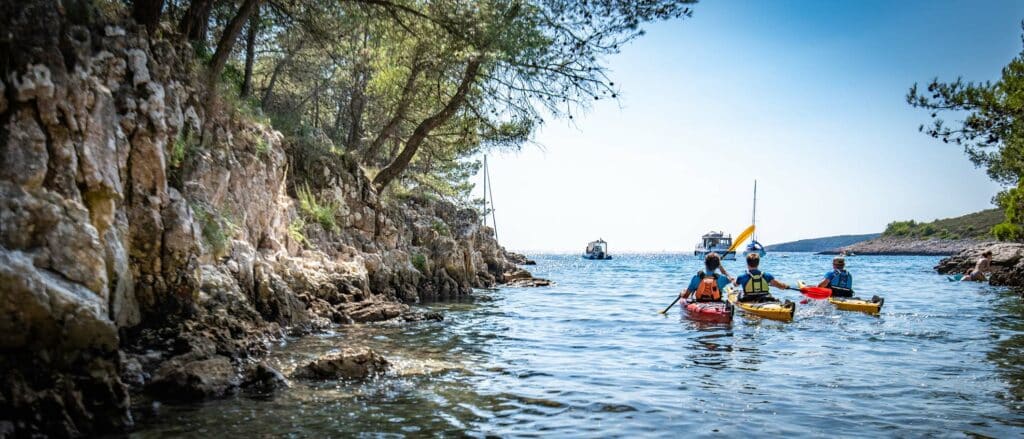 Croatia adventure holidays: why should you go?
As you're about to read, you really will be spoiled for choice if you go on adventure holidays in Croatia. There's so many different activities that you'll be able to do a different one every single day if you wanted to!
But what also helps stand Croatia out for adventure holidays is everything on offer to you outside of your chosen pursuits. The food and drink is fantastic, the scenery is beautiful, the people are friendly and the weather is good for large parts of the year. What's more, the flight time to Croatia from most major UK airports is only between two and 2.5 hours, making it an easily accessible destination for a week-long trip or even just a long weekend.
Kayaking and paddleboarding
There are more than 1000 islands of various sizes peppering the Adriatic coast off mainland Croatia, and many of them are close enough (and sheltered enough) that you can explore them on a kayak or a paddleboard. You'll have the opportunity to find beaches, caves and cliff faces that would simply be inaccessible by any other mode of transport, and find some peace and tranquillity by getting off the beaten track. One of our top choices is Vis, an island that was closed by the Yugoslav government until 1989 and replete with some charming fishing villages.
Rock climbing
The rugged landscape of much of Croatia means that there are a plethora of destinations to explore if you love your climbing. Your best option is perhaps Split, especially as it's one of Croatia's biggest cities and therefore well-covered for accommodation and transport links. Just to the south of the city is Markezina Greda, with 17 different climbs rated between 8A and 8C. Alternatively, you may want to try the routes near Rovinj in Istria – but make sure you climb early, as the rock face can become too hot to touch in the summer afternoons!
Scuba diving
Pula is already a stunning city to visit in its own right. But what you might not also be aware of is that there's just as much to see beneath the surface of the Adriatic. The area is the perfect place to go scuba diving, with crystal clear waters and relatively shallow landscapes making it suitable for all abilities and levels of experiences. You'll get to see amazing marine plant life on the seabed, come into contact with wildlife such as bream, wrasse, dolphins, sea turtles and squids, or even explore a variety of different shipwrecks. With many different diving businesses set up in the local area, the choice of dive is yours.
White water rafting
Head towards the north of Croatia and you'll suddenly find yourself in a white-water rafting playground. Set your sat nav for Karlovac and use that as your base camp to explore rapids on three different rivers: the Korana, the Dobra and the Mreznica. There are a grand total of 93 waterfalls in the area for you to take on (if they're small) and admire (if they're big!). The waters tend to be clear, warm and surrounded by unspoilt woodland, meaning you'll get to stay in touch with nature even as your travelling down the river.
Canyoning
If you want to bring several sports together into one versatile adventure, then canyoning just might be the thing for you. Canyoning involves trekking through challenging terrain on foot, with some climbing, descending and even some caving, before finishing with a jump into a river or stream. The natural topology of Croatia lends itself to canyoning very well, especially in the Split and Rijeka areas, where the combination of waterways and rocky outcrops mean that there will be plenty to test you. It's an excellent way to improve your all-round fitness and take yourself out of your comfort zone.
Mountain biking
If you prefer your sport on two wheels, then you won't be short of options for mountain bike trails while you're in Croatia, especially because of some of the views you'll be able to enjoy. Hvar is an island south of Split which you can easily reach by ferry, and is relatively free of people and traffic, making it a great place to explore. You can easily ride from the ferry port at Stari Grad to Hvar town and back in a day, and check out places that look as if they've been frozen in time.
Skydiving
If you want to take in as much of the Croatian landscape as you can – and don't want your view to be limited to the window on the plane! – then you'll find it's a great country for skydiving. Zagreb, Split and Hvar Island are all centres for skydiving providers, who will pair you up with an experienced skydiver for a tandem freefall which could last the best part of a minute. Get the right day weather-wise, and this could be a great activity to combine with other sports and trips on your holiday.
Ziplining
Dubrovnik is a stunning coastal city to the far south of Croatia, close to the borders with Bosnia & Herzegovina, and Montenegro. If you want to see the best this city has to offer, then probably the best view you can get is from its ziplines off the top of Mount Srd. It's a two-stage zipline adventure, from which you'll get to see the historic old town, the harbour and all the islands that sit beyond in the Adriatic. But it's not just about the adrenaline rush: the professional team will also give you plenty of insights and stories about the history of the town along the way.
Quad biking
For an adventure with plenty of horsepower, then a quad bike safari is one of the best bets around when it comes to Croatia adventure holidays. The hills and mountains in the Dubrovnik area are excellent for exploring on four wheels, along with professional guides that can give you tuition if you've not driven an all-terrain vehicle (ATV) before. They'll take you through traditional villages that show the very best of this country's fascinating history and will take plenty of stops for photos at the best sightseeing spots. To cover as much ground as you can in a day, ATV tours are a stand-out option for getting around.
Sail-hiking
You might be wondering how you'll best be able to explore several different islands on your trip to Croatia. Well, the best way is to turn to one of the specialist tour operators that combine cruises and day-trips with hiking or cycling routes. By day, you'll be on a brand-new island with a whole new landscape to explore, and by night you'll be heading back to base or cruising towards your next destination. Many of the boats are also set up for partying, too, meaning you'll have plenty of things to do and people to meet in the evenings.
Windsurfing
The Adriatic coast has some excellent windsurfing and kiteboarding destinations nestled within its islands, depending on how the wind gets channelled between them. One of the very best has to be Bol, on the island of Brac (easily reachable from Split). There is regularly a stiff breeze on and around the Zlatni Rat beach, which makes it ideal for reliable and consistent windsurfing conditions. What also stands Bol out is that there is a range of different windsurfing providers, including some that specialise in helping newcomers and novices, so there's something for everyone regardless of experience.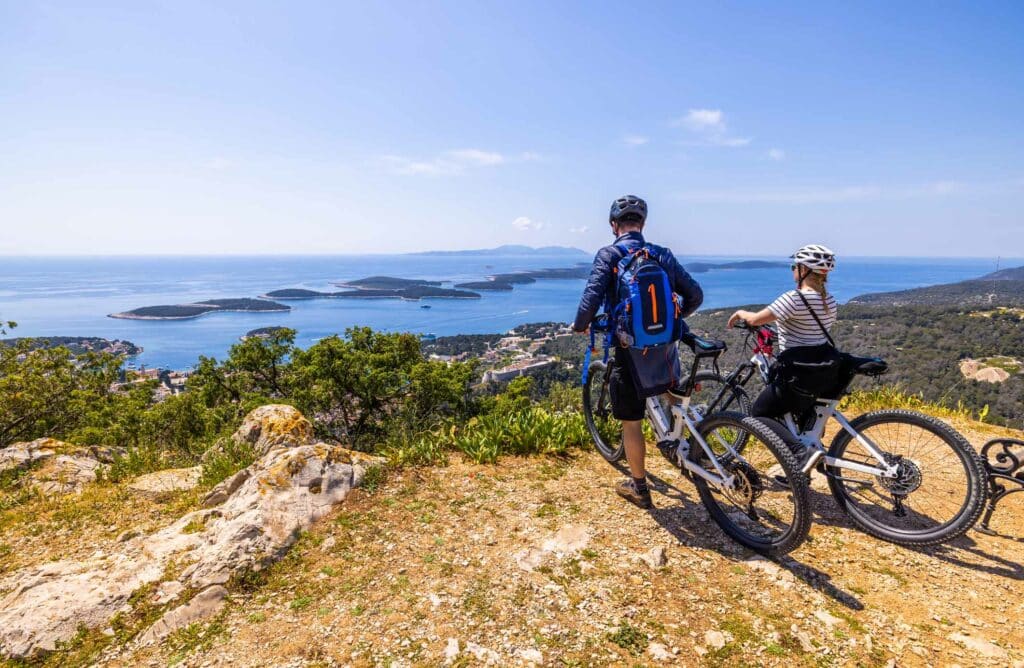 What to do before you go
As you can see, there's plenty for you to do on your Croatia adventure holidays, so the one thing you definitely won't be suffering from is boredom! However, to make sure your trip is the best it possibly can be, we recommend the following as essential parts of your planning:
Arrange your equipment
The majority of the activities in this guide will require some specialist equipment and/or safety gear. If your events are professionally organised, then it's likely that this will be provided, but you should check in advance just in case you need to bring anything with you. This can help you keep the amount of stuff you have to take with you to a minimum and ensure that you don't accidentally leave something you need behind.
Plan as much as you can
Uncertainty can easily lead to disruption when you're away on any kind of holiday, and it can also lead to worrying that distracts you from an enjoyable trip. So, make sure you find the time to do as much planning as you can before you go: where you're staying, when and how you're travelling, and where your activities will take place.
Know what to do in an emergency
Some of the pursuits listed above will take place in the countryside, where it might not be as fast or easy to raise the alarm in the event of an emergency. Whatever you're doing, make sure that everyone in your group knows what to do before you start your activity. Being able to get medical help to an injured person as quickly as possible can make a huge difference.
Get full medical cover
Connected to the previous point, it's essential that you're covered for any health and medical care you need while you're away. As with most countries in Europe, Croatia has a good level of healthcare. But if you need care beyond the limits of your European or Global Health Insurance Card, or if you need emergency rescue in the countryside, then you might find yourself with a hefty bill. The only way to avoid this financial shock in the event of an accident is to get yourself insured for your trip before you travel.
Get sports travel insurance with SportsCover Direct
Whatever you decide to do on your Croatia adventure holidays, make sure you do it with insurance cover in place. That way, you can focus on your chosen activities with confidence and peace of mind, because you'll know that you won't end up out of pocket if something goes wrong.
SportsCover Direct has been insuring sports and leisure travellers just like you for over 25 years. Our policies can cover you for medical expenses, rescue or repatriation, as well as cancellation and curtailment. There is also cover for travel disruption, or if you suffer loss, damage or theft of your luggage and equipment.
For a trip of a lifetime, our affordable policies are just a tiny fraction of the cost, but a vital part of your holiday planning. Take a closer look at our sports travel insurance today.