It's 9.30pm by the time I arrive at the car park for the Fairy Pools, the distant yellow lights of caravans parked up glow like fireflies against the thick blackness of the evening. I pass one and catch a glimpse of a man leaning back, pouring over a bedraggled folding map that has clearly seen him through some extraordinary journeys. Outside the wind is clawing at the trees, bending them to peculiar angles. The Isle of Skye is alive tonight.
As I pull into a quiet corner and switch off the engine the sound of gusting wind ebbs and flows around the car, rocking it gently and making me feel like I am out at sea. Naomi, a pro mountain biker joining me for the weekend, should arrive soon, so I settle into the back of the car on my blow-up mattress for a short nap. Her husband, ultra-runner Charlie, and I are due to head out on a night trail run up the mountain, an 8km loop that takes in the pools en route back.
A gentle knock on the car window wakes me up with a groggy moan. Surely it was only a minute or two since I put my head down? I open the door to a beaming Naomi and give her a hug. They have just driven all the way from Edinburgh to Skye with two children in tow. With my head feeling like it has been stuffed with cotton wool I suggest we move the trail run to the morning pre-dawn. We agree on a 5.30am set-off and head to bed.
There is no snooze button allowed, but it doesn't take much convincing to jump out of bed and get ready to head out on what is die to be one of the most extraordinary mornings trail running in an utterly magical part of the world. I open the car door and it slams back shut in my face. It's more than a little wild outside, but that just adds to the atmosphere of it all. Charlie bounds over with a lightness in his step that tells me I'll be running with a pro. Naomi is up too to see us off. I can tell immediately that she has the kind of infectious energy that lights up a room and breathes life into any adventure. Charlie, too, seems to ooze this energy. I curse myself for not brewing a strong coffee to try match their enthusiasm.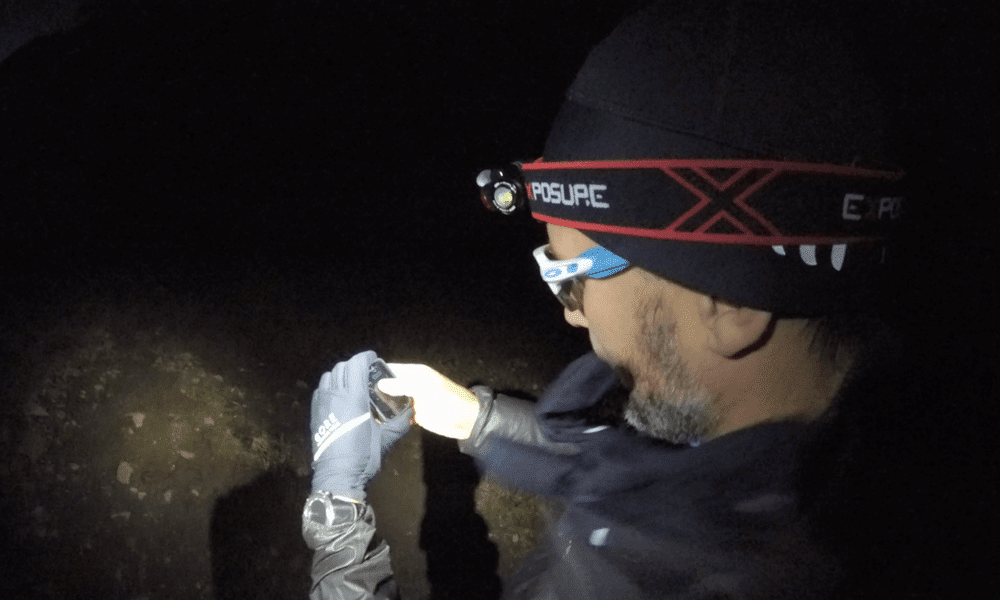 We set off into the dark down a muddy hill, sliding our way into some semblance of a rhythm. I was right about Charlie. He appears to be floating ahead of me, barely touching the rocks and bounding effortlessly onwards like a gazelle. I curse once again, this time at how easy he makes it look whilst I forge ahead to the sound of my own heavy thuds that can only mean I must seem like a buffalo in comparison. Our heart rates thump steadily as the trail winds upward.
A deep blue glow signals the approaching dawn and silhouettes the Cuillin mountains above us. We have been tracking the river and can hear water gushing to our right, but my eyes are focused on the pool of light in front of me from my headtorch. Charlie stops abruptly and points to a white sign that says 'You are now beyond the Fairy. You are entering remote and potentially dangerous mountain country'. We look at each other, the picture of confusion. "Really? But I thought they were way up there!" I point to the looming mountain face. Charlie smiles, "I guess all that gushing water we heard back there was then".
We backtrack a little way, angle our torches up and lo and behold there they are, cascading down in an endless chain of waterfalls and crystal clear pools. It was perfect timing, really. Dawn was coming and the world around us was slowly forming as the light grew stronger. Clouds poured over the mountain peaks above, glowing fiery shades of orange. As a photographer I couldn't have hoped for a better setting, nor conditions. I set Charlie to task running up and down the trails to capture the second portrait of my expedition. Charlie is in his element, and I fully understand his passion for the mountains, the trails and the freedom you feel when running in the wilderness. We head back to the car high on good endorphins and a little speechless at just how remarkable a sunrise it had been.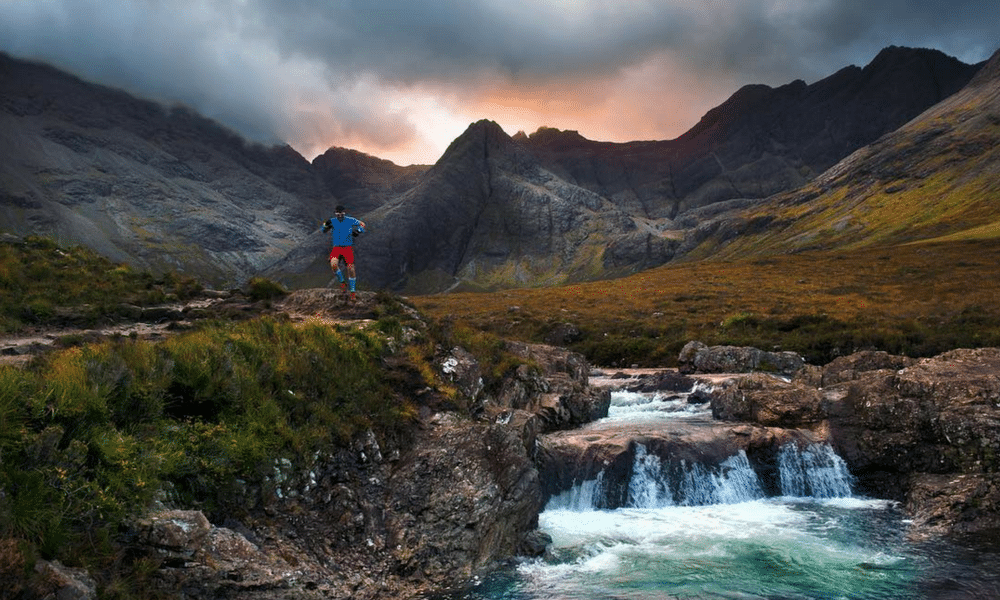 Now Naomi is no shrinking violet, and a few weeks ago had said a hearty "Yes!" to my (a stranger at the time) suggestion of wild swimming in the fairy pools. Knowing that we are heading towards winter and that the water coming down from the mountain is 'bracing' to say the least, I'm impressed by the fact that she didn't even hesitate in answering. She has a serious zest for life, this one. A few minutes later we are wet suited up and giggling our way up towards the Fairy Pools. A few sideways glances from tourists only eggs us on. First, we recce the pools and figure out which stretches we can gorge walk up and make a real adventure of it. Then it's off with the beanies and thermal jackets, and down to the water's edge.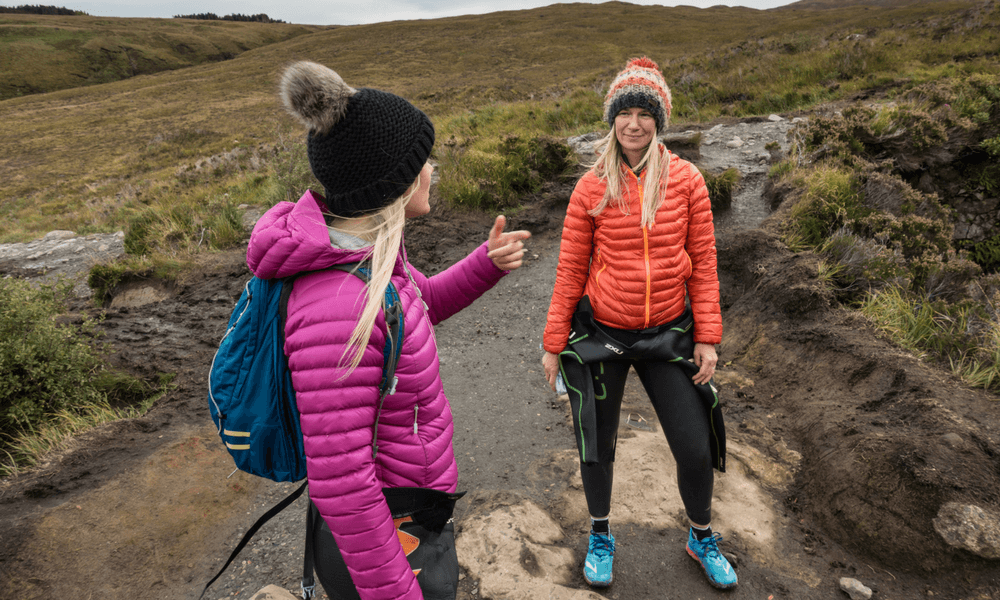 Naomi steps gingerly into the shallows, and I swear I see her muffle a gasp. The pools glow turquoise, but the water is so clear you can see meters down to the bottom. We pick our way along to the first pool and launch in. No point delaying the inevitable shock to the system! The icy water creeps down my back and jolts me awake quicker than any triple espresso ever could. My eyes bulge and I stutter a few incomprehensible words in Naomi's direction. We look at each other and huge, toothy smiles split our faces in two.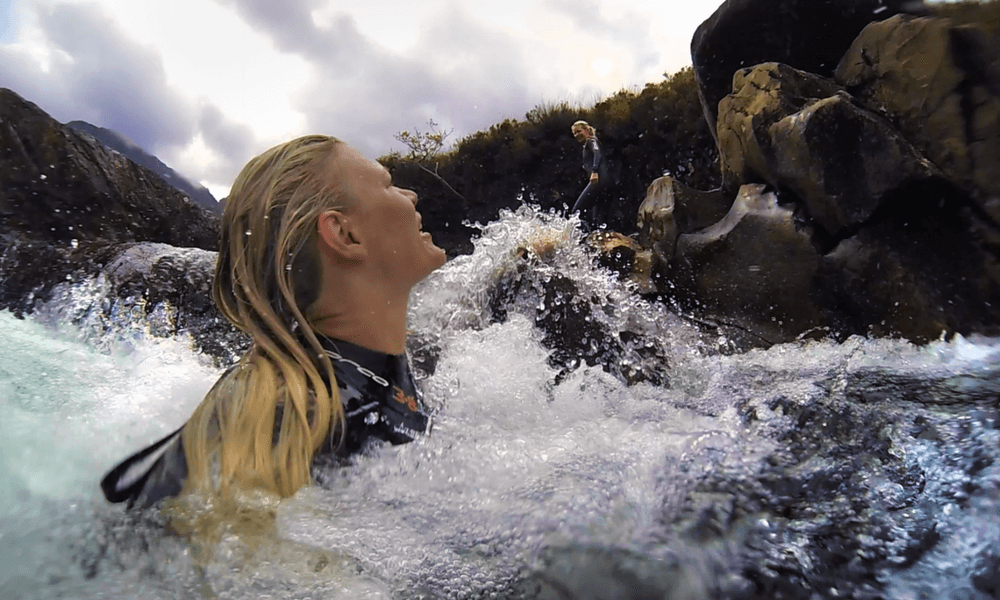 We turn and head up the side of the first waterfall, gorge walking our way up till we reach a huge, wide rock that has been smoothed over by thousands of years of erosion into what looks like a perfect water slide. I feel like a child as we whoop and screech our way down the 'slide', plunging into the frigid pool below. Best. Morning. Ever.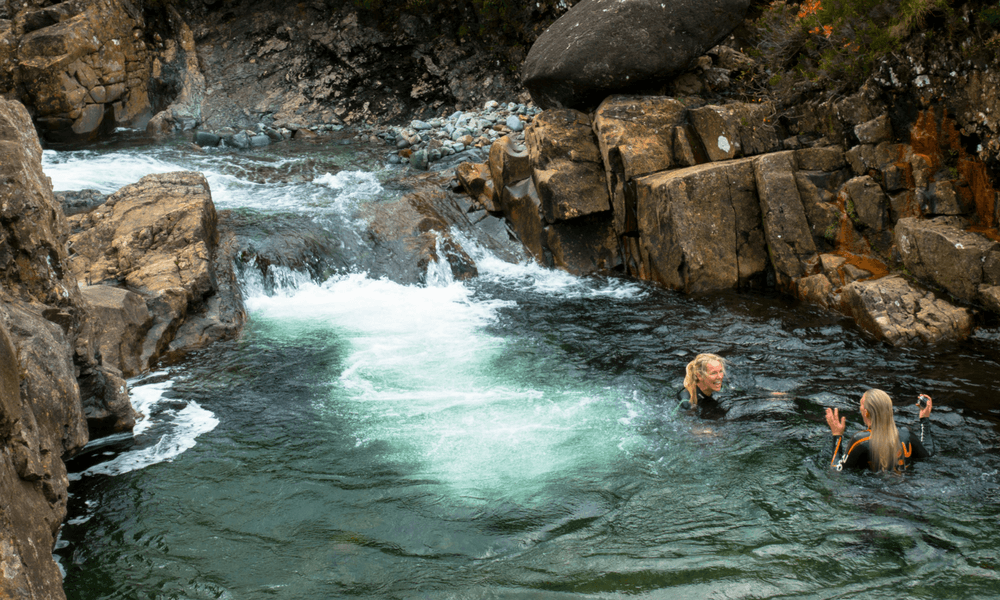 We work our way as far upstream as we can go, finally giving in when we reach a torrent of water, the force of which drives us backward downstream. The waterfall is flanked by vertical walls of sheer, smooth rock, denying us access to its upper reaches. We float our way back to shore and collapse in a heap, exhausted, hungry and absolutely ecstatic. My cheeks and stomach muscles ache from laughing so much. Dripping, bedraggled and smiling we trundle back to the vehicles for a hot brew. But the day is not done yet. This is only the start of the most extraordinary weekend. We peel off our wetsuits and change straight into our cycling gear, ready for two days of bikepacking and an evening wild camping in the remote wilderness of Skye, far, far away from any tourists. In fact, from any humans whatsoever.
Perhaps what I loved the most about this incredible weekend is the fact that Charlie and Naomi brought their kids with them on this brilliant adventure. They taught them so much out there, and took them on an adventure that the kids will never forget. Charlie met us that evening at the camp spot, having driven and then hiked the final miles with the youngsters. This husband and wife have rewritten any preconceptions I may have had about how hard it could be to bring your children with on such action packed and far away adventures. They shared the load looking after them, and the kids laughed just as hard watching us fumble our way up streams and arrive at camp caked head to toe in thick mud. It was a weekend none of us will be forgetting anytime soon.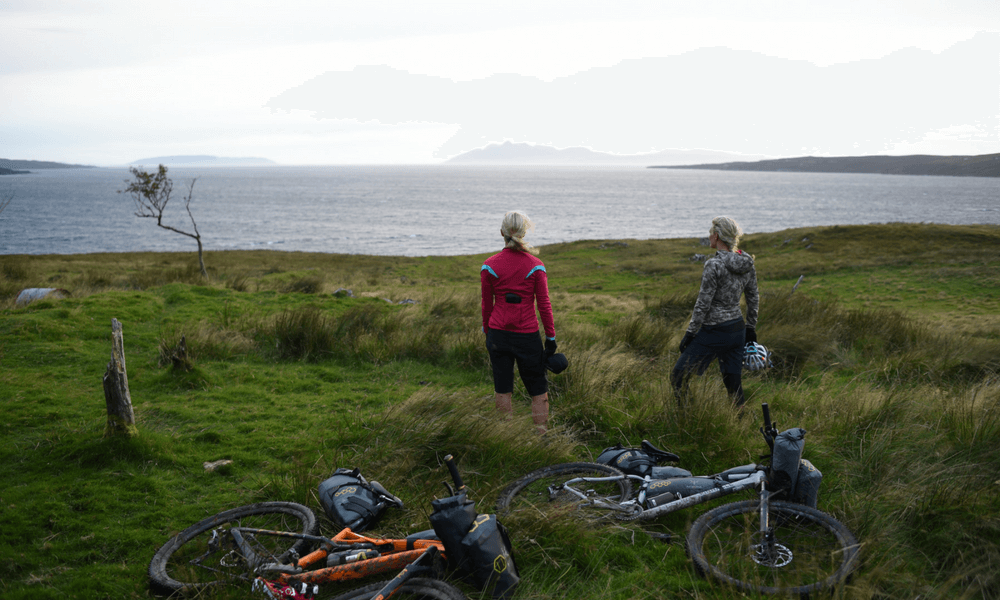 Ness is currently embarking on a six-week adventure around Scotland. With Skye ticked off, she's off to the Outer Hebrides and beyond for more exploration. Follow her adventure on Twitter and check back to the SportsCover Direct blog for her next instalment in the coming weeks.
If, like Ness, you're heading on a Skye-inspired excursion, make sure you have the correct cover in place. Our Sports Accident Insurance protects you should you need rescuing or have a serious injury whilst out in the wilderness.