Think hiking, and you probably think of beautiful scenery, challenging terrain and a real sense of a rewarding adventure. No surprise, therefore, that the Alpine nation of Switzerland is a regular favourite for an active holiday with hikers from the UK, across Europe and beyond.
Switzerland is more accessible from the UK than you might think. If you prefer not to fly, or you have lots of luggage and equipment to bring with you, then you can reach the likes of Geneva in a day by road or rail. And when you arrive, you'll have countless routes and backdrops to explore, from the rugged peaks of the Matterhorn to the gently lapping shores of Lake Lausanne.
In this guide, we'll tell you all the basics you need to know about hiking in Switzerland: when to go, where to go, and how to plan out the best trip possible.
What time of year should you go hiking in Switzerland?
It won't surprise you to learn that the snow in the mountains means that winter is certainly a no-go for hiking in Switzerland. Furthermore, it can also account for a lot of the spring as the weather gradually warms up and the snow slowly melts. As a result, many popular trails may not necessarily open for the summer season until well into May or potentially even June.
To avoid disappointment in an early-season trip, we recommend going after the peak summer season around September instead. You're less likely to get the intense summer heat, the trails should be a fair bit quieter, and because the kids are back at school, it should be a little cheaper to get travel and accommodation, too.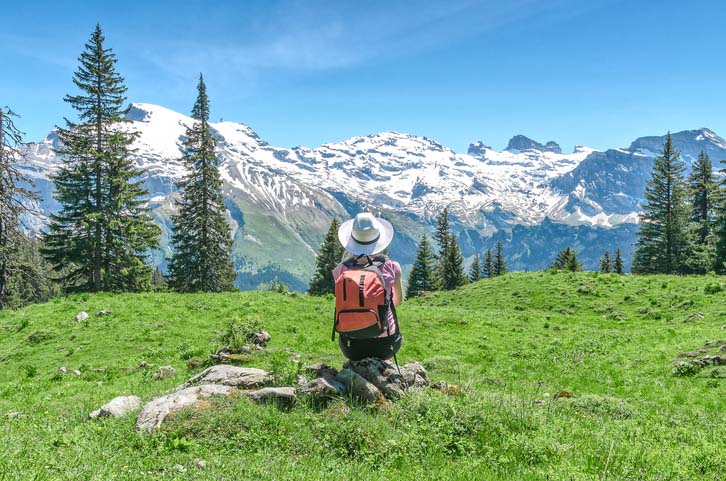 Where is the best hiking in Switzerland?
Switzerland may only be a relatively small country, but it's absolutely packed with different hiking trails and networks to explore – nearly 39,000 miles of them in total! We couldn't possibly list them all here, so to give you a bit of inspiration, here are a few of our favourites:
Aletsch Glacier
One of the first questions that hikers tend to ask before embarking on a trip to the Alps in summer is "where can I go walking on a glacier?". Well, there are plenty for you to choose from, but the Aletsch Glacier really stands out.
At 14 miles long, it's the biggest glacier in the Alps, and the views have to be seen to be believed. The winding route takes you between jagged peaks and steep gullies. Mountains, blue skies and pine forests are your companion as you traverse this unique landscape. The trail itself comes in at just over ten miles each way, and it's strongly recommended that you have plenty of hiking experience before you take on this full-day adventure. But if you do, you'll see vistas that you'll never forget.
Gemmi Pass
The Gemmi Pass has been a favourite of adventure travellers for more than a century and a half, going all the way back to the very first Victorian tourists who travelled with Thomas Cook. But that doesn't make it an easy trek in any way, shape or form.
The route is around eight miles each way, between Leukerbad and Kandersteg, which means it's achievable in a single day. But challenges await: including more than 1000 metres of ascending, some very steep and rocky sections in part, and many areas that are exposed to the weather.
Indeed, weather can be a real determining factor in your enjoyment of the Gemmi, so ensure it's going to be a fine, clear day before you travel. The good news, however, is that you aren't committed to walking it in both directions: it's no problem to traverse it one way, and then travel back to your original starting point by train.
Via Alpina
If you want an adventure to end all adventures, then here it is: more than 240 miles from Montreux on the shores of Lake Geneva all the way to Liechtenstein. Even experienced hikers can take three weeks or more to complete the entire route, but as an epic journey, it'll certainly be one to remember.
The Alpine pass count on the whole route stands at 14, and this is a real old-school type of hike: you'll need good map-reading skills and be comfortable with heights to make it all the way across. Watch out for the Hohturli in particular, where you'll need to use a wooden ladder attached to the rock face to continue your journey. Don't expect to hop from town to town and stay in hotels every night either: you'll be camping or lodging in mountain huts, getting a chance to gaze at the stars and marvel at the wildlife.
This is a trip for highly experienced and fit hikers only and should only be attempted between June and September. Make sure you plan it thoroughly before you go!
Hohenweg Hohbalmen
The Matterhorn is one of Switzerland's most famous mountains, and this is the hike that will give you the best possible views of it.
Starting and finishing in the nearby resort of Zermatt, you start with an uphill route through the forest before you reach classic Alpine meadows. From there you traverse steep slopes and even some narrow ledges that get you up close and personal to the Matterhorn's north face. The route back down into Zermatt is much gentler but it's one of the most photogenic treks you'll experience in Switzerland. Start early in the morning for the quietest and coolest conditions, and to give yourself plenty of time to take a rest (and some photos!) along the way.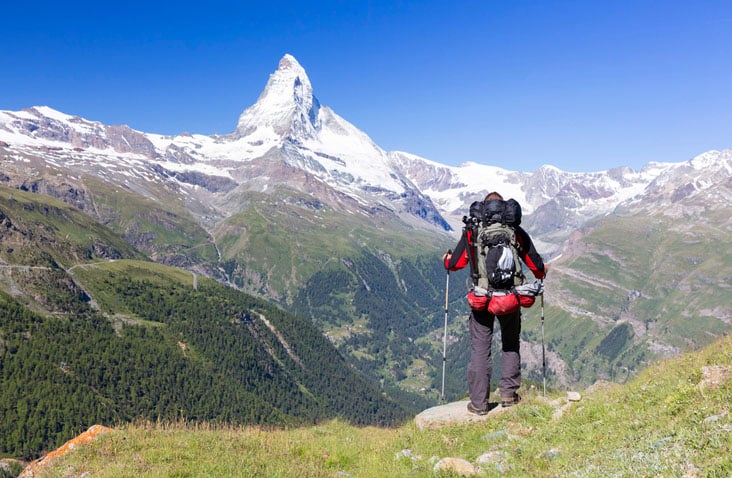 What else do you need to plan before you go?
Fail to prepare and prepare to fail; it's an old motto, but it's certainly true of active leisure trips like hiking in Switzerland. To make sure you and your companions have the best possible time while you're there, make sure you take these key factors into account:
What to pack?
The considerable variation in altitude between different areas of Switzerland means that weather can change dramatically from one area to the next. Do not assume that it'll be warm and dry in summer. It could still be wet, windy and potentially hazardous in places if the weather turns. As tempting as it might be to travel light with just your summer gear, you should pack for all types of weather so that you don't get caught out. For further detail, check out our guide on what to pack for a hiking trip.
Guided tours
Most of Switzerland is open to the public to hike at certain times of year, subject to certain safety restrictions that are in place. If you want to maximise your experience and explore some of the best routes, it may be worth looking into booking a guide for some of your trips.
Visa and currency
Don't forget that Switzerland is not a member of the European Union or the euro, and so you should make sure you have ready access to Swiss francs while you're away. Also be aware that Switzerland can be a very expensive country for accommodation, transport, food and drink, so do plenty of research into your chosen area and make sure you budget accordingly.
Health and rescue
Switzerland is a highly developed country with an excellent standard of healthcare. It's also a country that's very well-drilled in emergency and rescue services for people who run into trouble in the mountains. However, these services can come at a substantial price, and it's vital not to rely solely on your European or Global Health Insurance Card (EHIC or GHIC) because they only cover a basic standard of care. Only a more comprehensive insurance policy can protect you against any major financial impact of an incident while you're in Switzerland.
Furthermore, you should also ensure you know how to alert the emergency services in the event of an accident or incident in remote areas.
Get trekking insurance with SportsCover Direct
It is absolutely critical that you have the right insurance cover in place for any trekking holiday, including travel in Switzerland. Should you suffer a serious accident or injury, then the costs of rescue, healthcare or repatriation can be extremely large. Additionally, you might also face unforeseen costs if your travel plans are disrupted, or if your luggage is subject to loss, damage or theft.
SportsCover Direct is your perfect partner with comprehensive hiking and trekking insurance for your next trip to Switzerland. That way, you can explore this fascinating, scenic country with confidence and peace of mind that you won't lose out financially if something goes wrong. Affordably priced and available through flexible payment plans, our policies represent a small part of your budget but a big part of your travel plans. Take a closer look at our hiking and trekking insurance today.