It's impossible to escape all the stories in the news about the weakness of the pound in the current markets at present. That means that for many destinations – and for Europe and the United States in particular – going on holiday has just got a lot more expensive.
However, that doesn't mean to say that there aren't destinations around where you can't get great value for money. By sidestepping the euro and the dollar and going to places where the pound is still relatively strong, you can enjoy sunshine, sightseeing or whatever you want from a holiday – without it costing you the earth.
In this guide, we'll highlight five destinations where you can currently do just that:
Turkey
In October 2017, £1 got you: 4.8 Turkish lira
In October 2022, £1 gets you: 20.6 Turkish lira
An increase of 325%
If you thought the rise in inflation in the UK was bad, spare a thought for the Turkish economy. As of October 2022, inflation in the country had hit a massive 83%, with consumer prices rising by an average of 3% every month. But normal Turkish shoppers' loss can be your gain, as it means that it is now exceptionally cheap for British tourists to visit this fascinating nation in the eastern Mediterranean.
Many of the big airlines and tourist operators have responded, putting on more flights to destinations like Bodrum and Antalya. These resorts can offer warm sunshine more or less all year round, as well as some delicious food and drink. And if you're tempted by a lively city break, then don't miss the hustle and bustle of Istanbul.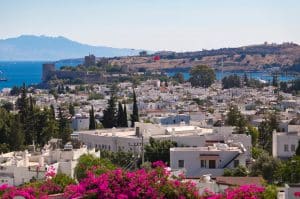 Hungary
In October 2017, £1 got you: 347 Hungarian forints
In October 2022, £1 gets you: 482 Hungarian forints
An increase of 39%
The weakness of the Turkish Lira has had a knock-on effect on other nations in Eastern Europe that don't use the euro, Hungary in particular.
With a little extra spending money in their pockets, Brits can further appreciate what the country has to offer. The obvious starting place is the capital and 'Pearl of the Danube', Budapest. A spectacular parliament building, the imposing Buda Castle and a plethora of quirky ruin bars make the city a great place for a weekend city break – especially for the Christmas markets.
Further afield (literally), the Great Hungarian Plains to the south and the far north-east of the country bring rolling countryside, perfect for exploring on foot or even on horseback. The Carpathian Basin, meanwhile, offers miles of unspoilt landscape, with the imposing foothills of the Carpathian Mountains providing a spectacular backdrop.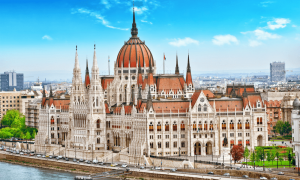 Argentina
In October 2017, £1 got you: 23 Argentinian pesos
In October 2022, £1 gets you: 166 Argentinian pesos
An increase of 621%
Just like Turkey, Argentina has been suffering from high inflation rates, which as of 2022 were pushing towards 100%. The difference in this case is that the fragility of the Argentinian economy has been a fact of life for several years now.
Argentina may be a long flight from the UK, but it's such a land of contrasts that there's something for everyone. You may want to go trekking in Patagonia and visit the Pento Moreno Glacier, or try out rafting in the Nahue Huapi National Park. You could even check out the Chubut Valley, where Welsh is still spoken throughout the community.
Most likely, you will fly into the capital Buenos Aires, a livewire capital where there is plenty of urban adventure to enjoy. Those with a taste for atmosphere can take in a football match at one of the two South American giants in the city, Boca Juniors and River Plate.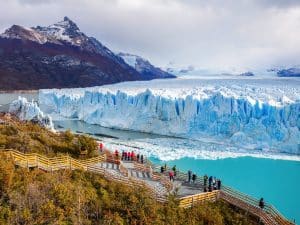 Egypt
In October 2017, £1 got you: 23 Egyptian pounds
In October 2022, £1 gets you: 21.8 Egyptian pounds
A decrease of 8.7%
The exchange rate between British and Egyptian pounds has remained relatively stable in the last five years, but it's still very high by historical standards. That means this remains a good time to explore the history and majesty of one of the world's best-known early civilisations.
The Nile, the Pyramids, the Sphinx, the Aswan Dam, the simmering chaos of Cairo: there is much to enjoy whatever you want to get out of a trip to Egypt. It remains popular for sun holidays as well: thousands of British tourists decamp to resorts like Hurghada every year in search of all-year-round warmth.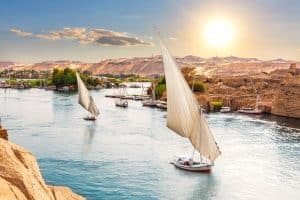 India
In October 2017, £1 got you: 85 Indian rupees
In October 2022, £1 gets you: 91 Indian rupees
An increase of 7%
India is always a relatively inexpensive country to visit, and is such a vast land of contrast that sightseers and backpackers alike have plenty to enjoy.
Some of the biggest tourist spots almost go without saying: the Taj Mahal at Agra, Delhi, Mumbai and more, but there's so much more to see off the beaten track – especially if you travel by India's famous railways. Goa and Kerala towards the south-west of the country are favoured for their beautiful sandy beaches, and the high volume of flights in and out of the country can make it cheap to get there and back.
India is also a destination offering the highest number of solo tours as our recent Solo Travel Index study revealed.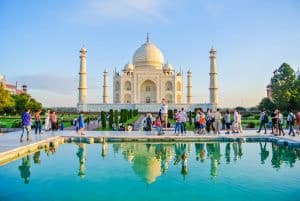 Get covered for your sports travel with SportsCover Direct
If you're planning a sports trip in the near future, it's vital that you and your equipment are covered from start to finish. At SportsCover Direct, we have 30 years' experience covering more than 200,000 sports enthusiasts in their activities across the globe. Whatever your sport, we can offer a wide range of policy options, covering personal accident and liability, lost equipment, travel disruption, medical expenses and much more. We have a five-star customer feedback rating from Feefo, and our competitive rates mean cover may cost less than you thought.
Explore all our sports travel insurance policies in detail here, and find one that's perfect for your next trip.