If you are heading to a clay pigeon shoot for the first time, knowing what to wear can be confusing. However, compared to other forms of shooting, such as game hunting, there are less rules and etiquette you need to follow.
Essentially, the main thing to consider when deciding what to wear clay pigeon shooting is your safety and comfort. The Clay Pigeon Shooting Association states:
"For a have-a-go day or an introductory lesson, just wear casual clothes that will be comfortable for an hour or two outdoors. In summer, for instance many shooters wear trainers, jeans and a T-shirt.
"Depending on the weather, you might want to add a fleece or jumper, boots and a waterproof coat."
The advice is to dress comfortably, but there are a number of things that will ensure your comfort is improved.
Get a Shooting Insurance Quote
We make insurance easy. We pride ourselves on helping our customers get the right cover, quickly and easily at competitive prices. Get an instant quote for Sports Shooting Insurance online now.
Eye, Ear and Head Protection
Aside from the clothes you wear, the most important thing to wear on a clay pigeon shoot is protection. This includes protection for both your eyes and your ears.
Many shooting grounds will provide you both of these on arrival.
The sound of a shotgun being fired, dozens and dozens of times can seriously damage your hearing without protection. Foam ear plugs will likely be provided by your hosts, in order to dampen some of the noise.
If you are likely to be a regular shooter, it may be worth purchasing your own ear protection. This could come in the form of bespoke ear plugs, or headphone-like ear defenders. What's important here is that they are comfortable to wear, and they do not restrict you when mounting your gun.
For your eyes, it is likely that the shooting venue will provide protection from the possibility of being struck by fragments of falling clays.
As with ear defenders, regular shots may opt to purchase their own. Not only will you be able to choose a style that is most comfortable for you, but many eye protectors will come with interchangeable lens suitable for a wide-range of lighting conditions.
A hat of some form is also recommended. This can be something such as a baseball cap, or a flat cap. As long as your hat of choice has a stiff peak to not only protect you against clay fragments, but to also add as a protection against sun glare, you will be OK.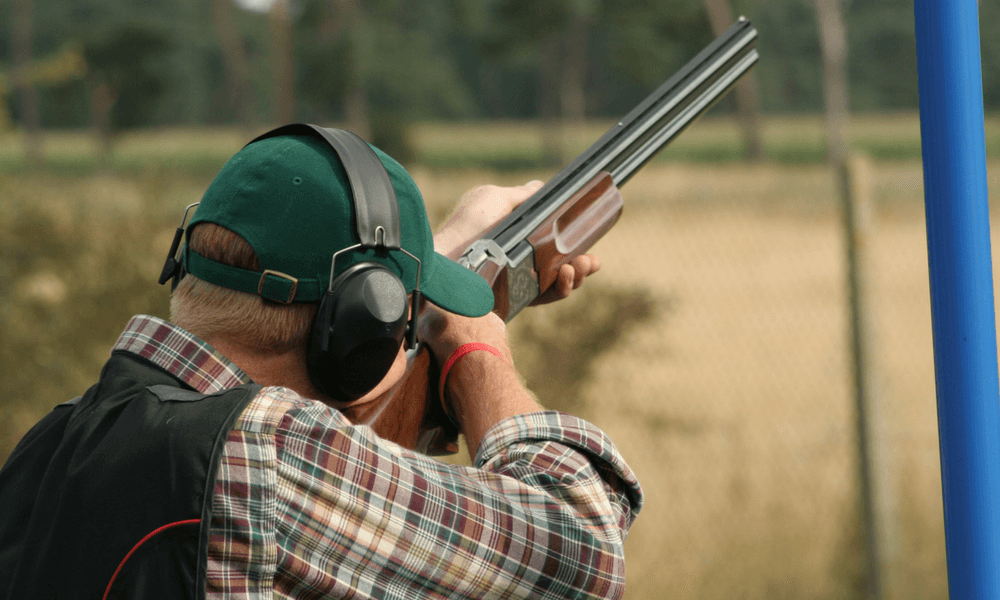 Shooting Vests
Aside from your 'normal' day-to-day clothes, it's likely that you will wear a shooting vest on a clay pigeon shoot.
These can often be provided by the venue, but once again, it's worth investing in your own if you are a regular visitor.
A good shooting vest will normally feature a padded shoulder section. This will help protect you against the gun's recoil. If your shooting vest doesn't include a padded section, you are able to purchase recoil pads separately.
As well as offering protection, a good quality shooting vest will improve your shooting experience. With pockets for storing your cartridges, you shots are more easily able to reload and take aim at the next set of clays.
Gloves
When clay pigeon shooting it is likely that you will fire off more rounds than when pheasant shooting, for example.
With the increased activity, the barrel of your gun is likely to get extremely hot.
A decent pair of shooting gloves can be picked up for around £30, and will ensure you avoid burning your hands on an over-heated gun barrel.
Not only this, but the added grip guns will present to you, you could also improve your shot too!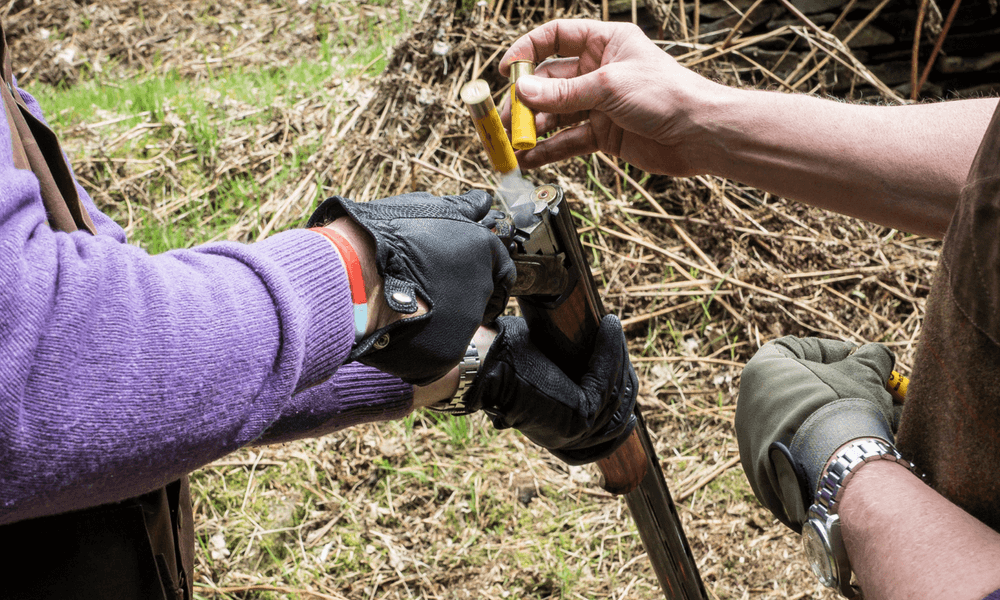 Footwear
A specific type of shoe or boot isn't defined for clay shoots, but common sense should prevail.
Ensure a solid, steady stance is vital not only for safety (you're handling a gun after all), but for your accuracy.
With that in mind, flip-flops and high heels are definitely not what to wear clay pigeon shooting.
Instead opt for a pair of trainers or boots with a good sole to provide you a combination of comfort and balance.
In the winter months, it's wise to consider wearing wellies, as it is likely that underfoot conditions will be quite muddy as you move between shooting areas.
Aside from comfortable clothing and safety equipment, another important thing to have when clay pigeon shooting is insurance. SportsCover Direct's Sports Shooting Insurance starts from as little as £14.99 a year.