Our policy wordings are subject to change so for the most accurate information, the best advice is to refer to the documents sent to you on purchase. If you do not have these, please just contact us and we will arrange for them to be resent.
To see the current policy wording, just follow these two simple steps.
Step 1
Simply visit the Sports Travel Insurance page, Sports Accident Insurance page or any of our sport-specific pages, and input your activity, destination (if applicable), policy start date and press 'Get A Quote'.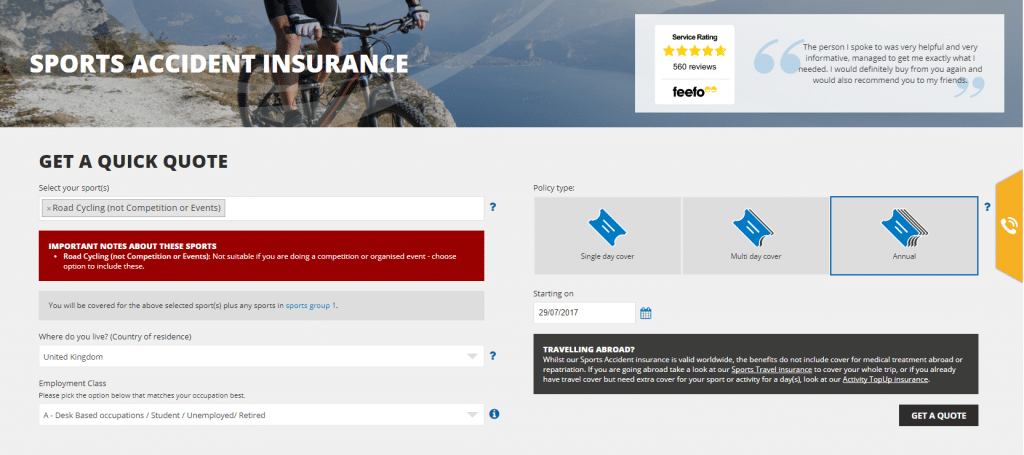 Step 2
You will then be taken to the Benefits screen, where, on the right-hand-side you will find a link to the Policy Wording for the respective product.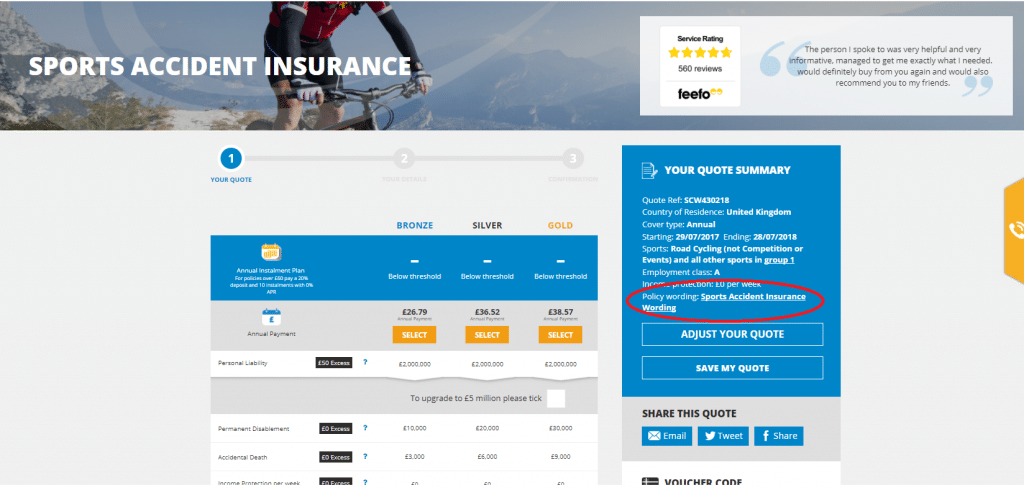 POLICY WORDING
Get A Quote
Simply search your chosen sport below to get started.
Can't find your sport? Just give us a call and we will do all we can to help.
Why SportsCover Direct?
The UK's largest online specialist sports insurance provider
Competent, fast and easy to access
Huge number and range of products
Deep and up-to-date knowledge of the industry
Professional customer service
Got Any Questions?
If you've got any further questions, visit our FAQs page, or call us on 01494 484800.
Read Our FAQs
What Our Customers Say
Excellent and very friendly service. When I needed to amend my cover, it was done swiftly and efficiently with my documents sent across immediately. 
SportsCover Direct are always very easy to deal with. They answer the phone quickly, are there when I want to make amendments, and always call back if they need to get back to you. All in all, I would recommend them without hesitation.
As always ordering was smooth, seamless and excellent value. Even completing medical condition declaration was easy unlike a lot of other sites.
Great to be able to speak to someone quickly, without being on hold for ages. Knowledgeable staff understood what they were doing and not reading from a script.
The insurance is exactly what I needed. Easy to use website, and when I emailed in a few questions I got rapid responses which were clear and comprehensive. What a great company to deal with!