The triathlon season may have come to an end in the Northern Hemisphere but there are still plenty of winter triathlons that you can partake in over the colder months if you are willing to travel. Here are our five suggested races:
ABOUT US
We have been providing specialist Sports Travel Insurance for over 25 years to UK citizens. Our comprehensive policy can protect you to take part in over 500 different sports and activities across the globe. Get an instant quote for Sports Travel Insurance online now! Some of our other products include Triathlon Insurance and Golf Insurance.
1. The Canary Islands
This collection of islands in the Atlantic Ocean are often top of the list of holiday destinations for Brits, however, they are also little gems for anyone looking for a Winter Triathlon training destination. Including well-known islands such as Tenerife, Fuerteventura, Gran Canaria and Lanzarote, the terrain of these islands lends themselves well to cycling and running training as well as hosting several events throughout the year. The options for swimming training are obviously endless with easy access to the Atlantic Ocean! The massive advantage of such a popular destination is the range of flights available. And, with such a short flight time, you could even fit a training session into a long weekend.
2. Mallorca
Staying within Europe still, Mallorca's mountain routes have established themselves as a popular destination for cyclists and triathletes alike. Like all European destinations though it is worth noting that while temperatures and weather is often better than in the UK, it is not uncommon for temperatures to drop in the winter months with even a chance of snow at higher levels. That said Mallorca offers easy access and a range of terrains which makes it a great training destination, particularly for cyclists. But, with plenty of beaches available, there are lots of opportunities for swimming training too.
3. South Africa
If you are keen to venture further afield and are looking for guaranteed good weather, then the southern hemisphere is an obvious place to start! The 2018 Commonwealth Games host of South Africa has become a popular destination for many sportsmen and women. With a good range of flat and hilly terrain, it makes a great destination to fit your specific training programme. They hold their triathlon in March, making it a perfect event to train for during the winter season.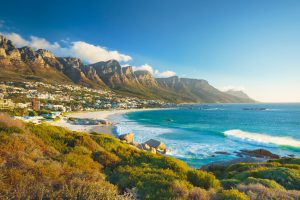 4. Australia
With warm summers and a range of flat ocean side paths and hillier terrain the further inland you venture, this is a fantastic destination for some triathlon training. The climate is reliable, with the Gold Coast getting 300 days of sunshine each year. In their summer months (December – February) temperatures are 70 degrees Fahrenheit and above and rain is possible but often limited to short tropical showers. The warm temperatures of the sea means that swimming training is a more pleasant experience than the cooler waters of the UK at the same time of the year!
5. Spain
Spanish terrain offers a wealth of opportunities for triathlon training. And, just like its surrounding islands, is very accessible with short flight times. Although you are unlikely to find hot weather during the winter months, it is likely to be warmer and drier than the UK. Swimming however might be fresher than would be ideal unless you can find an indoor swimming pool to train in. There are some great spots for cycling in Spain. Costa Brava offers a stunning route starting in Pubol with a coastal route offering challenging hills and spectacular views! The medieval village of Pals which is also along the route provides the opportunity to take in some culture at the same time!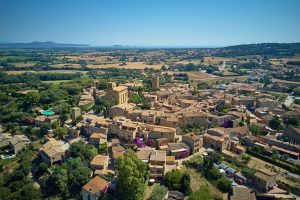 So, whether you are looking to simply maintain your training programme during the winter months or are keen to experience some challenging terrain and environments, why not visit one of these Winter Triathlon destinations to continue your training programme?
However, before you set off don't forget to arrange your sports travel insurance.