Europe presents Brits with a plethora of awesome cycling destinations on their doorstep. One man that has more experience than most of enjoying these routes is Richard McLaughlin of Adventure Cafe. With a wealth of knowledge on where's best to ride on the continent Richard has very kindly shared with us his top six trips to enjoy on two wheels…
We've been organising cycling challenges professionally for around 12 years I guess. And from time to time, our riders ask us "if you had one trip to go on – which one would it be?" Well – fortunately, I'm not planning on having just one last ride. I'm only, ahem, in my forties, and so I hope to have many ahead of me. So, I'll share some of my best cycling destinations in Europe. Just so you know – I haven't cycled every road in Europe – but I have visited 31 countries by bike out of 44 or so in Europe – so I know a few nice routes. Here are my pick of the pops:
Ride Round The Island Majorca – aka Majorca Grand Tour
The all new mecca of European cycling – the sun-drenched island of Majorca almost has it all. From twisting switch back roads, to cobbled streets within walled towns, and dry-stone walls lining ancient wildflower meadows, this is truly a special cycling destination.
In order to get the very best from the island – we think the ride all the way around the island is a perfect blend of riding experiences – including beaches, coastal ride-bys, the beautiful village squares of old Alcudia, Valdemossa, Capdepera and Arta to name a few.
In 3 days you can capture the full extent of the island and culminate with the incomparable and unique Sa Calobra – the Serpent Road that snakes from the heights of the Tramuntana at the Col de Reis, all the way down to the turquoise Mediterranean. The climb back up is a perfect benchmark to see how your riding fitness compares against riders from all across Europe, although on a hot day it can be a punishing experience. By the time you make your triumphant return to Playa de Palma, you will have visited a large part of this wonder island, and you will be fully 'au fait' with one of Europe's most popular Cycle playgrounds.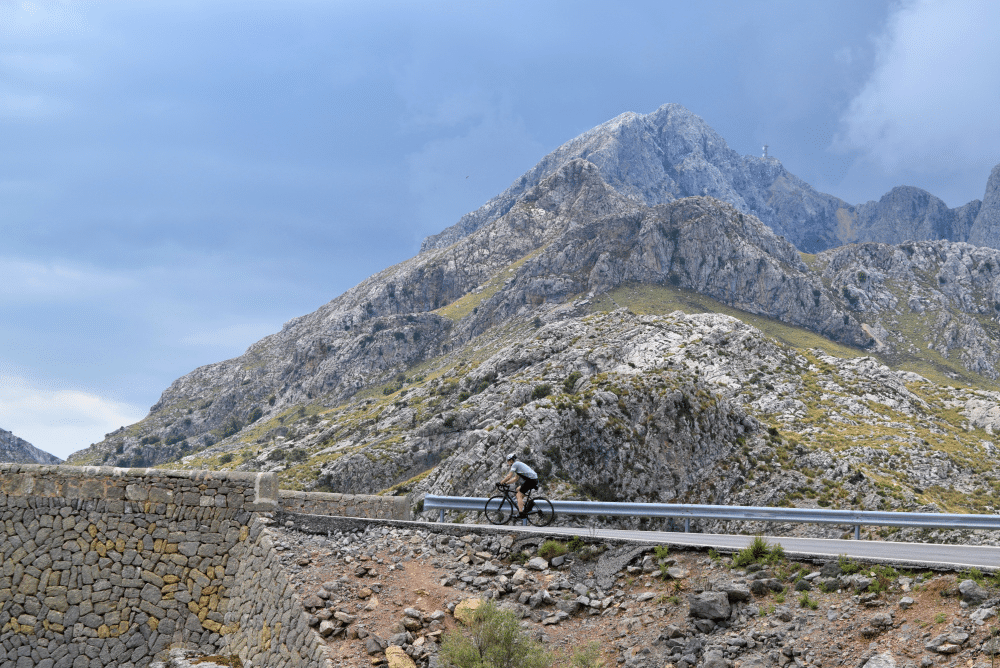 Stockholm to Copenhagen – Grand Scandinavia Traverse
A couple of years ago I was lucky enough to be asked to plan and lead this ride across Scandinavia. Although the map looked intriguing, I had little idea of what to expect. and I haven't come across too many British riders who have ridden in Sweden. What we found was, for me, a true revelation.
Wide open roads, which once away from the history of Stockholm, carry little traffic, took us into pristine countryside, beside coastal inlets, and beside enormous freshwater lakes lined by infinite pine forests, stretching as far as they eye can see. Each village we passed through always produced happy smiles, and local greeting us with 'Hej!' – without fail. But, as well as us never so much as glimpsing an Ikea Store, my abiding memory will be of a stunning hundred and eighty 'k' day, which took us well into the night – however – of course, in mid June, this, fantastically gave us a beautiful late arctic like sunshine.
Having never been this far north, the experience of coming out of the pub at eleven into evening sunshine, was to say the least, uncanny.
Highlights of this ride for me were:
a) Riding down Europe's sixth largest freshwater lake – Lake Vattern.
b) The off-road trail riding through the forests south of Vattern
c) Exploring central Stockholm
d) Reaching Helsingborg and then the final ride from Helsingor to Copenhagen
This ride will suit someone not looking for towering climbs, but more a green, quiet and otherworldly landscape unlike anywhere else in Europe.
Munich to Venice – aka Trans Alp
This was a ride that just landed upon us by accident, as we drove between challenges a few years ago. We descended down through Bavaria through villages with Maypoles and Biergarten, and crossed into Austria and beside a glistening Alpine lake high in the mountains. As we dropped through the Inn Tal, through Innsbruck and began the climb up the Brenner Pass – one of Europe's oldest mountain roads, we began to realise this was a pretty special journey.
The next day, after a night halfway up in Steinach, we crested the pass, and wove our way down into the Dolomitic Limestone Valley of the Adige, and ploughed on through the Sud Tirol. Just then (bear in mind we were charging to reach our next bike challenge) we cast our eyes further south – and noticed a big blue splodge coming into range on the map – Lake Garda. Well that just about sealed it. We swung away from the main valley, and swooped down into Torbole, and the 40km perfectly smooth tarmac down beside the lake.
Who needed to even think about the grand finale of the Colosseum at Verona, or the ride across the Causeway to Venice island itself. The ride was done, we were going – no questions! The only question is – when will you do this ride of a lifetime?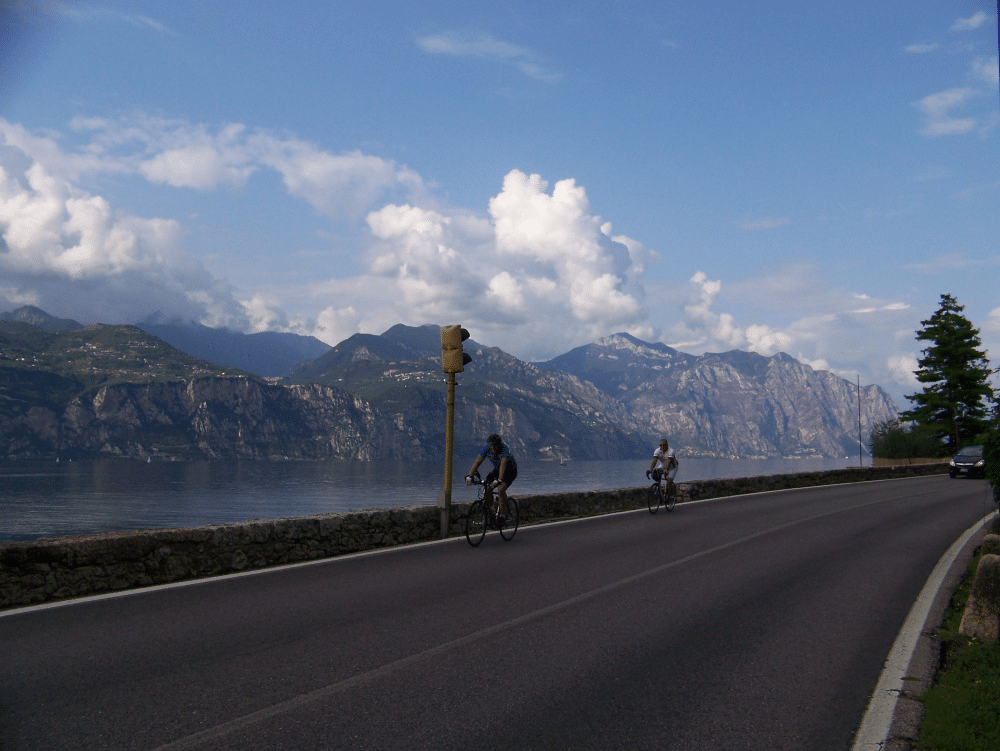 Maurienne to Ventoux – The Alpine Grand Slam
Riders know Alpe D'Huez, and of course everyone has heard of Mont Ventoux – the windy mountain. But a couple of years ago, social media was swamped by beautiful images of the new darling of the Tour, a petite, but perfectly formed series of 'boucles' – or buckles as the French call them – up the side of the Maurienne Valley.
The Lacets de Montvernier was without doubt the riding highlight of our 2016 – with its characterful railings, and TdF graffiti daubed on the freshly laid tarmac. Now, you may have heard of these famous giants of the Tour, but you may not now that in just 3 days of riding you can bag all these, and take in some further incredible pieces of riding – over the Ornon, the Croix de Fer and the Gorge de Meouge.
If you have just one ride in the Alps, and you're on a limited timescale  – this could be the one.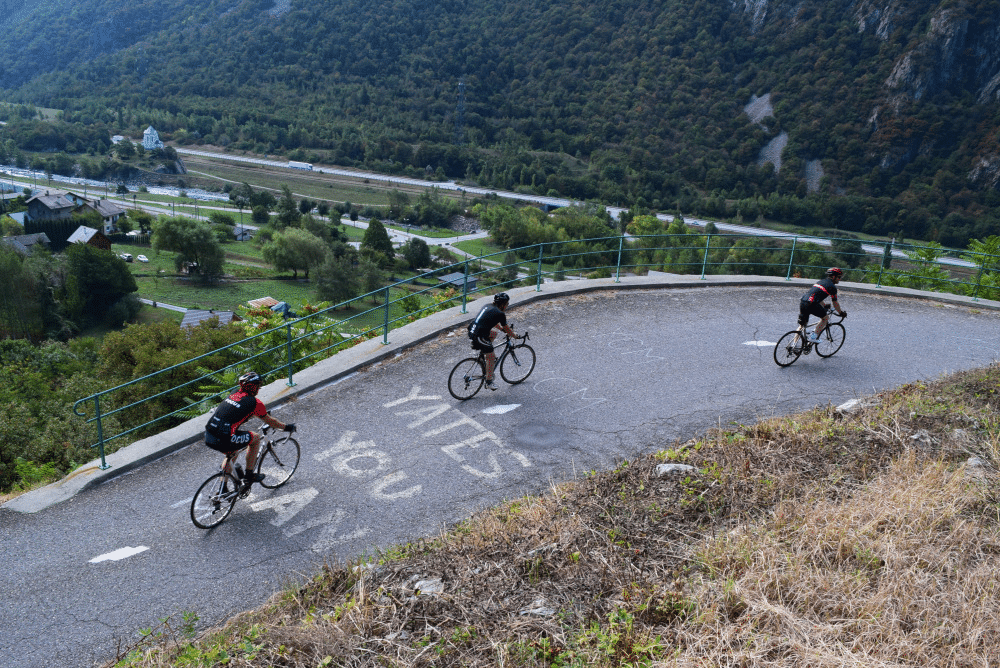 Hilltop Villages of Tuscany – aka Giro Tuscany
Best coffee, best pizza, best ice cream, best hill top villages, best language, best sports cars, friendliest folks in tiny roadside cafes – the list goes on and on – the Dolce Vita meets cycling here in Tuscany. Our tour of Tuscany takes in all the highlights – some incredible tiny villages, some perfect tarmac, a few great meals, and even the famous cities of Pisa. Lucca, Siena and Florence.
Altogether, this ride takes in a beautiful slice of countryside – including some of those impossibly beautiful enormous rolling cornfields, then into the cobbles of San Gimignano and Volterra, the vineyards of Montepulciano, and the wild woodlands of Chianti and high valley hugging roads above the Arno River as we head into the journey's end in Florence – where we just can't avoid photo calls in the Town Square and in front of the Duomo.
The riding itself is probably slightly tougher than genteel Tuscany sounds. The landscape rolls quite dramatically – hence there are a good number of climbs, but this is balanced nicely with the incredible views and the quality of the tarmac. Each day offers a chance to explore at the end just before or after dinner time in either a village or city – and means that any ride joining this tour, would get to sample not only the cycling, but also the history, architecture, cuisine and culture of this most amazing part of Italy.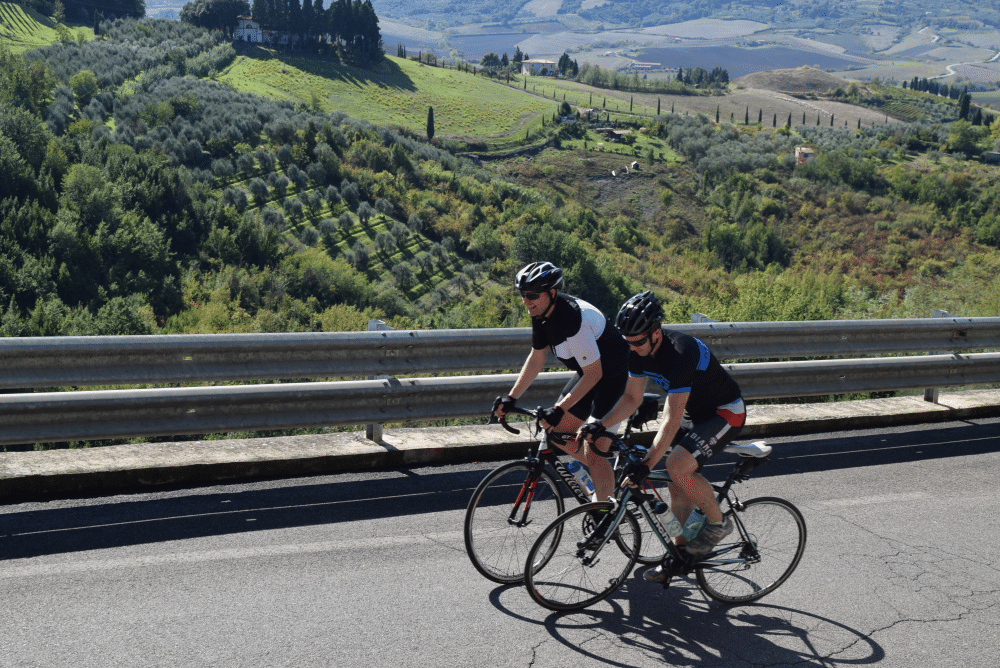 The Transfagarasan Highway Romania
If near Europe isn't quite adventurous enough for you, and you fancy pushing out into territories fresh and exciting – then Romania might just be an option for you. We created a circuit which rides out of the centre of Bucharest including Ceausescu's Palace, and then makes the full traverse of the Transfagarasan Pass, before dropping into Transylvania, to historic Brasov, and then the home of Dracula – Bran and its famous castle, before a final return to Bucharest.
These roads are dramatic, beautiful and challenging in equal measure. Our overnight locations will allow you to learn about, and probably correct a few misconceptions about Romania. Its such a beautiful place, and one steeped in such a rich recent history. Just 28 years ago this country was under one of the most oppressive regimes in history, with few basic freedoms available to the Romanians.
To ride and explore freely would have been unheard of 30 years ago. Basically, this ride encapsulates everything that we at Adventure Cafe love in a ride; not only is this a stunning ride, with a variety of landscapes, it is also an incredible learning experience, and a step into the unknown; in short, its a ride, but its an Adventure at the same time.
The beauty of cycling is the infinite world of possibilities it offers, and Europe is probably the ultimate world mecca for cycling, by virtue of its kaleidoscope of histories, landscapes, languages and cultures.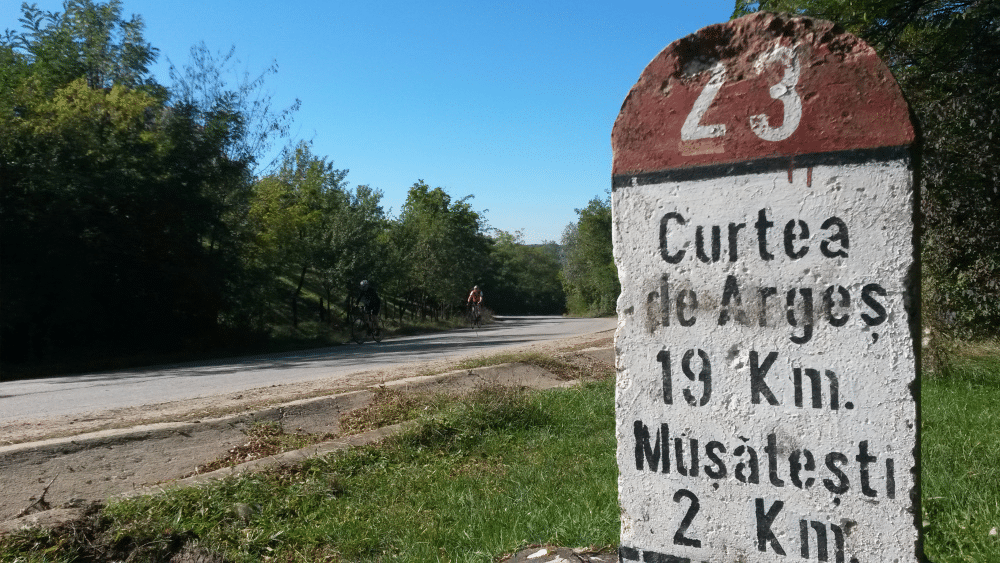 Want to experience these rides?
Adventure Cafe Grand Tour Cycling have been offering cycle events and challenges around Europe and further afield for over 12 years.
With a range which extends to nearly 100 itineraries worldwide, and most of these in the UK and Europe, we certainly have the knowledge. Many of these itineraries have been developed specifically for our customers requirements. If you have a ride you've always wanted to do – or one that you'd love to do with your friends – please email us – info@adventure-cafe.com – or call us in the office – 01823 444 246 (UK) – if we're not riding, we'll call you back to discuss your ride.