The physical nature of rugby often mean injuries are never far away. SportsCover Direct covers hundreds of amateur rugby players of both codes to protect them in such instance.
The majority of players won't need to call on their insurance for financial support. However, there is a disproportionately high number of those playing rugby claiming for injury compared to other sports.
Having faced rugby claims totalling over £170,000 in the past five years, SportsCover Direct are well-aware of the exact problems that players face.
Nearly half of all personal accident claims relating to rugby in that time relate to three types of injury. Here are the top five most common rugby injuries we have seen in the last five years.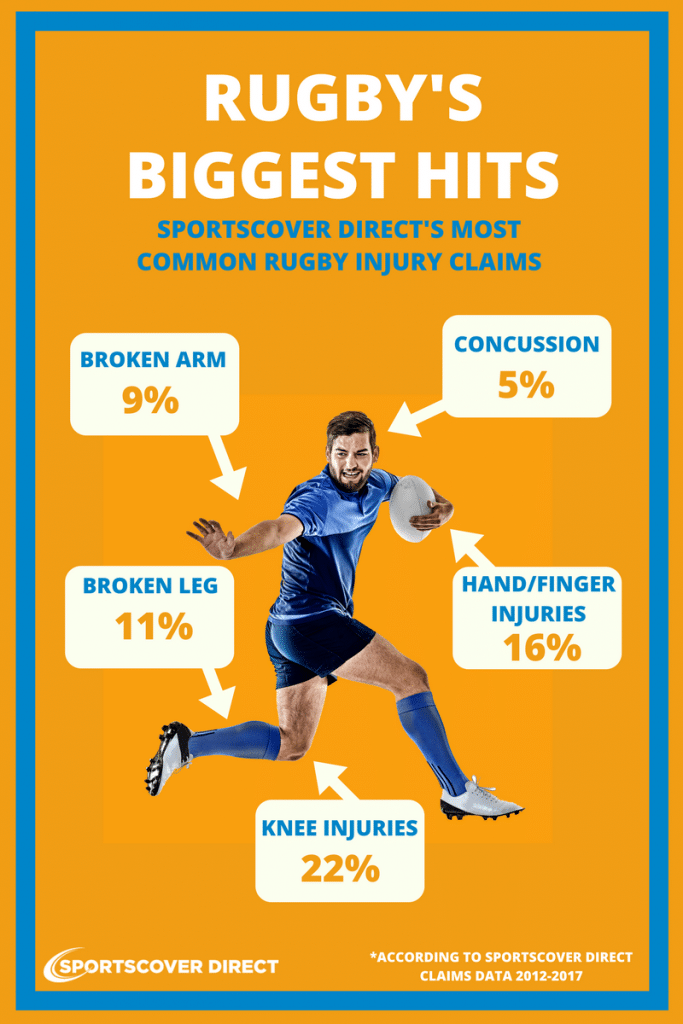 Over one-fifth of all injury claims from our insured rugby players related to damage to their knees. The vast majority of those involved a player tearing or rupturing their ACL under the force of a tackle from an opponent.
The second-highest 'scorer' is a very understandable one. From dislocated fingers to broken metacarpals, hand and finger damage is to be expected at times. Under the weight of bodies and suffering the impact of big tackles, our players' digits seem to take some battering.
Twenty per cent of all claims relate to breaking either arms or legs, while in fifth place was a big talking point in the game in recent years.
One in twenty rugby claims we received came as a result of a player suffering concussion. On a professional level the RFU have been discussing ways to deal with head injuries, while the talk of 'blue cards' to 'send-off' potential concussion cases is being introduced in Australia.
Nevertheless, while they may not have had enough protection to stop the injury occurring, with their insurance in place, our players were able to avoid adding insult to injury in a financial sense.
Of the total claims made to SportsCover Direct for rugby injuries the most valuable came when one player claimed a whopping £9,000. He had suffered a serious arm injury where he broke and dislocated his elbow. That claim stood out above the rest, but the numbers of claims received for rugby speak for themselves.
As a player, whether you are a flanker or a prop, playing without insurance simply isn't worth it. Injuries are common and can sometimes be catastrophic to the victim. Knee ligament damage may be the most common ailment, but it most certainly isn't the only one.
Rugby player? Get insured today!
If you play rugby in your spare time, make sure you're covered. Get a quote below and protect yourself next time you take to the field.
Your cover will include protection for things such as physiotherapy costs, dental fees, broken bone cover and the option to add Income Protection. This softens the financial blow should an injury force you off work.