If you've never been on a safari, you'll naturally be excited about this new kind of adventure. As you plan a trip that's different to anything you've done before, there's plenty to look forward to. Of course, you may also have a lot of questions about how to prepare for a safari, and what to expect when you get there.
The concept of the wildlife safari originated in Africa and can still only be experienced there. It consists of wildlife watching in nature, rather than any place of captivity such as a sanctuary or rescue centre. A wildlife expedition in any other setting or continent isn't technically a safari, although some countries may offer other forms of wildlife tours on safari-style excursions.
There are various key points to consider when gathering advice for your first safari. From where to go and when, to what to pack and how to maximise your time, we've put together the most essential African safari tips to help you enjoy the trip of a lifetime.
Safari tips
Here are some of the top safari tips, which we'll cover in this guide:
– Research your destination
– Find out the best time to go
– Pack appropriately
– Remember health and safety
– Respect the wildlife
– Be patient and enjoy every moment
We've expanded on each of these safari tips below to help you get your planning firmly underway.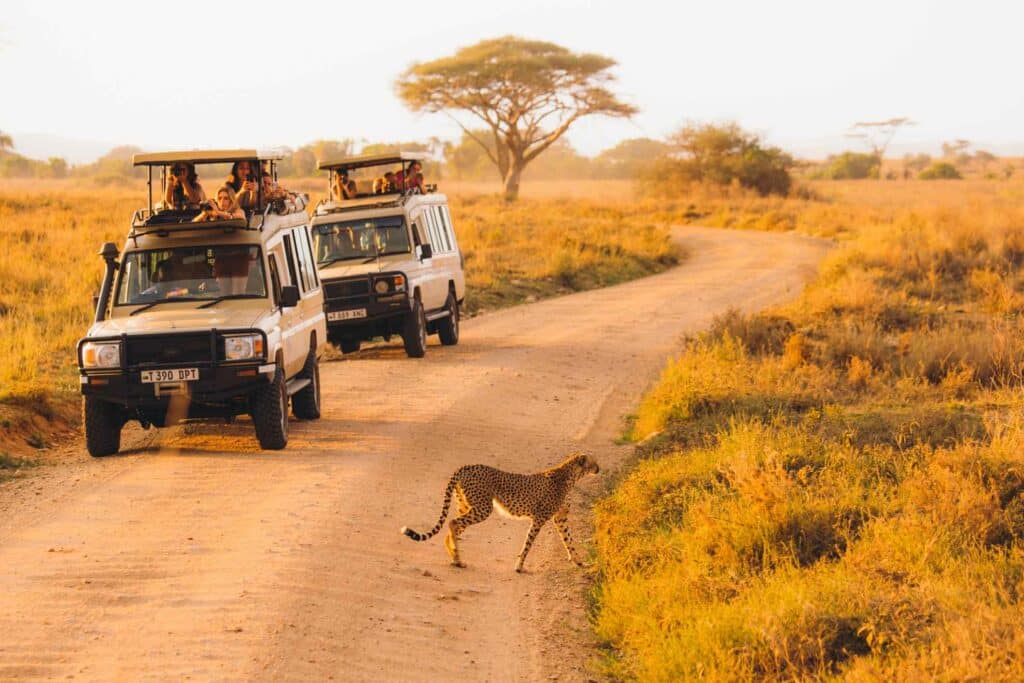 Research your destination
Safaris can be found in various countries and regions within Africa, each offering unique wildlife and landscapes. Research different locations and choose one that aligns with your interests and budget. If you're not yet sure exactly what you're looking for in a destination, you should start to get a feel for what appeals to you as you conduct your research.
You might want to incorporate beach trips, as well as wildlife spotting. In this case, you could look to add a coastal getaway or island excursion to your trip; somewhere like Zanzibar, for example. If good restaurants are important to you, then you can hone in on the areas and resorts where they'll be accessible, so that you can unwind after each exciting day with a special meal.
Some of the most renowned safari destinations are in nine particular countries:
– Kenya
– South Africa
– Tanzania
– Uganda
– Zambia
– Botswana
– Namibia
– Rwanda
– Zimbabwe
All of these countries contain numerous national parks and reserves, where you have a good chance of seeing some of the most iconic animals. Certain places have the highest populations of 'Big Five' game animals; the lion, leopard, black rhinoceros, African bush elephant and African buffalo. However, every destination offers an array of unforgettable experiences and activities, so spend time considering what you really want from your break.
Staying within or close to the national park or reserve will give you more time for getting around, while having enough time to yourself before and after to relax and unwind. You could spend up to around eight hours per day out on safari, a lot of which will be spent in a vehicle, so try and keep any additional travel to a minimum in your daily schedule. You'll also be better placed to enjoy early morning and late afternoon game drives, when animals are most active. Once you've decided on a location, you can look into safari tips, advice and updates specific to that place.
Find out the best time to go
The timing of your safari will have a bearing on the nature of your trip. Different seasons offer different wildlife and, of course, changing weather conditions. Research the best months to visit your chosen destination, for optimal wildlife viewing, your preferred temperature or chances of rainfall. Be flexible in your mindset, however, as nothing is ever guaranteed. That said, you can look up when the dry season, mid-season and wet season usually fall in your chosen region; these will be during different months in different parts of Africa.
Note that the 'best' time can vary depending on what you want from your safari, so you may not necessarily be most drawn to going in peak season. In fact, you may get good deals outside of this time. However, sometimes an area's peak season is when you have the best chance of seeing wildlife, so you'll probably want to prioritise this as a deciding factor.
Pack appropriately
The golden rule here is not to overpack. Having too much to carry will make your trip more difficult when you travel between destinations, not to mention making you more uncomfortable in hot weather. As well as trying to conserve your energy for all the adventuring, it's likely that you won't have the space for large suitcases, as typically you might have to pack luggage onto shared trucks and store it in lockers and other confined spaces. For this reason, soft luggage is better than hard cases.
Pack light clothing that won't take up too much room, which you can also layer up if temperatures drop. It's sensible to wear outfits in neutral shades to blend into your surroundings, as any bright colours or prints may make you more noticeable to animals and more likely to disturb them. If you're going to be staying largely inside the tour vehicle, this may not matter as much as it will if you're getting out and doing bush walks, and getting closer to the animals. In this case, it's also worth investing in some sturdy and comfortable boots.
Remember health and safety
It's so important to enjoy your trip safely and keep your health prioritised. The first rule of the safari is to put safety first and use your common sense at all times. If you're going on an organised excursion, stick to reputable companies and follow your guide's instructions at all times to avoid potential dangers. They're there to support you, so ask them about anything you're unsure of or need help with. Never attempt to go on a self-drive safari unless you have enough knowledge about how to proceed confidently, with minimum risks to everyone in your party.
Stay hydrated throughout each day and wear plenty of sunscreen, even on cloudy days. Make sure you have a good sleep routine and get enough downtime at the end of each day, as you'll want to rest and save your energy for each day's adventures to avoid getting worn out. Pack a medical kit containing your own plasters, bandages, tweezers, repellent and other essentials.
Most safari areas contain malaria, so you'll need to consult your GP and take medication before you go. Remain vigilant while you're away and consistently use plenty of insect repellent, dressing in long trousers and sleeves, and a protective hat. Find out what other insects you'll need to watch out for, such as horseflies, gnats and ants. Avoid using perfumes and eating sugary foods to reduce your chances of being bitten, and sleep under a mosquito net at night.
Some destinations are malaria-free, which is one less thing you have to worry about. This will negate the need for malaria injections and avoid having to worry about the side effects of medication, which can add even more stress if you're travelling with children.
Respect the wildlife
Keep the volume of your voice low when animal sightings happen, ​​to avoid disturbing them. Staying quiet will improve your chances of observing their natural behaviour. Keep a sensible distance too; don't jeopardise your safety, that of the animals or your fellow excursion guests by trying to get too close. Even in the vehicle, there are rules about how close you can get, so trust the driver and don't ask them to approach wildlife beyond what is deemed appropriate.
The right equipment will mean you don't have to miss anything, even from a fairly distant place of observation. A good pair of binoculars allows you to observe animals in detail, wherever you're situated. A telephoto lens will also be very handy if you want to take lots of good-quality photographs. While taking photos, try to do so discreetly. Look up the ethical photography guidelines and, crucially, avoid using a flash when the animals are nearby.
Leave the environment as you find it, never drop litter and avoid taking anything but your most vital items out with you each day. Many materials, such as plastic, glass and aluminium, can be harmful or fatal to animals, and they will often be curious about anything unnatural they find. Not only that, but waste causes damage to their surroundings and has the potential to destroy their habitat, water and food supplies.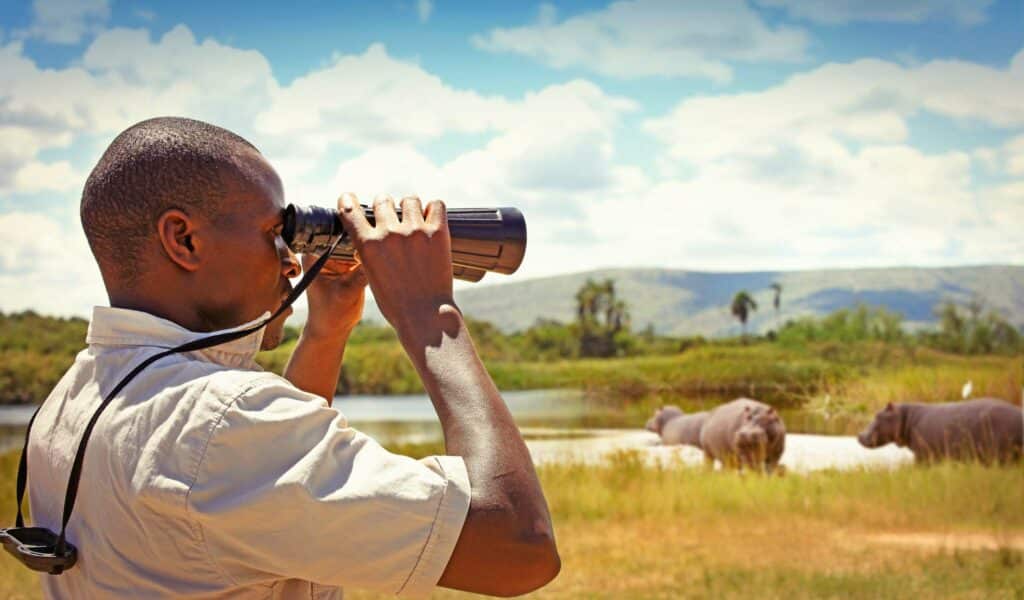 Be patient and enjoy every moment
Manage your expectations and appreciate whatever you encounter each day. Don't expect to see big game animals right away or to come across them constantly, as you may set yourself up for disappointment. If they don't stick around for long, be grateful you got to see them. Certainly don't try to recklessly follow them of your own accord to try and get more out of the experience.
Be present in the moment as much as possible and focus on everything happening around you. The trip will be over before you know it, so make the most of it while you can. Have fun and take every opportunity to experience the thrilling sights around you, but don't take the precious quieter moments in between for granted. The times of anticipation, as you await the animals' appearance, can be just as memorable.
Remember that the smaller creatures, birds, and breathtaking landscapes all contribute to the overall safari experience, so don't overlook those other elements. Limit your use of devices, taking the opportunity to disconnect from the digital world and immerse yourself in nature.
What do you need to know before going on a safari?
Besides the useful safari tips we've outlined, make sure you have all the vital details to embark on your trip fully informed, and with peace of mind. This includes:
– Key information about the animals found in your safari destination
– The specific schedule you'll follow each day, if travelling with a trip operator
– Where you need to be at each stage of your trip
– The country's entry requirements, such as travel visas and the necessary length of time remaining on your passport
– Health and vaccination requirements
– The specific terms of your travel insurance and who to contact in emergencies
– What the local culture is like, including traditions and etiquette to follow
– The weather forecast and likely conditions when you'll be there
– What the local currency will be, how much cash you may need and whether credit cards are likely to be accepted anywhere
You can talk to people you may know who have been on this type of trip before, for their recommendations on what to do and what not to do. Read advice for your first safari in the area you'll be visiting from other holidaymakers on travel forums, or watch online video content from travel bloggers and wildlife professionals. When researching the company you'll be touring with, scope out review sites and their social media pages. It will also be useful to consult tourist boards, news sites or other websites local to the area.
As there are so many useful safari tips to consider, it's best to create a checklist before you go. This will help you to stay organised and ensure that you've completed any necessary pre-travel actions.
Get safari insurance with SportsCover Direct
If you're planning your first safari, you'll want to know you're in safe hands if changes to your plans, medical emergencies or accidents occur. Rest assured that SportsCover Direct's safari travel insurance provides protection against a range of unforeseen circumstances.
Read more about our highly-rated safari travel insurance and get a quote that suits your needs. If you have any queries at all before you buy or throughout the duration of your policy, our trusted professionals are on hand to help.
This blog has been created as general information and should not be taken as advice. Make sure you have the correct level of insurance for your requirements and always review policy documentation.