Europe is home to a veritable assortment of excellent locations for scuba diving, whether you're a beginner or an experienced diver. From hot countries to cold, popular holiday hotspots to those off the beaten track, there's some for everyone. Whatever pace, culture, climate or landscapes you're partial to, you can take your pick from endless captivating coastlines containing rich marine ecosystems.
Many must-visit European regions offer diverse underwater worlds and unforgettable experiences, so you can enjoy the best of all worlds. Dive by day or night, under glorious sunshine or a canopy of stars, while spending the rest of your time however you wish, whether that's relaxing on a beach, taking thrilling adventures or exploring iconic cities. There's incredible aquatic life to be found, and wondrous sights to behold, in scores of different settings across the length of the continent. From Italy to Norway, Wales to Iceland, we've compiled the ultimate list featuring some prominent diving destinations and some that may surprise you.
Read more about the best places to scuba dive in Europe, showcasing everything from vibrant marine life to historic wrecks.
Italy
If it's Italian scuba diving you're after, you're spoiled for choice with il Bel Paese (after all, you can't really go wrong by heading to a place nicknamed 'The Beautiful Country'). Here are two recommended places to add to your shortlist:
Genoa
By Camogli, a romantic village not far from the popular town of Portofino, you'll find a magical hidden inlet that's home to the Abazzia Di San Fruttuoso. There are no roads leading to this breathtaking abbey set among vast woodland. You can hike it there through the Portofino National Park, or take a boat from Camogli. Once there, dive on the San Fruttuoso Beach to see the ethereal Christ of the Abyss, a seabed statue set 15 metres underwater.
Ustica
The place known as the scuba diving capital of the Mediterranean Sea does not disappoint. Discover diving spots galore on this beautiful island, which was the first marine protected area in Italy.
Spain
The country named the Land of Rabbits has just as much life to offer by sea as it does by land. Here are some top picks to start dreaming of:
Costa del Sol
The Mediterranean waters of southern Spain are the perfect backdrop for subaquatic expeditions. Explore the remote and unspoilt haven of Maro-Cerro Gordo Natural Park between Nerja and Granada, much of which is situated below its sparkling waters. Once you're beneath the surface, marvel at the Posidonia seagrass meadows, which are reverently named 'the lungs of the Mediterranean' due to their vital contribution to the coast's oxygen.
Costa Calida
In Murcia, the protected Islas Hormigas Marine Reserve has encouraged plants and animals to flourish since 1995, when it was set up as a conversation area. Witness the astonishingly mountainous reefs and dive with species from ocean sunfish to tuna, grouper to barracuda.
Tenerife
In the Canary Islands, advanced open-water divers will love plunging the depths of rockier dive sites, where impressive formations and pelagic shoals abound. The basalt column reef-surrounded El Condesito shipwreck, where boxfish and trumpetfish have moved in since the boat's demise in 1971, is a particular highlight. You'll find it in a nature reserve between Los Cristianos and Las Galletas.
Malta
With dazzling crystal-clear waters and a selection of fascinating shipwrecks, Malta offers exciting scuba diving experiences for all enthusiasts.
Gozo
Delight in spectacular diving all year round on Malta's sister island. In Dwejra, the Blue Hole is an underwater limestone cave 10 metres wide, where famed landmark the Azure Window once stood. The natural rock arch is happily now being reconstructed, following its collapse in 2017. The Blue Hole itself still offers depths of 16 metres, with access to the wider ocean through an archway within. Find parrot fish, moray eels, lobster, octopus and more.
Valletta
In Malta's capital, the Marsamxetto Harbour houses the magnificent HMS Maori wreck, which has become a thriving artificial reef. This gleaming natural harbour will satisfy any curiosity for tropical sea life, from fireworms and seahorses to flatfish and stonefish.
Croatia
In the Balkans, dotted around the Adriatic Sea, Croatia is comprised of around 1,000 islands, providing an array of spellbinding diving opportunities. Whatever your preference, you're sure to be catered for, with pillars, caverns, canyons and reefs aplenty.
Rovinj
On the western Istrian peninsula by the city of Rovinj, the sunken passenger ship Baron Gautsch has remained well preserved for over a century. Still in sailing position, today it's covered in sponges and shells, and can only be entered with local diving centres that have permission from the authorities. Dive within this otherwordly 85-metre long wreck to find varied life such as scorpion, lobster, tuna and conger eels.
Bol
On the Brač island, Bol is beloved by holidaymakers, not least due to its Zlatni rat beach being ranked among the best in the world. With its striking golden sands and glimmering waters, there's beauty to be found both ashore and within Bol's abundant waters. The diving season lasts from April to November, when you can dive safely whatever the weather. Expect to run into all manner of fish, molluscs, plankton, and crustaceans.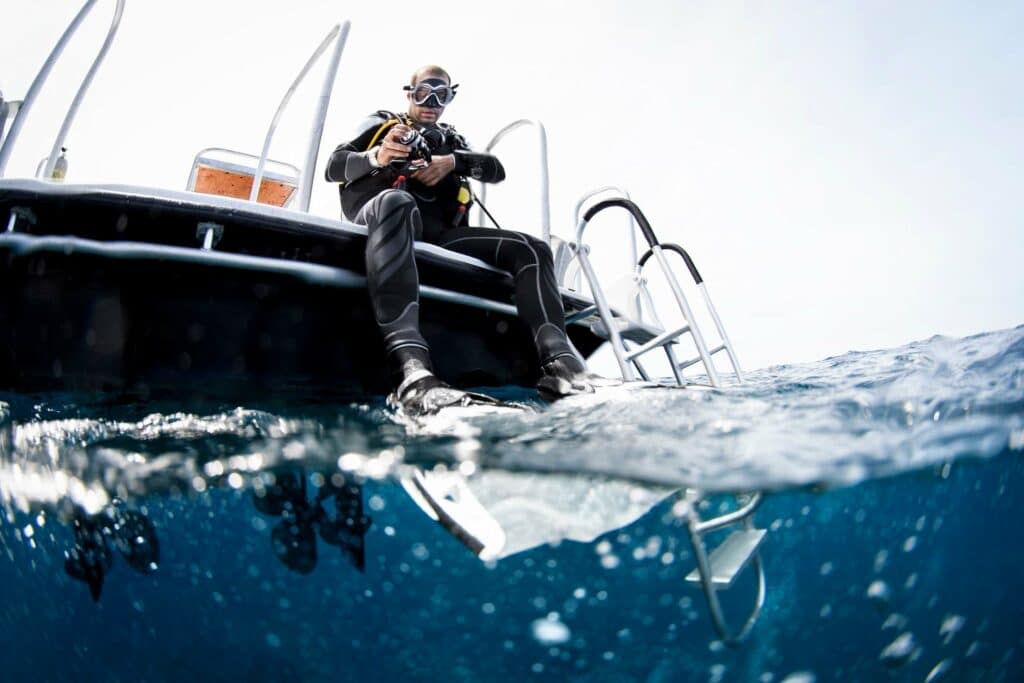 Norway
Norway's icy allure extends far beyond its cinematic landscapes and much-celebrated Northern Lights. Beneath the frigid Arctic waters, a world of wonder rewards intrepid divers with astounding marine life. It's worth knowing that the summer months boast the best visibility and milder temperatures.
Lofoten
For the adventurous, the seven islands within this district are superb for hiking to remote white beaches. The sensational turquoise waters may be cold, but they're compelling enough to give any tropical destination a run for its money. You'll be filled with awe at the kelp forests of the Grand Canyon, whose colourful rock faces are teeming with dead man's fingers.
Bodo
The narrow strait of Saltstraumen has the accolade of the world's strongest tidal current. This natural phenomenon won't be your only source of amazement, however, you'd be hard-pressed to find more incredible ocean life, as you can come face to face with anything from halibut to wolffish, monkfish to sea snails and brighter-than-bright anemones.
Greece
The Greek islands are surrounded by azure waters rich in history. Divers can explore ancient ruins and underwater caves, and discover marine biodiversity in this stunning part of the Mediterranean.
Chios
Known as the Mastic Island, the fifth-biggest Greek island gives you sprawling coral reefs, vertical walls and rock formations that are a feast for the eyes. Chios is among the best scuba diving in Europe for beginners due to the water's good visibility and moderate temperatures, especially through summer.
Santorini
Now officially known as Thera, the optimal time to enjoy diving on the picture-perfect island is anytime in May, the start of June or the start of September. This is when the weather will still be warm and largely without rainfall, but there'll be fewer crowds at the dive sites. Once you're there, you can dive on both sides of the island. Caldera, Mansell Reef and the Santa Marina Wreck are all frequently well-reviewed dive spots.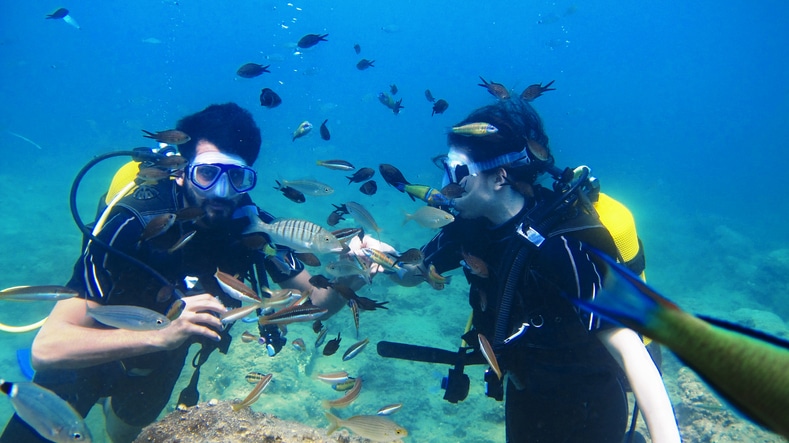 Turkey
The 8,000km of Mediterranean coastline around Turkey features vibrant reefs, caves, and clear visibility. The region is known for its immaculate marine parks and underwater archaeological sites.
Bodrum
Divers love to visit this southwestern port city as you can choose from a plethora of key sites. The underwater archaeology museum will tell you all you need to know about the area's historic connection to oceanic discoveries. Find the best diving centres situated around the Black Island of Karaada, the Bubble Cave, and the Big Reef.
Ayvalık
Anyone scuba diving for the first time will love Ayvalik. Its blazing red corals are home to thousands of species, with the good visibility allowing you to take photos you'll treasure for a lifetime. These warm waters could be comfortably dived in all year long, though the diving season runs throughout the summer. You won't be short on choice, with over 60 enthralling diving sites to make your way through. Each one is accessible in all weather and all conditions.
Iceland
Iceland has no shortage of dramatic underwater landscapes to add to your bucket list. It's lower water temperatures and potentially challenging conditions could test even the most experienced divers at times. However, the brave and the bold can navigate the pristine sites and be rewarded with awe-inspiring cavern diving like nowhere else.
Selfos
Within the town's Thingvellir National Park is the Silfra Fissure, where you can dive between the Eurasian and North American tectonic plates. The underground lava rocks create a natural filtering process that gives you great visibility. This dive site is the only place in the world where you can touch both plates and be on two continents at once, so if the exceptionally clear glacial waters weren't enough to draw you in, the chance to accomplish this once-in-a-lifetime feat certainly will.
Akureyri
In the north, the Strýtan geothermal lake is a lesser-known diving spot, but no less memorable. In the middle of the Eyjafjörður, around 70 metres deep, you can enjoy hot water from an 11,000-year-old spring within. The result of this natural occurrence is a wonderful limestone chimney 55 metres high. In addition to this, you can take in densely packed marine creatures to delight you at every turn. This particular zone, nicknamed 'Little Strýtan', is recommended for advanced divers only due to the strong currents.
UK
For those wondering whether subaquatic adventures can be found closer to home, you'll be pleased to know that there's spectacular scuba diving in the UK too.
Scotland
Scotland's waters hold hidden treasures like scenic kelp forests, sea lochs and plentiful shipwrecks. The famous Sound of Mull, on the west coast, is home to the Ardnamurchan Peninsula's Lochaline, which is the best place for diving. You can reach it by ferry and enjoy views of Ardtornish Castle once you arrive. Look out for whales, sunfish, dolphins, velvet crabs, squat lobster and cuckoo wrasses. The Orkney Islands are also sure to delight anyone looking for iconic vistas. At the famous Scapa Flow lies vast shipwrecks from the First and Second World Wars. Look deeper and you'll see that the marine life is hiding below. Highlights are the orange and yellow corals, pink sea squirts, and plumos anemones.
Wales
South Wales contains some of Europe's most jaw-dropping beaches, affirmed by their regular appearances in global rankings. But did you know some of the best scuba diving in Europe can also be found here? High on the list is Pembrokeshire, which houses the Skomer Marine Nature Reserve, featuring three islands. Divers of all abilities will have the time of their lives here, with a choice of depths to choose from. Look out for porpoises, dolphins, seals and over 350 shipwrecks (that we know of). The Lucy shipwreck, by Skomer Island, plunges 40 metres over the side and can be reached through several openings, with a series of fascinating corridors, rooms and passages inside.
Get Scuba Diving Travel Insurance with SportsCover Direct
When it comes to planning a scuba diving trip that will stay with you for years to come, you want to make sure all bases are covered. While you're pushing new limits and enjoying physically challenging adventures in far-flung locations, it makes sense to choose scuba diving travel insurance that offers protection against whatever may happen.
SportsCover Direct's Scuba Diving Travel Insurance will let you breathe easily as you take off on your next expedition. We've designed a range of worldwide cover options to provide reassurance and protection for divers of all experience levels. With options such as cover for pre-existing medical conditions, emergency medical treatment and diving depths of 40 metres and more, you can choose from single-trip or multi-trip policies. You can also cover yourself against any changes or cancellations to your trip.
Read more about our Scuba Diving Travel Insurance and request a quote that meets your needs. Our experienced and professional team will be available to chat should you have any questions at all.
This blog has been created as general information and should not be taken as advice. Make sure you have the correct level of insurance for your requirements and always review policy documentation.