You can have the most powerful drive, the best clubs and the best balls in the world – and it will mean absolutely nothing if your putting game isn't up to scratch.
Putting requires a completely different skill set from most other types of shot in golf. It not only prioritises accuracy over power, but it also requires careful green-reading, an excellent temperament and the very highest levels of concentration. But if putting is an area you're struggling with, don't panic: there's plenty you can do to sharpen up your skills and become a force to be reckoned with on the greens.
This guide gives you 11 tips on how to improve putting in golf. Some of them are directly connected to your game, some relate to equipment and others are things you can do away from the course. But all of them share the same objective: making you the best putter you possibly can be.
Get your eyes tested!
A great putt requires plenty of work from the eyes, whether it's reading how greens lie, assessing the distance to the hole, or observing any other influencing factors. If you can't 'see' your putt properly, then getting it in the hole successfully becomes vastly more difficult.
Now, we're not necessarily recommending going for a standard eye test with an optician (although that's always a good idea in general!). Instead, try some exercises to improve your green-reading and depth perception, such as judging distances side-on.
Read every putt uphill
Connected to the previous point, you might often wonder why, if you always read your putts from behind the ball, your results are so wildly inconsistent. The answer is very simple: gradient.
Trying to read a putt that runs downhill is very difficult because the ground is running away from you, which makes depth perception even harder. That's why you should always try and read a putt uphill, irrespective of the actual nature of the putt. So if you're facing a downhill putt, read it from behind the hole looking back towards the ball instead.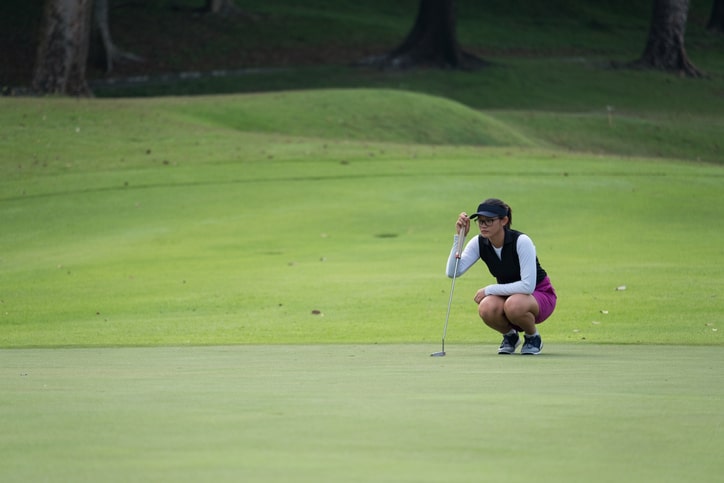 Practise 'clock putting' regularly
There are so many different putting exercises that you can try on the practice green that we couldn't possibly list them all here. Instead, we've picked out one here which will test your skills over a variety of different lengths, and which is easy to set up and repeat.
You'll need 12 balls for the 'clock' putting drills. Start by lining up three balls in a line at progressively longer distances from the hole; three, six and nine feet is a good starting point. Then do the same 90 degrees to the left of the hole, directly opposite, and 90 degrees to the right, so that the balls form a 'plus' shape from above.
Start by putting the shorter balls, and work your way around to the 'middle' balls and then the longest. If you miss one, reset all the balls and start from scratch. You'll feel the pressure when you get to the last couple of nine-footers, but it'll teach you a lot about calmness and concentration in the process.
Perfect your short putts over and over
Short putts are perhaps the biggest banana skins in golf. They look so outwardly simple that it's easy to get complacent, make a mess of them and embarrass yourself in front of your playing partners. But even though they're normally so straightforward, that doesn't mean to say that it isn't worth practising them.
The easiest way to do it is to mark out a short putt – maybe 18 inches or two feet – and set yourself a target of making the hole 100 times in a row. As well as giving you the repetition that can sharpen your skills, you'll get a real confidence boost if you complete all 100 error-free.
Reassess your putter
It may well transpire that your putting is being held back because you don't have the right tool for the job. This depends on your playing style and your stance: for example, if you like to keep your back straight, then a double-bend hosel will help you keep more control. Similarly, you will want to ensure that your shaft is the right length for you to get your eye directly over the ball, and this will vary depending on your height. A golf fit assessment can help you get these decisions right.
Take your putts quickly (without rushing)
Golf is a mental game just as much as it's physical. That means thinking is important, as is avoiding overthinking. If you start to doubt yourself, or take too long to line up a putt, you can very easily work yourself into a mental cul-de-sac.
Obviously, you don't want to rush a putt, but equally you don't want to spend too much time sizing it up either. It's best to get into a well-paced routine of assessing and then taking the shot (which will also help you play ready golf and keep your round time down).
Align your wrists with the putter
A bad grip will mean that your putts are doomed to failure before you even start. Ideally, your putter should be in alignment with both your wrists, so that any flicking of the wrist doesn't affect the aim of the putter. Your hands should also be connected so that your entire body works in unison and so that any accidental rotation is kept to a minimum.
Remember that putts need a swing too
Because you want so much precision, it's easy to fall into the trap of 'hitting' the ball and not following through with your stroke. This is the easiest way to lose control of the ball, as you're already thinking of stopping the movement at the point when you make impact. Instead, your putting swing should be one smooth, pendulous movement, at the same speed and angle before, during and after the point of impact. This will give you much more predictability in where you want the ball to go.
Keep your head still
You'll be used to moving almost your whole body when making your other shots, but stillness and calmness is the order of the day when putting. You may be tempted to allow your head to follow the line of the ball as you swing through with your putt, but therein lies danger. Moving your head will move your shoulders, which can change the direction in which your body is pointing. A good way to practise keeping your head still is to try short putts without moving your head at all.
Pick the tiniest target you can find
This might sound strange, but when you think about it, a hole on a golf course is actually a pretty big target to aim at. Without having the precision of a very specific target, it can be easy for shots to go a little wayward, even if they're short and seemingly straightforward.
The solution is to refine your aim at something even more specific – it could be something as small as a single blade of grass at the back of the hole. This will focus the mind on getting your line absolutely right, and maximise the chance of your ball going in dead-centre.
Block out the rest of the world
Golf courses can seem incredibly peaceful, but when you need to concentrate on a putt, there can be a multitude of distractions. Other players, buggies, 'fore' calls, wind, rain, wildlife, traffic: they're all out there and ready to make you screw up a simple two or three-footer.
While we wouldn't go as far as using ear defenders to block out any noise, there is at least something practical you can do to keep your eyes firmly on the prize. Wear a cap or visor, and pull it down over your forehead, so that your eyes are focused only on the ball, the hole and the line.
Get golf insurance with SportsCover Direct
Putting is one of the simplest, calmest parts of golf, and perhaps the one that puts the smallest amount of strain on the body. However, there are still a number of risks to watch out for when playing a full round. For example, you could get hurt through an accident or injury when teeing off or driving, injure someone else through a wayward shot or buggy collision, or your precious clubs could be lost, stolen or damaged. All of these incidents could lead to substantial financial loss, which could hinder your chance to perfect your golf in the future.
Our comprehensive golf insurance policies can protect you against any monetary impact. Our flexible, affordable cover can compensate you when something happens beyond your control, and will even pick up the tab at the bar when you get a hole-in-one (up to a maximum of £250). Take a moment today to explore our golf insurance policies in more detail.
This blog has been created as general information and should not be taken as advice. Make sure you have the correct level of insurance for your requirements and always review policy documentation.