Quidditch might not mean more to some than a fictional sport in a popular movie franchise. However the sport of quidditch is very real, and it's going places.
Inspired by the game played by Harry Potter and co in the films, participation levels are on the up. Another increase could be on the cards in the near future too, with the launch of the Quidditch Premier League.
The summer season pits eight teams against each other over the course of the campaign to land the championship.
Points are scored by guiding the quaffle through one of the pitches six hoops. The competition is sure to be fierce as the sides battle to be crowned inaugural champions.
To better understand the mechanics of the league, and the sport in general, we spoke to the man who knows it better than most.
Jack Lennard is the director of the Quidditch Premier League and is rightly excited about the future of the sport.
We put a few questions to the QPL boss:
SportsCover Direct: How did you first get into playing quidditch?
Jack Lennard: I joined my university in 2013, and saw them at the fresher's fair, so decided to give it a go. Looking back, I think I was driven by the idea of starting afresh at university – my inhibitions and nerves were a lot lower than at school. Obviously the Harry Potter aspect was a factor, but the thing that really got me excited about it was the chance to try an inclusive, full-contact sport.
SCD: Is it just for Harry Potter fans?
JL: Absolutely not. The sport has become a completely separate thing to the books – though obviously we are grateful to the source of the inspiration. It's a full-contact sport that's very well balanced, and echoes a lot of other successful sports. The brooms, for example, which you need to hold between your legs as you play, act as handicaps – much like being unable to run with the ball in basketball or pass forwards in rugby. Behind the novelty, it's incredibly athletic, and so energy and an open mind is much more important than knowing the original text!
SCD: Describe quidditch in three words:
JL: Inclusive, intense, inspirational.
 SCD: What's your favourite thing about playing quidditch?
JL: The people. You get players from all walks of life, some who love the books but have never played a sport before, and others who have never read the books and are very used to rugby, but who have gotten tired of the toxic atmosphere some of the more traditional sports foster. Whoever they are, they're open-minded and very friendly, and pour vast amounts of passion into making the sport grow.
 SCD: What physical attributes do you need to do well in the sport?
JL: The sport's genius, I think, lies in the fact that it's so nuanced and has so many roles. For example, you can be built like a tank and bulldoze your way through. Or be tall and lean, and pluck balls out of the air behind the hoops. Or small and athletic, with a low centre of gravity and a strong throwing arm. Some people choose not to play at all, and this has given rise to an incredibly vibrant community of coaches, statisticians, analysts, and referees. Whatever attributes you have, quidditch will welcome you with open arms.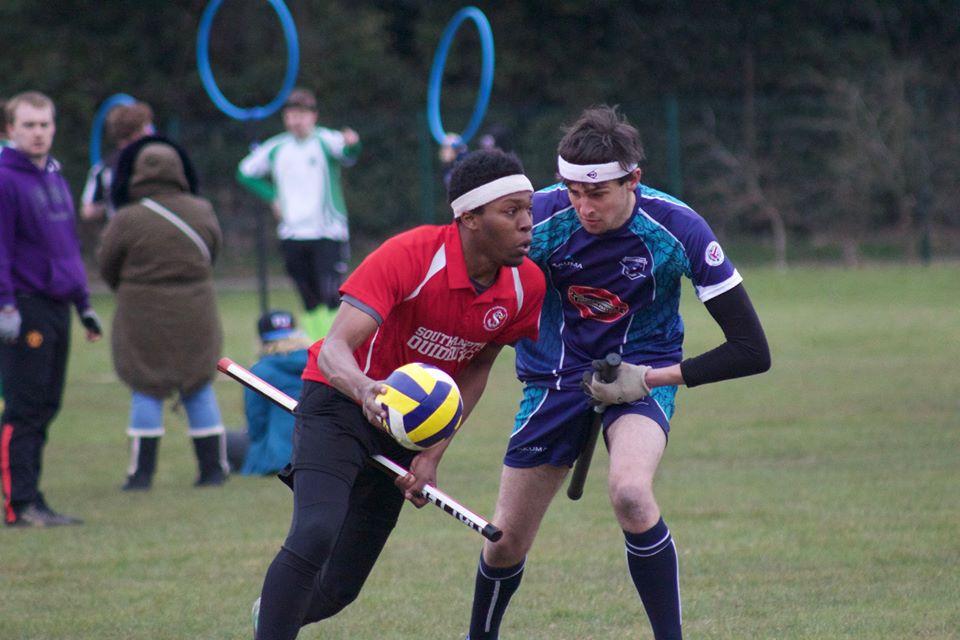 SCD: Why did you decide to launch the QPL?
JL: The normal UK season runs from September to March – still highly based around university schedules. That's fine, and we have no intention of replacing the main season and the teams that play in it. But the summer months felt like it was missing something. Taking a cue from Major League Quidditch in the USA, I realised that packaging up the sport in an elegant and easy-to market league would attract a lot of attention and potential new players. In short, it was the next step in growing the sport.
SCD: How has the preparation and planning gone?
JL: It's all been going very well so far. Our launch was broadcast live on Sky News Sunrise, and we were subsequently featured in the Guardian, the Telegraph, the Washington Post, the Hollywood Reporter, BBC, ITV, and many, many more. That was a big boost, and so we've now appointed eight managers for our eight teams, as well as started to reveal logos and branding for each regional team. That's the exciting part – what comes next is going to be tough, but we're ready for the challenge. We want to secure partnerships with brands, firm up choices about venues, and begin preparations for the season ahead. It's hard work, but it feels like the most worthwhile thing we could be doing.
SCD: Where would you like to see the sport in three years time?
JL: That's a tricky question. Obviously the simple answer is – more people aware and playing it! But more complexly, I would like to see a grassroots programme for youth to get involved, so they've already tried it by the time they get to university. I'd also like to see events taken to the next level and attracting more spectators. Those are both things we're hopeful that the Quidditch Premier League can jumpstart.
SCD: Why should people try quidditch over the hundreds of other sports out there?
JL: The inclusivity. I am not aware of many mixed-gender full-contact sports, and certainly no others that are as LGBTQ+ friendly as ours. For example, players are categorised by the gender they identify as, rather than as the biological sex they were born with, which is incredibly welcoming for transgender players. This breeds a really friendly and open-minded environment that you just can't get in other sports, which have been marred by a build-up of toxic masculinity and machismo.
SCD: How can people try it out?
JL: We're running try-outs! To find your nearest one, and sign up, visit: https://quidditchpremierleague.com/try-out/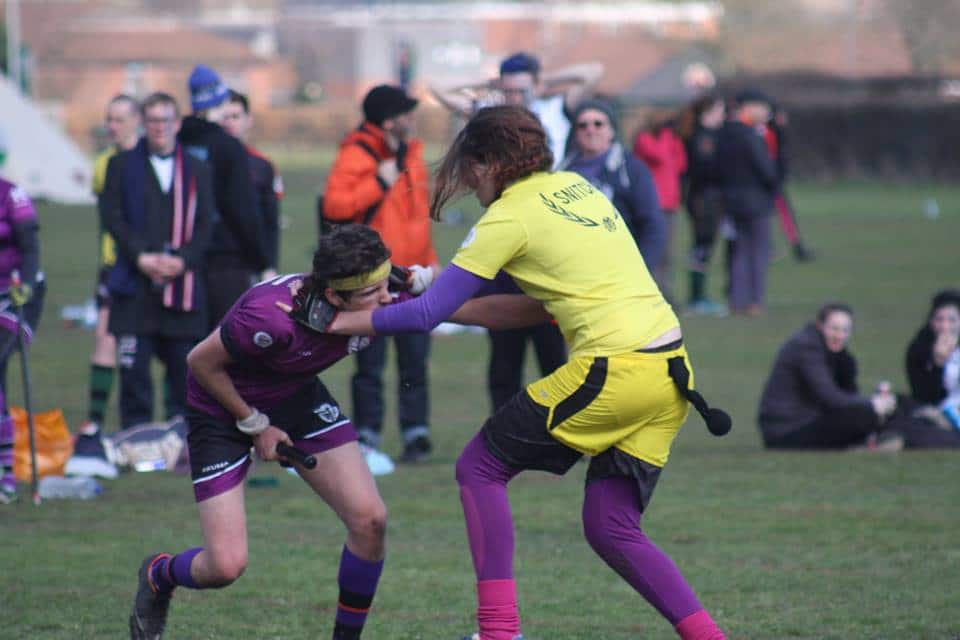 Heading for one of the quidditch try-outs? Maybe your already fully versed in the sport… Make sure you are fully covered for all eventualities with our comprehensive quidditch insurance.
Photos courtesy of Sophia Woodruff.