It is widely known that climbing and bouldering can help build muscle, improve fitness levels and reduce stress levels, and now there is also scientific evidence that bouldering could effectively treat symptoms of depression too.
The NHS recently published an article to promote rock climbing for its physical as well as mental benefits . In Germany, they have known this for longer and some hospitals have begun to use climbing as a therapeutic treatment.
A team of German and American scientists analysed more than 100 individuals involved in a bouldering intervention.

The group of people suffering from depression was randomly split in two groups, one of which started bouldering while the other didn't. Despite a small placebo effect in the control group, the group who started bouldering showed considerable improvement; their depression levels reduced from moderate to mild.

NHS report on the health benefits of rock climbing (http://www.nhs.uk/Livewell/fitness/Pages/rock-climbing-health-benefits.aspx)
Large implications
Stress, loneliness, mental health problems and obesity are common problems in our current society. To illustrate; in the UK, 7.8% of the population meets the criteria for mixed anxiety and depression*, one in four British adults is obese, while almost three-quarters of older people in the UK are feeling lonely.
Put those numbers in light of the five key factors that affect the mental health and well-being of (older) people; discrimination, participation in meaningful activities, relationships, physical health and poverty and it is easy to see that climbing and bouldering tackle at least three of those key factors. They are meaningful activities that build social relationships and improve physical health. It seems straightforward and simple: Let's go rock climbing!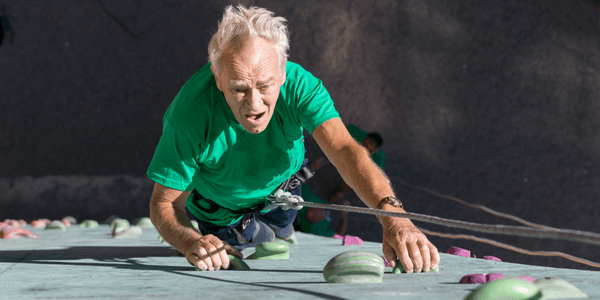 Why Rock Climbing?
Why would rock climbing or bouldering be more beneficial for your physical and mental health than another sport or form of exercise? We think there are several things at play here.
1.
First of all, bouldering and climbing are not just for the young and fit amongst us. It has a low entry level and is very inclusive. Indoors as well as outdoors there are routes for all abilities which allows people of all ages, body types and levels of physical health to participate. It is not uncommon to see people climbing who have only started climbing in their 50s or 60s. Or to climb with people who've had hip replacements, are suffering from arthritis, or are heavily overweight. All are engaging in that same challenge; unlocking the sequence of foot and handholds that works for them to complete their route.
2.
A second reason why bouldering and climbing stand out from other sports, is that they give an immediate feeling of accomplishment. The instant gratification when having solved the boulder problem, figured out the crux, or touched the anchor boosts your self-esteem, which makes it especially beneficial for the treatment of depression.
3.
Then, thirdly for those suffering with depression, who often deal with isolation too, it has proven to be a successful social tool allowing people to interact with one another. Bouldering and climbing are very social activities; climbers are very supportive and like to help each other out to solve a boulder problem. Plus, climbing is an inherently dangerous sport, literally having each other's life in your hands. This responsibility, in combination with it being a very time-consuming activity (an indoor session is on average 3 hours, and climbing outdoors often takes up a whole day or weekend), makes that you build strong relationships very quickly.
4.
Finally, – WARNING! – climbing is addictive. Although lots of GP's across the UK prescribe exercise for a range of conditions including obesity and depression, people seldom stick to it. Despite good intentions, people lose the motivation to run on a treadmill and pump weights. If the UK followed Germany's footsteps and GPs would prescribe rock climbing, we expect people will keep at it; to go back to an unfinished boulder problem, to get to the top of that route you almost got to the top of last time, to achieve your goals and make new ones. Meanwhile you're gaining confidence, getting fit and making friends. Rather than 'having to go to the gym because they say it's good for me', people will enjoy climbing and will be motivated to do it regularly.
"Climbing and bouldering provide a solution to stress, loneliness, obesity, anxiety and depression."

Desiree Verbeek, Rock and Sun.
Where and how to start climbing
Indoor climbing and bouldering gyms are widely available – there are 644 in the UK at the moment . To climb outdoors, check the wide range of Rock & Sun's courses and holidays. Rock & Sun is UK's largest provider of outdoor bouldering and rock climbing. They offer anything from introductory courses in the UK, to Sport Climbing Holidays in Spain, Greece and Thailand, to bouldering weekends in France, to Performance Coaching courses and multi-pitch climbing for the more experienced climbers.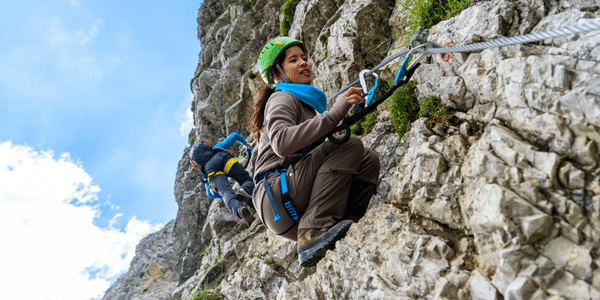 Before you head away take a minute to consider whether you are fully covered in case of accident. SportsCover Direct's Sports Travel Insurance should be your overseas companion. To get a quote for extensive coverage if anything were to go wrong, click here.
You can follow Rock and Sun on Facebook and Youtube, or visit their website to see the range of climbing courses and holidays on offer.