Have you ever wondered how to get a cheap skiing holiday? Getting away for a week on the slopes is an exhilarating way to spend time abroad in the winter, but skiing and snowboarding have never really been the cheapest pursuits in the world. But don't let cost put you off: it's entirely possible to enjoy a fantastic ski holiday at a much lower cost than you might have thought.
This guide gives you more than a dozen tips on how to do a ski holiday on the cheap. We'll give you advice on how to find a cheap ski holiday, keeping costs down once you're there, picking the most cost-effective destinations, and making sure you're protected against unforeseen expenses.
Book well in advance – or at the last minute
As with summer holidays or even just flights with the low-cost carriers, when you book your trip can make just as big a difference as where you book it too. Generally speaking, booking well in advance can get you some good early-bird deals, with some tour operators keen to keep some money coming through in the summer months. Similarly, you can also pick up some bargains if you wait until the last minute, as they don't want to leave any spots unsold.
Drive rather than fly
Flying for a ski trip can be very expensive, not only because of the air fares and your baggage charges, but also because you'll have to pay extra to take your skis. At the time of writing, taking just one pair of skis would add £74 to a return flight with EasyJet, and £90 for a return flight with Ryanair. If you're in a group or travelling as a family, driving to places like the French Alps can therefore work out a lot cheaper, especially as you can also save on airport transfers and load up with groceries at a supermarket on the way.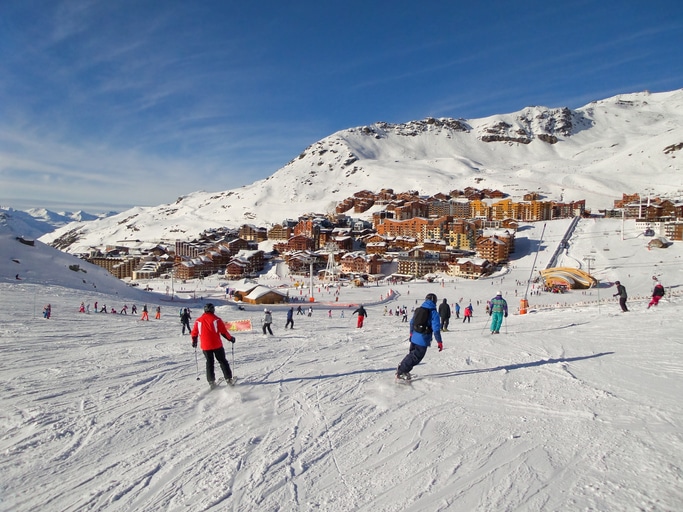 Watch for tour operator sales
Like any other tour operators, ski specialists will always run sales, special offers and deals throughout the year. Of course, it may not always be possible to get advanced warning of when these are going to emerge. The best way to stay on top of developments is to sign up for newsletters and follow the big operators on social media, so that you'll be alerted to any offers as soon as they emerge.
Consider self-catering apartments
Food and drink can often swallow up a lot of money on a holiday (no pun intended!). Restaurants and bars at many resorts tend to be high-end, and so eating out every night can become a very expensive exercise. But if you stay in a self-catering apartment, then you can feed and refresh yourself much more often, by being able to shop locally for supplies and then cook all the meals you need. This works particularly well for families and larger groups.
Stay lower down in the valleys
The best spots for accommodation are those that are handily located for the ski lifts, or are right in the middle of town for all the apres-ski hustle and bustle. However, the prices of staying in the thick of things reflect the popularity of doing so. If you're driving or hiring a car for your trip, then you can make big savings by staying at the bottom of the valley, and driving to and from the resorts and lifts each day.
Get off the beaten track
Some resorts, especially in the Alps, are very much aimed at the top end of the market. So if you're planning on skiing in the likes of Verbier, St. Moritz or Zermatt, then you'll find it very difficult to do things on a budget. If you're open to travelling to a less well-known resort, you'll find things much cheaper. The Pyrenees – and Andorra in particular – tend to be much more cost-effective than the Alps, as do many of the destinations in Eastern Europe such as Bulgaria.
Try smaller resorts and networks
Just as you can avoid the more popular destinations, there are also savings to be made by avoiding the bigger resorts within those destinations. For example, you might be attracted by the huge Paradiski network of runs in the  , which has more than 250 miles of pistes – but are you really going to be able to tackle all of them in one trip? Going for a smaller, quieter resort with 50-60 miles of pistes will give you the same enjoyment but at a much lower cost.
Avoid the school holidays
Perhaps the golden rule for any holiday bargain-hunter is to find out when the school holidays are, and avoid them as much as possible. Demand for families to travel during the Christmas holidays and February half-term means that a huge section of the winter sports market is crammed into just three weeks of the season. In between those dates, you'll find flights in particular at a fraction of the price, especially in late January or during March.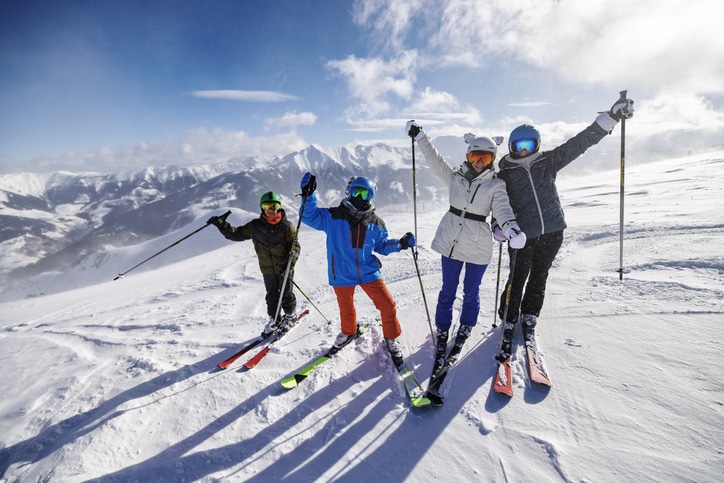 If you have kids, go at Easter
Obviously, if you're travelling with kids, then there's not much you can do to avoid these peak times. However, it normally works out cheaper to go skiing over the Easter holidays rather than the breaks early in the season, partly because many families choose trips to warmer places at that time of year instead. The only thing to be careful of is availability of snow and ski lifts: check carefully for each resort's designated season, and how early or late Easter falls.
Look for all-inclusive or lift-inclusive packages
Many ski holiday packages won't just include travel, accommodation and transfers: you may well find that lift passes are thrown in, too. Or you could go the whole nine yards and book an all-inclusive trip that includes your food and drink, and possibly even a ski school place for any children travelling. This can help you keep costs under control, and lock in a great deal in advance by paying for more things up-front.
Target rooms with extra beds
If travelling in a group, don't assume that every guest automatically needs a bedroom. Many apartments in particular are set up with sofa-beds in the living room, or even fold-out camp beds, so that more people can share a smaller property. This can make a significant difference to your costs, especially if it means that more people can contribute to the overall price.
Buy your gear in the UK – or rent it
Ski gear can be very expensive, and if you're buying it at the resort, you can often expect to pay top-dollar because you're effectively a captive audience. There are two ways around this, the first of which is to buy whatever you can in the UK before you go, especially if it's more general stuff like sunglasses or clothing for the evenings. Alternatively, you could look at renting equipment for the length of your stay, which can also help you avoid those extra airline baggage charges.
Use a prepaid card for a better exchange rate
There isn't too much fluctuation in the exchange rate between the pound and the euro, but there are things you can do to make sure you don't lose out in the process. A prepaid credit card, or a debit card with an app-based bank, gives you a better chance of making purchases at a more favourable exchange rate. If you need cash for the trip, keep a close eye on how the rate goes up and down, and pick the right moment to head to the bureau de change.
Take out ski insurance with SportsCover Direct
One way in which a cheap ski holiday can quickly become expensive is when the unexpected happens. For example, you could suffer an accident or injury that requires a long stay in hospital to recover; your luggage and skis could be lost, stolen, or damaged in transit; or your travel and accommodation arrangements could be disrupted for reasons beyond your control.
All of these circumstances could lead to bills of hundreds or even thousands of pounds that have to be paid at very short notice. And if you're specifically trying to keep to a budget for your ski holiday, then the chances are that any financial shock will have a major impact on your life.
The only way to avoid these impacts is to take out one of our comprehensive ski insurance and winter sports insurance policies. Take a closer look today and see how they can give you peace of mind, for much less than you thought.
This blog has been created as general information and should not be taken as advice. Make sure you have the correct level of insurance for your requirements and always review policy documentation.