It's a wild world out there, and it's waiting for you to explore it. Adventure travel is more popular than ever, as intrepid people aim to discover different places, achieve their goals, and push their physical and mental limits. For people with a more active frame of mind, it can be a far more rewarding and fun way to spend a holiday than sitting on a beach or by a pool with a book.
But if you're new to adventure travel ideas, it can be hard to know where to go and what to do – so we've created this guide to help you plan your trip of a lifetime. You'll get to read about some of the best sports for adventure travel, and some of the things to remember when planning your trip that can easily get overlooked.
The best adventure travel ideas for newbies
If you want to search for adventure travel ideas by specific country, then our guide to the top ten adventure holiday destinations can help you find out which places are best for which activities. But if you need a starting point to inspire you, then we recommend exploring trips for these sports and activities:
Hiking and trekking
How far do you think you can go on your own two feet? Hiking and trekking holidays are a great way to explore the great outdoors, whether across rolling terrain or more challenging geography. You can easily find a location to match your level of fitness and accommodation requirements, whether walking from one town to another down a coastline or exploring forests and hills with a tent and camping overnight.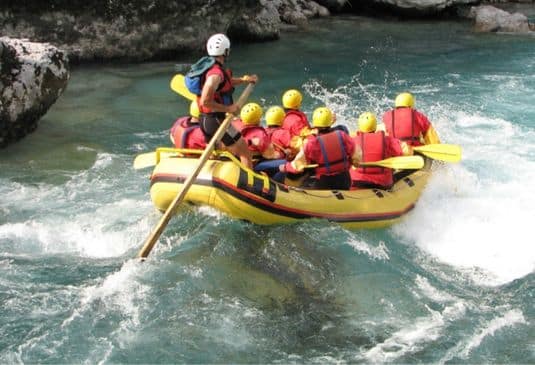 Rafting
There are two very different kinds of rafting to enjoy around the world, one of which is much more intense than the other! Whitewater rafting is a popular pursuit in Europe, America and beyond, giving you a thrilling ride down rapids at high speed, normally alongside a crew of fellow adventurers. But for something a little calmer, how about a river rafting trip exploring the wonders of the Amazon rainforest in South America?
Bikepacking
If you want to explore new lands under your own power, but walking and running would limit your horizons, why not try bikepacking instead? You can fix a tent, luggage and spares to your bike, camp in the great outdoors, and be limited only by your fitness and your imagination in terms of where you travel. It's one of the best ways to go adventure travelling on a budget, and with the most freedom in your location and itinerary.
Climbing and mountaineering
Not only is climbing a huge test of human skill, endurance and strength, but it comes with a real sense of achievement when you reach the peak you're aiming for. There are supported climb holidays available for some of the biggest and most challenging peaks on the planet, while rock climbing holidays can give you a real test of sheer faces and craggy outcrops. The Alps and the US state of Utah are among the best destinations for the latter.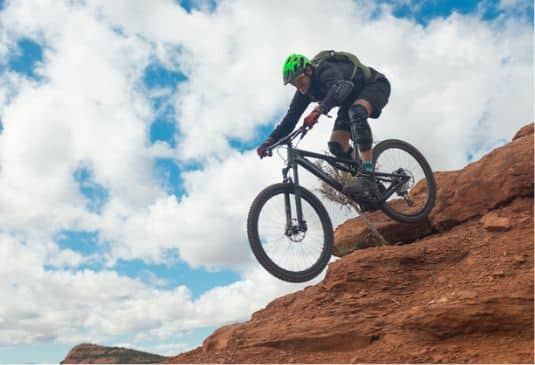 Mountain biking
You can have fun going up a mountain – but you can arguably have an even better time coming down it on two wheels! Downhill mountain biking can give you a real thrill, as you navigate mud, gravel, trees, jumps and scary drops at high speeds. If you're worried about having to get up to the top first, then don't panic: many ski resorts become biking havens in the summer, and you can take your bikes by ski lift or cable car to make your ascent.
Diving
There's an entire world under the sea just waiting for you to explore. Whether swimming in the crystal-clear waters of the Mediterranean or the Indian Ocean, or exploring shipwrecks of years gone by, diving trips can give you some memories that will last a long time. And for something that's a little different, how about diving between two continents, exploring the tectonic plates in the Sifra Fissure in Iceland?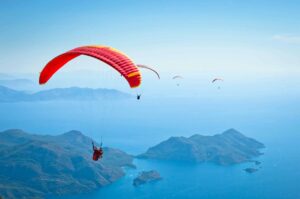 Bungee jumping and paragliding
You might have considered adventures on land and sea, but you can have just as much fun in the sky, too. There are iconic bungee jumping locations all over the world where you can take the ultimate leap of faith: our favourite is in Mostar in Bosnia & Herzegovina, off the stunning Stari Most bridge. But if you want to stay in the air longer than for a few seconds, then summer in the Alps is perfect for paragliding off the mountain peaks.
Dog sledding
If you love the cold, then a real Arctic adventure might just be the ticket for you. A visit to the likes of Lapland in Finland can be a real treat during the winter months, including some dog sled tours of the thick pine forests, and the chance to stay in some igloo hotels. And if you time your trip just right, then you can also take the chance to view the stunning Northern Lights.
Planning your adventure travel ideas
Once you've got a good idea of what you want to do and where you want to go, the planning of your adventure travels begins in earnest. There's plenty to organise to make sure that your trip goes without a hitch, but it's easy to overlook something which can have serious ramifications down the line.
Alongside the basics of travel, such as working out what to pack, we recommend paying particular attention to these three areas:
Documents and currency
When it comes to foreign travel, every country has its own set of regulations regarding who can enter from where, for how long and for what purpose. These rules can also change on a regular basis: for example, the ETIAS system is set to be introduced later in 2023, which will require UK travellers to apply in advance for an electronic authorisation to enter most of the countries in the European Union. (You can find out more on this and how it works in our special ETIAS guide.)
So before you make any bookings, check the country-specific travel restrictions of your destination thoroughly, and make sure you know what you need to do before you travel and when you arrive. The UK Government's foreign travel advice library should be your first port of call, and will also inform you on any good practice regarding currency and making purchases while you're away.
Travel and accommodation
This might sound like a relatively simple area to cover, but if you're undertaking adventure travel, your requirements may be a little bit more complex. If you have specialist equipment that you need to bring with you, such as a bike, skis or safety gear, the costs of getting them onto a flight can be substantial. You'll also need to make sure that you have somewhere spacious and secure to store your kit at your accommodation. From cost and practicality perspectives, these are important factors to bear in mind.
Medical protection
When you go on a normal holiday, you may be used to relying on your regular travel insurance, plus the protections of your European or Global Health Insurance card. But for most adventure travel ideas, this isn't enough, and there are two very good reasons why.
The first is that many exciting pursuits involved in adventure travel are often excluded from standard travel insurance policies, meaning you aren't covered if something happens while you're doing them. And the second is that the EHIC and GHIC only provide a basic level of healthcare in medical facilities abroad: areas like surgery, emergency rescue, repatriation or a long stay in hospital need to be paid for.
For both of these reasons, taking out specialist sports travel insurance is absolutely essential – without it, an accident could leave you facing a bill for thousands of pounds.
Get sports travel insurance with SportsCover Direct
As a first-time adventure traveller, you might very well (and completely understandably) feel nervous and uncertain about what awaits you. That's because there will be lots of variables you can't control, and lots of unforeseen circumstances that might befall you. What you can do to mitigate the effects of these events, should they arise, is take all necessary steps to make sure you don't end up out of pocket.
At SportsCover Direct, we've been offering sports travel insurance to adventurers of all experience levels for more than a quarter of a century. If you get ill or injured while you're away; if you need rescue or repatriation; if your travel arrangements are disrupted; or if your luggage is lost, stolen or damaged – we can compensate you for any bills or loss incurred.
Our flexible payment plans mean cover is available for just a few pounds a month, giving you peace of mind to enjoy your adventure without major financial risk. Visit our sports travel insurance page to find out more.