If you've not tried some of the best snowboarding holidays Europe has to offer, then there's never been a better time to start. Just a short flight can get you to some fantastic places across the continent, including some that are off the beaten track and that you might not have considered before.
This guide showcases the best snowboarding destinations in Europe, and what stands them out from the competition. You'll also read about some of the key essentials to consider when planning your next trip, so that you can make sure that everything runs smoothly.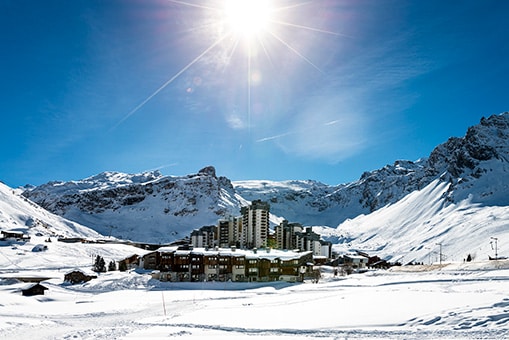 Tignes, France
Let's start with a place where snowboarders are so well-catered for that it's hosted the European X Games and is the place of residence for many professional boarders. Tignes, along with its connected neighbour Val d'Isere, has enough to entertain and challenge even the most experienced snowboarders. As well as plenty of space for freeriding, there's a huge range of terrain parks to choose from, allowing you to mix up your plans over the course of each day. It's one of the most reliable French Alpine resorts for snow – but be aware that it can be very busy at weekends and during school holidays.
Chamonix, France
For many people around the world, Chamonix is the centre of the Alpine snowboarding universe. Sitting below the foreboding Mont Blanc, it offers a huge range of different runs, whether across the top of glaciers or snaking through the trees. There's also plenty of boarder-specific facilities to enjoy, such as a half-pipe and a range of freestyle obstacles. Chamonix is easily accessible by motorway if you fly into Geneva and then cross the border into France, but perhaps the only downside is its popularity, especially in the run-up to the Christmas break. If you want a bit more space and less hassle, it's better to visit in January and February, instead.
St. Anton, Austria
If you're looking for the best place to go snowboarding in Austria, then look no further than St. Anton. For starters, it's the only Austrian resort which offers heli-boarding, but it's the sheer amount of runs available that will leave you spoiled for choice. There's around 280km of pistes, and a further 180km off-piste which are thrilling to ride on a guided tour. St. Anton is also a fantastic party resort, too, so it's a great place to visit if you enjoy your nights just as much as you enjoy your days.
Gudauri, Georgia
If you really want the bragging rights of snowboarding in a place that none of your mates will have visited, then Gudauri in Georgia is the place for you. There has been significant investment into the resort, with an extensive bank of instructors and a range of slopes to suit all ability levels. There are plenty of different options for freeride tours as well, and the chance to board at an altitude of more than 3000 metres above sea level. Getting there won't be easy – there aren't currently any direct flights between Georgia and the UK, so you'll have to get a connection. But it's well worth making the effort to visit a snowboard resort like no other.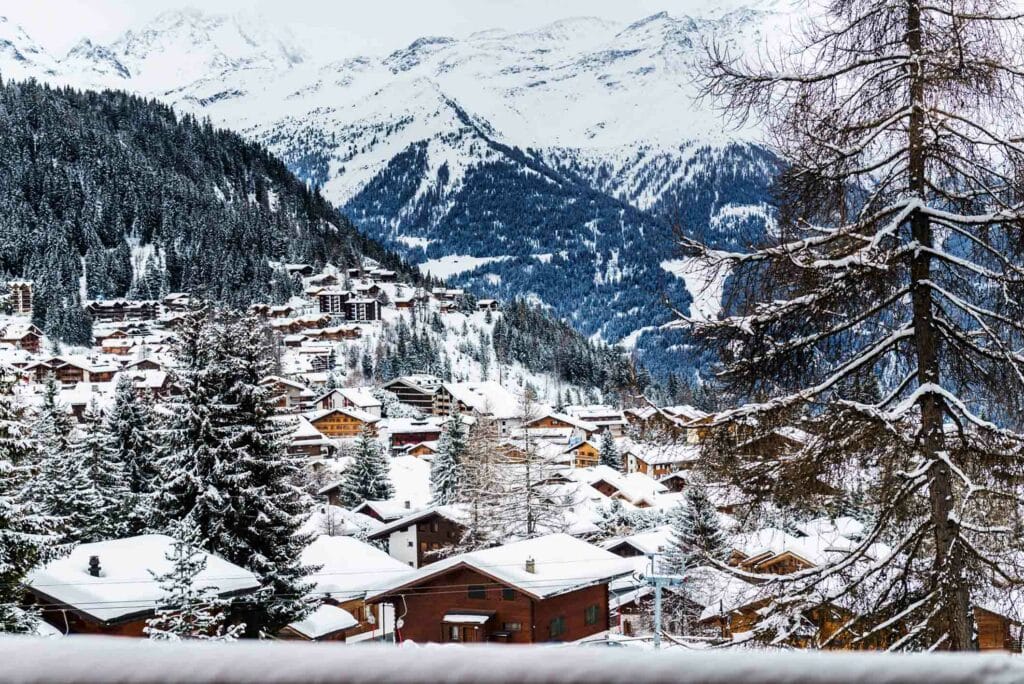 Verbier, Switzerland
Verbier stands out among the Swiss resorts for its freeride options, especially as there is a variety of freeride schools in the area to help you sharpen up your skills. But even better is the fact that Verbier is linked with a number of other neighbouring resorts to create the 'Four Valleys' system, which comprises a mammoth 94 lifts and more than 400km of piste runs in a single lift pass. It takes a little while to get there from the nearest airports, but don't underestimate just how much boarding you'll be able to do each and every day of your trip.
Val Thorens, France
If you want the best of French Alpine snowboarding, but you're also a bit of a party animal, then Val Thorens might just be the resort for you. It isn't too far from Tignes, but it can be a very different proposition altogether. Not only is it the highest ski and snowboard resort in Europe, but it's also part of the 'Three Valleys' lift system: at 600km of pistes, it's the most extensive in the world. Val Thorens is also handy for popular resorts of Courchevel and Meribel, hosts one of the highest-rated terrain parks in France, and is home to a legendary clubbing scene.
Ischgl, Austria
Ischgl might not quite have the same pull as St. Anton, but what it definitely does have is a long and snow-sure season: it isn't uncommon for the runs to stay open as late as May. It has 238km of pistes and has benefitted from major recent investment into its lift system, making it one of the best you'll find anywhere in the Alps; apart from first thing in the morning, you'll rarely face any long queues. Ischgl also has a major party reputation, but don't get too carried away: anyone caught drunk with their board or skis late at night can be fined heavily!
Ruka, Finland
This list is dominated by Alpine resorts, but don't discount Scandinavia for excellent alternative destinations. Our pick is Ruka in the north of Finland: so far north that it's almost in Lapland! It's not the biggest resort you'll ever visit with 28km of pistes in total, but more than 60% of that distance is rated as easy, making this an excellent resort for novices. There are two terrain parks and two pipes to enjoy as well, and if you can fly into the airport at Kuusamo, it's only a short and relatively easy drive. February and March are likely the best times to visit, as the area gets as little as three hours of daylight each day in the depths of December!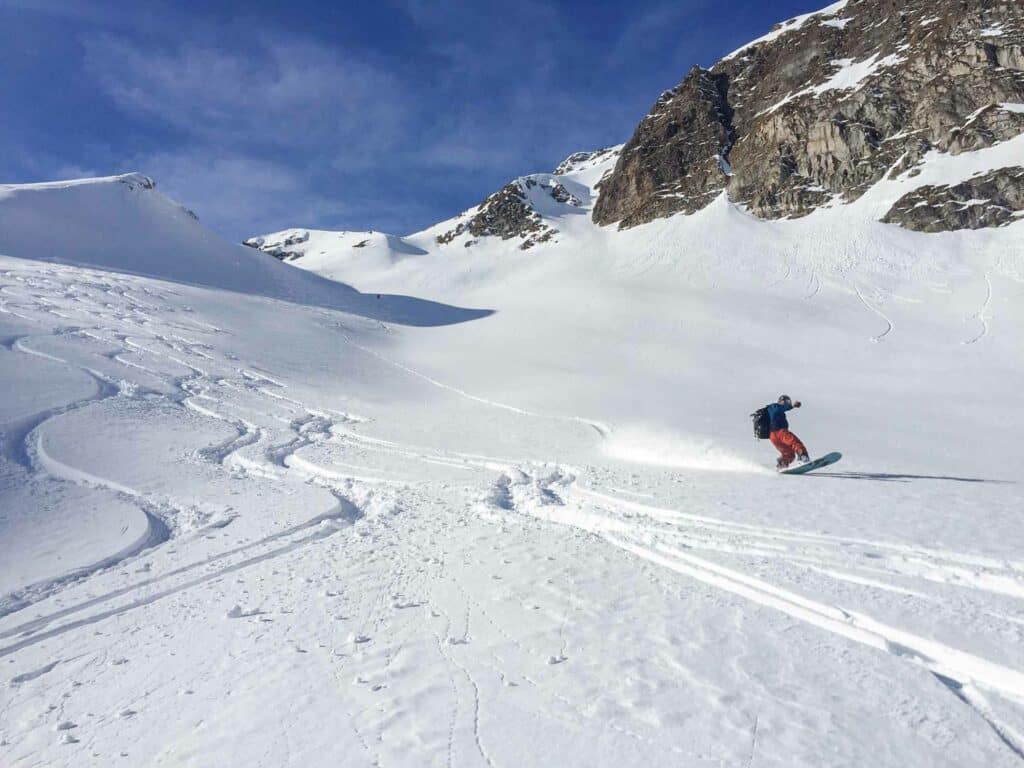 What to remember before you go
Whichever of the best snowboarding resorts in Europe you plan to visit this winter, it's vital that you put plenty of planning into your trip. That way, you can minimise the risk of any unfortunate mishaps, and enjoy a trip that's stress-free and thrilling for everyone in your group. In particular, we recommend the following:
Plan ahead
Do as much research into your chosen resort before you travel. This doesn't just mean the runs that are available to you, but how long it will take you to get there from your accommodation and the methods of travel you can use. Additionally, you should also make sure that everyone in your group knows what to do in the event of an accident or an emergency: this is critical to ensuring you can get the help you need as quickly as possible.
Account for board costs
Taking your board with you can substantially increase the cost of your flights, potentially by more than £100 for a return journey, depending on your choice of airline. If you aren't completely wedded to the idea of using your own board, then it's worth considering hiring a board when you're out there. You may find that it works out cheaper, especially if you're going for a short trip like a long weekend.
Pack for all eventualities
You never know what might happen when you travel, so don't leave anything to chance. Make sure you take all the equipment you need, along with plenty of changes of clothes and even a few travel extras such as a simple first aid kit. While you'll most likely be able to buy anything else you need, this could well turn out to be very expensive.
Check your insurance covers your specifics
As with any sports and leisure trip, taking out insurance cover over and above normal travel insurance is absolutely essential. You will probably already have either the European or Global Health Insurance Card, but you should be aware that this only gives you access to a limited amount of healthcare.
If you need extensive care, such as a long medical stay, surgery, mountain rescue or repatriation back to the UK, this can result in a bill that can easily run into the thousands of pounds. The only way to avoid this major financial headache is with winter sport-specific insurance.
Get ski and snowboard travel insurance with SportsCover Direct
Give yourself peace of mind when travelling to the best snowboarding resorts in Europe this winter by taking out good-quality insurance cover before you go.
SportsCover Direct has been insuring intrepid snowboarders and skiers like you for more than a quarter of a century, to locations all over the world. We can make sure you don't end up out of pocket if you get hurt and need medical care; if your luggage is lost, stolen or damaged; or if your travel and accommodation plans are disrupted for reasons beyond your control.
Our cover is available at affordable rates that comprise just a tiny fraction of the cost of your next trip. Take a closer look at our ski travel insurance and snowboard travel insurance in more detail today.