Golf is a very simple game in principle, but just about every person who's ever picked up a club knows that it can take a lifetime to master.
Many beginners get overawed by playing partners with super-low handicaps, or professionals that make the game look easy. This can be daunting if you're struggling with the basics, but don't give up: with some focus and dedication, you can transform your performances and make your rounds as enjoyable as they possibly can be.
In this guide, we'll give you a range of golf tips for beginners, each of which can contribute to noticeable improvements. We'll cover the mechanics of how you play, your equipment, your mental approach, and how to glean new insights that you can apply yourself.
Get equipment that suits your game
You may have heard the phrase 'all the gear, no idea' applied to amateurs in many sports. And while in some cases it just means that someone has more money than sense, in golf it can have serious practical consequences. It's not a good idea to dive headlong into golf and buy equipment that's designed for pros, scratch players and those on very low handicaps. You'll find the game much harder if you do, both mentally and physically, which will make the whole experience far less enjoyable than it can and should be.
There are three important areas of equipment that you need to get right as a beginner:
Clubs
Golf clubs designed for beginners are substantially different from those used in the professional game. Beginner-focused clubs tend to be a lot lighter, and have been developed to make it easier to hit the ball far and straight on a regular basis. You may find that beginner sets will include clubs like cavity back wedges or hybrid irons.
While you might be on the receiving end of a bit of banter for using beginner clubs, this will be nothing compared to how you'll feel if hitting eights and nines all the time because you're using unsuitable clubs.
Shafts
Similar principles apply for your shafts as for your clubs. Experienced players will use shafts that are stiff and heavy, which allows them to unleash the power and accuracy that they've developed over time. Instead, you want to start out with shafts that are lighter and more flexible (look for graphite shafts in particular). This will give you the chance to get more 'welly' behind the ball as you strike it and maximise your clubhead speed. Over time, you can start to experiment with different weights and levels of flexibility as your game progresses.
Balls
Golf balls tend to look pretty much the same, but it's surprising to many beginners just how different they can be, and how differently they play. For example, some balls have highly specific design features which cause them to spin more in mid-air, which allows players to get more curve on their shots. But as a newbie, this isn't important at this stage, when you just want to perfect your shot length and accuracy.
Instead, you should start out with simpler balls where distance is the priority. They come with the added benefit of generally being cheaper, and because you'll be likely to lose plenty of balls as a beginner, they won't break the bank when you need to buy more.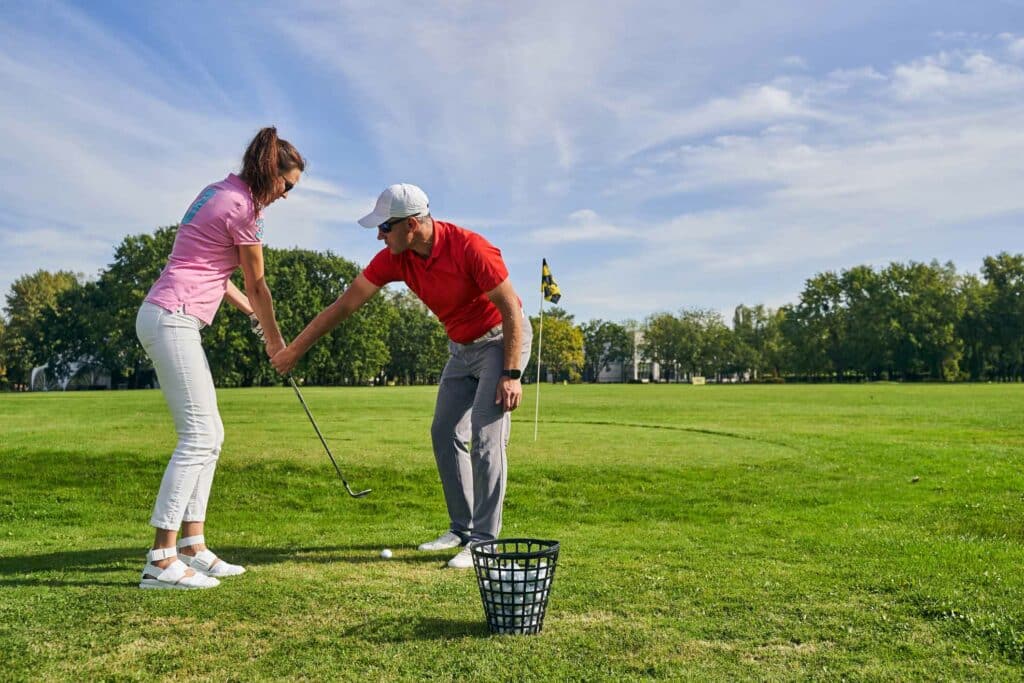 Focus on your mechanics
The human part of golf is just as important as the equipment you use, which is why it's so important to address your movement and positioning across all of your shots. This covers several key areas, including:
Stance
A good golfing stance is relatively simple: feet a shoulder-width apart, but a little wider with longer clubs, and bent knees to facilitate good movement. However, over time, any golfer can find their stance gradually changes and new habits creep in. Even the slightest change can have a substantial effect on shot length and accuracy, which is why it's important to keep your stance solid. Ask for a second opinion on your stance regularly, and get them to observe you and see if they can spot any idiosyncrasies.
Posture
The same tips for your stance apply to your posture, where you want to try and keep your back straight, your head back slightly and your hips tilted. This is the best way to make sure your swing is consistent and repeatable, and also to reduce the risk of any injuries.
Grip
One of the golf tips for beginners that is perhaps overlooked most often is perfectly the strength of grip on the clubs. All too often, newcomers don't grip their clubs long enough, which means they don't have enough control through the swing. This leads to inaccuracy in where the clubhead strikes the ball, and is a sure-fire way to generate annoying slices.
While many players start out by worrying that their grip is too strong, it's actually the better option as a starting point. As you gain more experience and you gradually perfect your swing, you will probably find that your grip weakens (or even becomes slightly stronger) to suit your natural style.
Alignment
All of the above points about your mechanics are useless if you don't line up your body and club at the target properly. If you don't line your body up at 90 degrees to your intended target, you will find your mind and body trying to compensate. If, for example, your body is pointing too far to the left, then you'll end up thinking you need to pull the shot to the right. This brings an added and completely unnecessary level of complication to your shots and swing.
This is a major way in which bad habits creep into players' games, so keep a close eye on your alignment, and ask your friends and playing partners to observe you over time.
Keep calm!
One of the keys to succeeding at golf is triumphing through adversity. Many a top player has hit a wayward drive, only to perfect their scramble and get back to the green for par. But to achieve recoveries like this and atone for errors requires a cool head and some steely determination to make amends.
If you get angry or irritated by a poor shot, then this becomes far more difficult to do. Furthermore, it can put you in a negative frame of mind that can ruin the rest of your round, especially if one bad shot ends up leading to another. If you shank one or miss a three-foot putt, just step back, take a deep breath and put it behind you.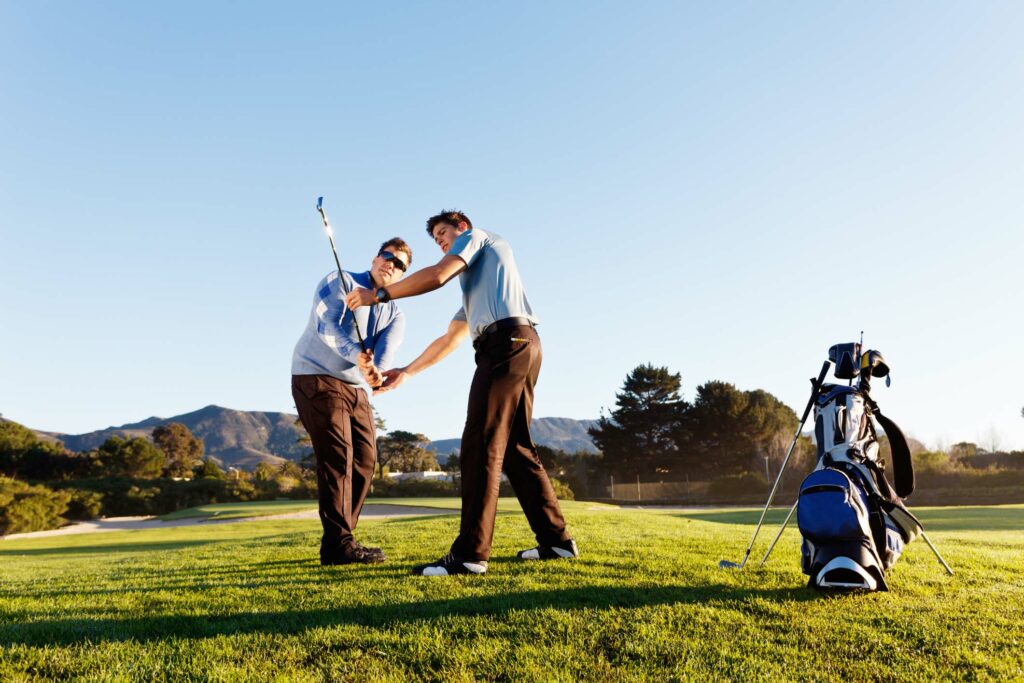 Practise more than your drive
If you find a bit of spare time on a weekday evening, or an hour to kill at the weekend, then your first thought is probably to head for the driving range. While this is an immensely useful part of developing your skills and perfecting your drive, it can be easy to fall into the habit of always hitting the range. This can mean that some of your other skills can be neglected, with the result that your all-round game suffers.
So, when you go and practise, it's a good idea to work on a variety of different skills, particularly on the putting green where you can vary length and conditions with ease. One good way of mixing it up is to practise putting and chipping when the weather is fine, and heading for the covered driving range in wetter conditions. This can also have a good knock-on effect for your driving: using the range in wet and windy conditions poses an extra challenge and will force you to be more accurate.
Always be open to lessons
Even the best sportspeople on the planet need help and advice from time to time, and it's extremely rare that they reach the top through natural talent alone. So, if they can find a meaningful benefit from lessons and coaching, then keen amateurs like you can certainly do the same.
Even if you're not a beginner, it's worth seeking out professional golf tuition so that you can get help on a one-to-one basis. As well as covering some of the golf tips for beginners that are featured in this guide, they can also assess the personal characteristics of your game and recommend some positive changes. Whether you're struggling with a particular area, or just feel that your game could do with a tune-up, an experienced tutor should be your first port of call.
Watch your playing partners
Every golfer is different, whether they have different stances or read holes in alternative ways. There is no objective 'right' answer to how to play golf, and every golfer that you share a round with is an opportunity to learn.
When players in your group are teeing off, lining up an approach shot or putting on the green, pay close attention to what they do and how it compares to your own practices. This is one of the best chances you will get to pick up new golf driving tips for beginners, or different bits of course-specific knowledge, too. And if you know the people you're playing with or they seem friendly, then don't be afraid to ask them for advice. Unless you're competing against each other in an event, all good golfers will be happy to help others.
Squeeze in short rounds when you can
A full 18-hole round is the best way to put all of these beginner golf tips into practice, but it can be very difficult to find the time to do so. Fitting in extra rounds beyond your normal weekend club visit isn't practical when rounds can take four hours or more. And apart from in the summer months where it stays light into the evening, it simply isn't practical to play a full round after work in midweek.
However, more and more courses are now opening up tee times for shorter rounds, most commonly six, nine or 12 holes. This gives you the chance to play more frequently, and as practice makes perfect, it gives you a better chance of sharpening your skills and improving your game in the long run.
Remember why you play
Golf is one of the easiest sports to get frustrated with, especially as it's just as big a mental challenge as it is a physical one. But as it's unlikely that you're going to be playing at the Open any time soon, it's vital to bear in mind that you're playing golf because you enjoy it, and it's supposed to be fun.
If you're struggling to put some of these golfing tips for beginners into practice, or your performances haven't improved as much as you were hoping, then just take a step back and a short break from the game. This will help prevent you from getting overly worked up and annoyed with golf, and keep your love for the game in perspective.
Get golf insurance with SportsCover Direct
Golf is generally a low-risk sport compared to many others, but that doesn't mean that things can't go wrong. You could suffer an injury while out on the course, injure someone else with a stray shot, or your clubs could be lost, damaged or stolen. All of these circumstances might land you with a sizable bill without the correct cover.
SportsCover Direct's comprehensive golf insurance policies can help protect you from these unexpected incidents. That way, you can play with confidence, make the most of these golf tips for beginners, and transform your play in the long-term.
Take two minutes to find out more on our flexible and affordable golf insurance policies.