You may think of Austria as a winter Alpine wonderland – but have you ever considered hiking in Austria? Once all the snow melts away, there's jaw-dropping scenery, rolling green hills, deep forests, and some challenging trails on which you can explore this wonderful landscape. But what makes for a great hiking trip to Austria, and which are the treks that should be on your to-do list?
This guide covers the best hikes in Austria, what makes them so special, and the key things you need to know before taking them on. You'll also discover all the most important considerations when planning your trip, so that you can have a safe, enjoyable time when you get there.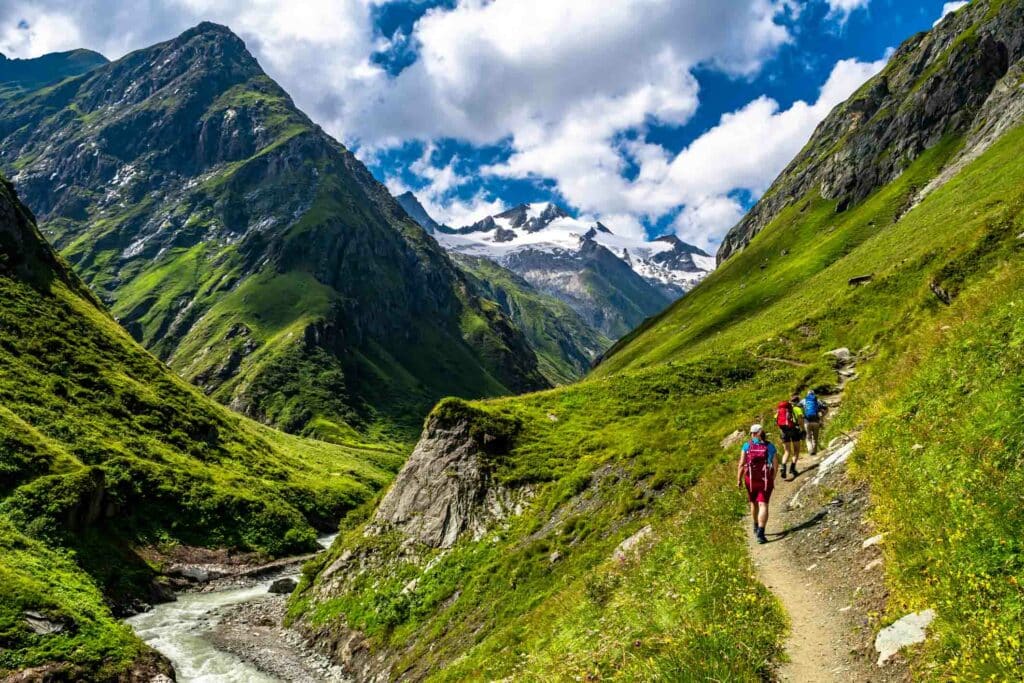 The best hikes in Austria
One of the great things about Austria is that it's so accessible from the UK. Salzburg and Vienna airports are both around two hours' flying time, and each one opens you up to a huge amount of trail choices within easy reach by road or even by rail. Here's five of our favourite picks:
Silvretta Alps
OK, so we're cheating with this one a little bit. The Silvretta Alps straddle the border between Austria and Switzerland: in fact, the majority of them are on the Swiss side. However, most of the best hiking routes tend to be on the Austrian side, stretching across the Vorarlberg and Tirol regions.
From a scenery point of view, the Silvretta Alps have a little bit of everything: shimmering glaciers, lush river valleys, and mountain peaks that soar to more than 3000 metres above sea level. There's also plenty of versatility from a difficulty perspective, too: you can take on a five-day hut-to-hut adventure, or just take in a series of easier single-day loops, instead.
Karwendel Mountains
One of the most famous Alpine resorts of them all is Innsbruck, and one of the best hiking ranges close to Innsbruck is the Karwendel Mountains, which form one part of the Northern Limestone Alps. There are four different chains you can investigate in the Karwendels, of which the Nordkette is the closest to Innsbruck.
A large part of the area is made up of the Karwendel Naturpark, with 727 square kilometres of beautiful nature, and the Karwendel High Trail which may take you up to a week. If you get the chance, try and check out the Grosser Ahornboden, a grassy plain and valley which can only be accessed from a toll road that starts over the border in Germany.
Wilder Kaiser
Wilder Kaiser is in the Kaiser mountain range, and translates as the 'Wild Emperor'. On and around it is a variety of trails that stretch right across the north-east of the Tirol, the best of which is the Kaiserkrone, which encircles the Wilder Kaiser over five stages. It's easily reachable by train if you start and finish in Kufstein.
It's a hut-to-hut hike, but don't be put off if you think that you haven't got the fitness or the experience. The routes are all relatively easy, and you'll get to sample lots of different types of terrain, including meadows, pastures and forests. It's just over 40 miles in total, but we can't guarantee you won't start whistling the tunes from The Sound of Music along the way.
Hohe Tauern
Hohe Tauern is Austria's biggest national park, so it's naturally going to be a natural candidate for a hiking and trekking adventure. Within it is Austria's highest peak, the Grossglockner, which tops out at almost 3800 metres above sea level. But that doesn't mean you have to take on the altitude to have fun in the area: with more than 1850 square kilometres to explore, you're bound to find something to match your experience, ability and available time. And for sightseeing that's a bit kinder on the feet, drive the Grossglockner Pass while you're there.
Schladminger Tauern
Schladming is definitely more famous for skiing than it is for hiking: indeed, it's a regular stop on the FIS World Tour for the alpine ski racing pros. But in the summer months, it transforms into a bit of a playground for hikers.
The Schladming Tauern mountains are located close by, and are home to a five-stage hut-to-hut trail that brings you fantastic views almost everywhere you look. But if you prefer to stay in Schladming and stick to single-day hikes, then you're well-catered for, particularly with the lakes at Giglach.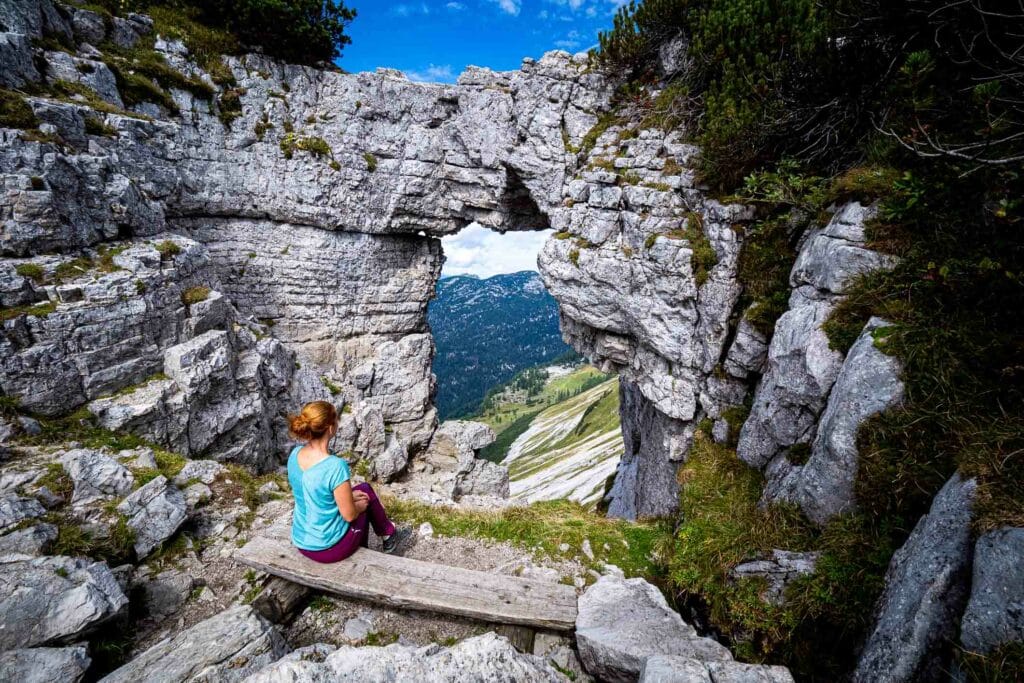 How do I plan a hiking trip in Austria?
Austria is a developed, organised country that is very well set up for a wide range of sports and leisure tourists, including hikers and trekkers. But that doesn't mean that your trip can't be maximised by doing plenty of planning beforehand. We recommend the following:
Choose your time of year carefully
First of all, let's cover off the obvious: hiking in Austria isn't really practical in the winter months. That's because many of the best hikes in Austria are covered in snow – many of them are actually ski runs during the winter season! – and the rough weather makes many routes impassable or dangerous.
At the other end of the scale, the summer months can be very hot in Austria, and can also be very expensive for travel and accommodation during the period where many people in Europe take their annual holidays. For a combination of good weather, no snow and trails that are a little quieter, we recommend June and September as the best months.
Speak to your doctor
Never forget that hiking is a strenuous, challenging endurance pursuit. This is especially the case in a mountainous country like Austria, where you will almost certainly be doing a lot of climbing and may even have to deal with the effects of hiking at altitude. Even if you're in good physical shape, it's strongly recommended that you visit your GP before you undertake any sustained hikes and treks. As well as giving you more detailed medical advice, they will also be able to look at your medical history and see if there are any potential issues that you may suffer from on the trip.
Know your emergency drill
While Austria is very well-drilled in emergency situations in the mountains, it can still take some time for help to arrive if an accident happens in a remote area. If somebody gets seriously hurt, then every minute counts, so everyone in your group should know exactly what they need to do to raise the alarm as quickly as possible. If you're going on a trip led by a professional tour guide, then take the time to ask them about the emergency drill before you set off (although they should ideally hold a safety briefing anyway.
Plan your trip in detail
The transport links and accommodation provision in Austria is excellent, but as is the case in any country, disruption can occur which can have a significant impact on your trip. Before you go, make every effort to plan out your trip in detail: where you're staying, where your routes will take you, even where you'll be able to get food and drink. The less you leave to chance, the lower the risk of things going wrong when you're there.
Ensure you're fully covered for healthcare
Healthcare in Austria is excellent, as you'd expect of any country in western Europe. However, this can come at a price: if you need emergency rescue, surgery or a long stay in hospital, the bills can quickly mount up. And healthcare to this extent won't be covered by your European or Global Health Insurance Card (EHIC or GHIC).
You may well have normal travel insurance that covers you for holidays, but in some instances, sports and leisure activities like hiking and trekking may fall outside of the scope of that cover. The best way to make sure you have all the appropriate cover in place is to take out specialist hiking and trekking insurance.
Get hiking and trekking insurance with SportsCover Direct
Austria is a fantastic country to visit for a hiking holiday, but it is important to be aware of the potential risks and incidents that may occur during your trip. Having specialised sports travel cover can go beyond your standard travel insurance so make sure to take out cover that's specific to your activity.
For more than a quarter of a century, SportsCover Direct has been providing hiking and trekking insurance to adventurers of all levels of experience and ability. If you encounter unforeseen circumstances while you're away, we can make sure you don't end up out of pocket, whether you need medical care, emergency rescue, repatriation, help with travel disruption, or recompense if your luggage and equipment is lost, stolen or damaged.
Our affordable policies account for just a tiny proportion of the total cost of your trip hiking in Austria, but could potentially save you thousands of pounds if something goes wrong. Take a moment today and explore our hiking and trekking insurance policies in detail.