Everyone likes to get away every now and then. And usually it's a case of hopping on a plane to take you to your destination of choice ready to get exploring, relaxing or a mixture of both. However, not everyone is too keen on flying to their destination. But for travel around Europe that's not too much of an issue.
With transport links in Europe pretty comprehensive, there are countless routes for you to explore multiple destinations in one fell swoop, all without leaving the ground.
The ideal trip for you could take in spectacular scenery, captivating culture or mouth-watering local cuisine all without leaving the ground. But we know our customers love nothing more than enjoying some sporting activities when travelling abroad. That's why, we've picked out a handful of amazing no-fly adventure holidays which are more on the active side.
First in the series is a trip that takes you on to some of Europe's top waterways. With overnight stops in at least four countries along the way, those who love to grab an oar and paddle their way through their holiday will love this route.
About Us
We have been providing specialist Sports Travel Insurance for over 25 years to UK citizens. Our comprehensive policy can protect you to take part in over 500 different sports and activities across the globe. Get an instant quote for Sports Travel Insurance online now! Some of our other products include Golf Insurance and Cycling Insurance.
Bavarian Beginnings
From the UK, make your way to Paris via the Eurostar, changing onto a six-hour train to the largest city in Bavaria, Munich.
A number of notable rivers run through and around Germany's third largest city, including the Wurm, the Amper and the Isar. We feel that the latter which cuts through the city from north to south has the best options to get on the water without having to travel a great distance out of town.
The many kayaking clubs that dot the banks of the river at Thalkirchen are a great introduction to this epic kayaking adventure. Either join one of the guided tours or rent out your own vessel and paddle your way through the city, passing monuments and beer gardens as you go.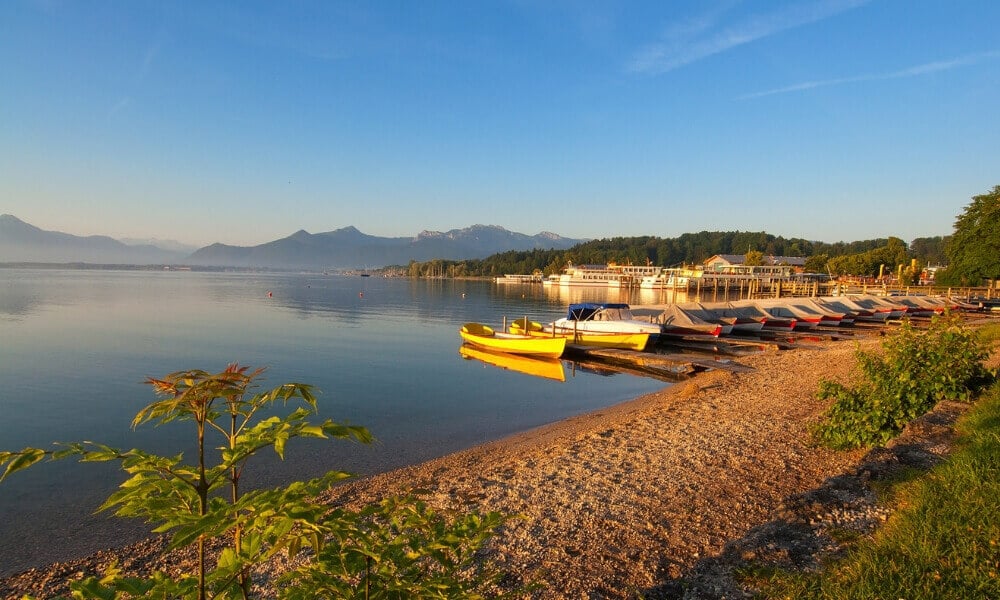 Once you have got your fill of the big city, hop on a train from Hauptbahnhof towards Salzburg.
Along the way, jump off at Prien am Chiemsee for your next kayaking break. The glistening waters of Lake Chiemsee are a delight to spend some time.
If you find yourself parched during your morning kayaking session, there's always the option to head over to the island of Frauenchiemsee which hosts its own brewery and beer garden.
Don't go too hard on the Pilsner though, as this kayaking trip is only half-way through. Board the train that you departed towards Salzburg and enjoy a quick stop off at the city of Mozart's birth for some sightseeing on foot.
From here, we advise you take the Flixbus service from the city's southern bus station through Austria and the magnificent Julian Alps into Slovenia. The point of departure here is the simply stunning, Lake Bled.
If you are going on a kayaking no-fly holiday, don't forget to pack your Kayaking Travel Insurance.
The awe-inspiring Bled
Whether it's the imposing peaks that encircle the town or the pretty island in the middle of the lake complete with 17th century church, this town can't help but make you go 'wow!'.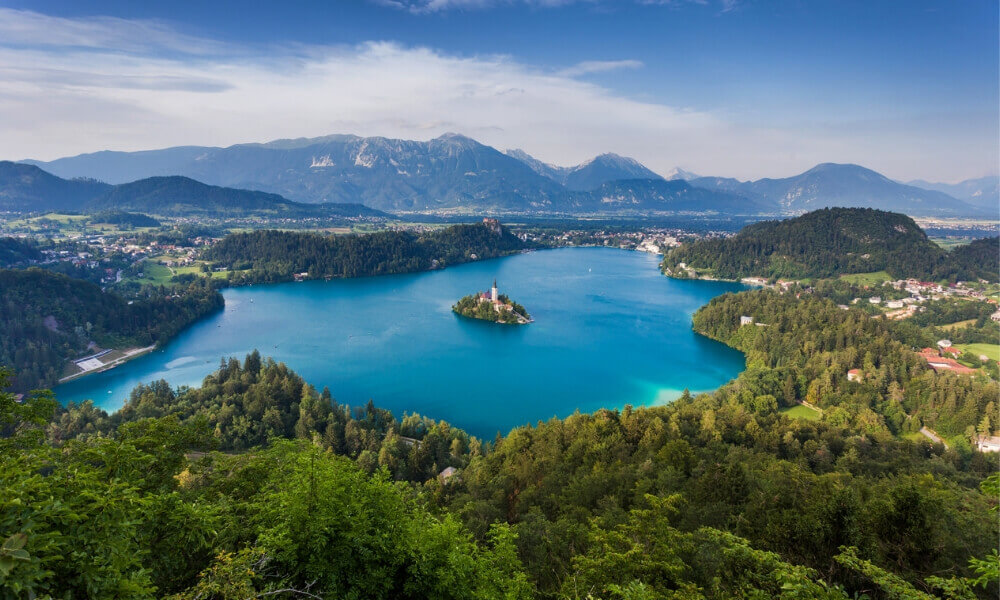 Options for exploring the great outdoors are plentiful in the town, despite its modest size. Visitors can hire a small row boat and head onto the lake and visit the aforementioned Pilgrimage Church of the Assumption of Maria in its centre. Otherwise, for a more strenuous experience of Slovenia waters, the nearby Sava River is your best port of call.
With sections of rapids reaching Grade 5 it can be a challenging day on the river, but with plenty of more subdued sports it can also be a relaxing one. If you feel the need to take a dunk into the river itself, be prepared, it can be very cold!
To head out on the river it's best to find one of the tour operators in Bled town who offer day tours out on the river.
Out of the water, the area surrounding the town is a walker's paradise. Mountain trails and woodland walks leave the town and head out into the wild. Closer to town though, is the mini-hike up to Bled Castle, which overlooks the town, perched precariously atop a steep cliff-face.
Heading out to sea
If you can bring yourself to leave Bled, it's worth continuing south. Firstly, take a train south to the Slovenian capital, Ljubljana (around one hour), before connecting on a route which takes you into the fourth country of this trip, Croatia.
The Croatian coastline is simply magic when it comes to sea kayaking.
The train from Ljubljana will cost you less than 10 Euro down to the Adriatic coastal port of Rijeka. The city is the jump-off point for a number of destinations in the north-west of Croatia, a country whose visitor numbers have grown quickly in recent years.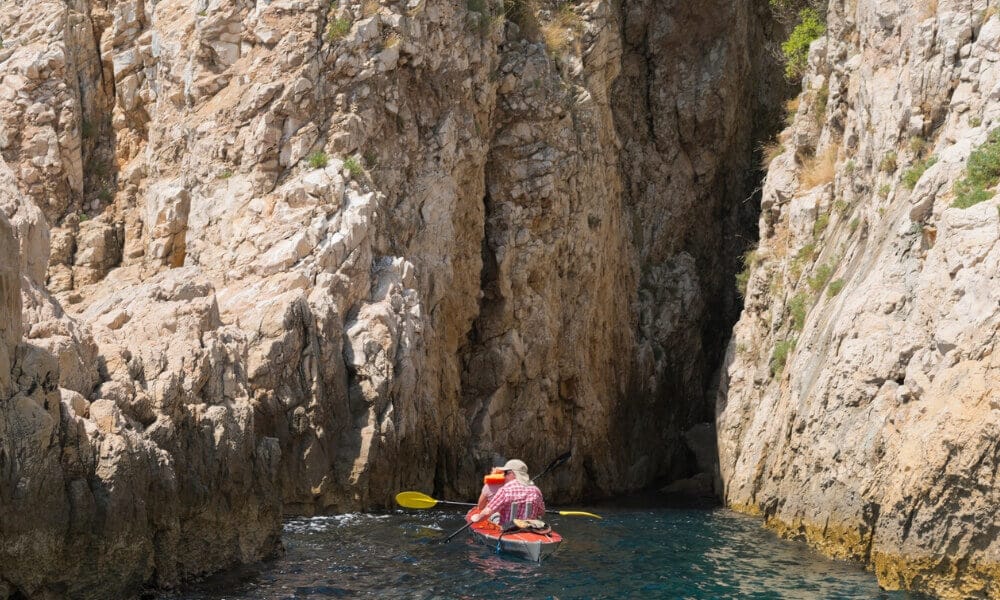 Heading west towards Istria is the recommended route for this trip. Not only do you have great sea kayaking options, but you can also tuck in to some top-notch seafood, as well as enjoying a bit of culture along the way.
The city of Pula is the obvious spot to base yourself. Reachable in around an hour and a half from Rijeka, Pula is home to one of the biggest Roman amphitheatre left standing in the world.
A day spent wandering around the old town and checking out the sights is the perfect way to bed yourself in here, before hitting the water.
The coast around Pula is rich with sea caves just waiting to be explored. And obviously, the only way to get to them is to take a seat in a kayak and start paddling.
Travellers to the region could spend days ducking in and out of these nooks and crannies that line the coast. Depending on how kayaked-out you are on this trip will judge how long you spend at sea.
For those looking for even more kayak time, head north to the town of Rovinj where you could take another tour of the coastal regions. This time you could circumnavigate Crveni Otok (Red Island) the nearest point of which is just 400m off shore.
'Red Island' is in fact, neither red or one solitary island. It is instead made up of Maskin and Sveti Andrija, two islets joined together by a short stretch of beach. Nevertheless, the pretty pine covered island makes for a pleasant day's kayaking with plenty of beach stops in between.
Just remember that you will need your Sea Kayaking Insurance on your holiday, so make sure you're protected before you head off.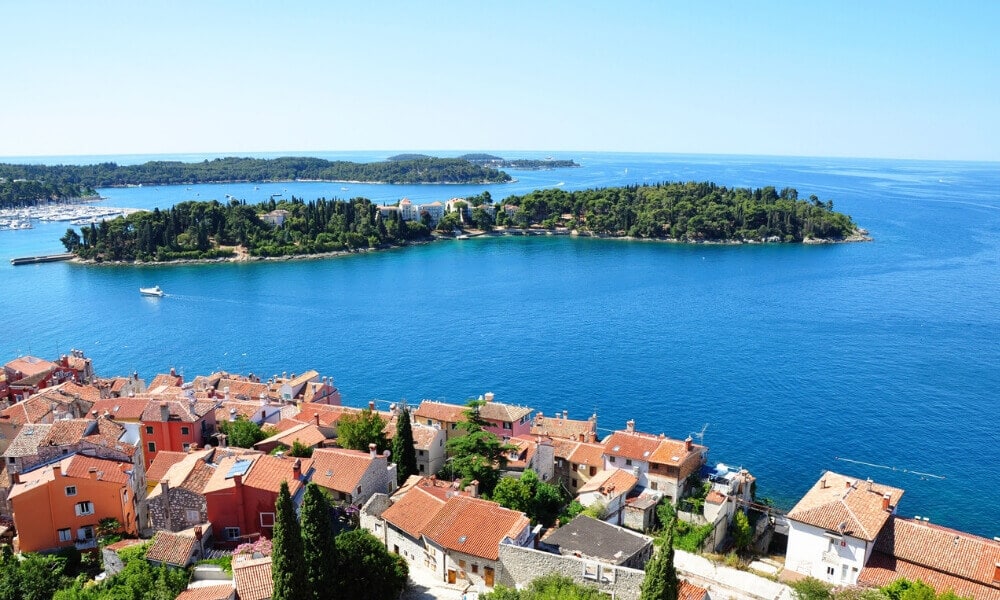 Heading home
By this point it's likely even the most hardened kayak enthusiast will be looking to calling it quits now and head back home.
But remember this a no-fly adventure, so it's not simply a case of hopping on the next train back to the UK (unless that's what you want, of course).
Instead you'll need to take some buses, trains and maybe ferries to get back home. You can either head back the route you came, but there are plenty of other alternatives.
One that is potentially quickest, and which takes in some of Europe's finest cities cuts through Italy. Back-track down the Croatian coast to Pula where you can board a ferry to Venice.
It may be that you want to spend a couple of days exploring the canals with a gondola ride, or by tucking in to some exquisite pasta off St Mark's Square, before heading off again obviously.
From there, a three-and-a-half-hour train journey across Italy will take you to Turin, where you can catch the overnight express train to Paris, before your final leg on the Eurostar back into London.
As no-fly adventures go, this is one that kayak enthusiasts need to pencil in.