Golf is good for your mental health on many different levels. As we contend with the endless demands of everyday life, finding relaxing activities that we enjoy is essential for a healthy mind. Anything that also supports our physical fitness is even more beneficial for our overall wellbeing. Golf offers everything from leisure to social connection, outdoor serenity to ample exercise and mindful engagement.
In a world where mental wellbeing is discussed more widely than ever, yet society moves at an increasingly faster pace, we need hobbies that can nourish us deep within. Golf is a relaxing sport for many reasons, helping you achieve that much-desired sense of balance. Whether you're a seasoned golfer or a newcomer to the game, we'll help you to see teeing off in a whole new calming light.
Read more about the various mental health benefits of golf in our handy guide.
Social interaction
Being part of any kind of community helps us to build our self-esteem, sense of collective identity and emotional support. Golf gives you all of that and more, as a social sport that encourages camaraderie and lets you enjoy vital human connection. Whether you play it on a casual basis with friends or join a local club and get competitive, golf provides a crucial sense of belonging that combats feelings of isolation, which can be harmful to your mental health.
Without regular socialising, we can become disconnected from ourselves and the world around us. The mental health consequences of loneliness over time can include anxiety, depression, sleep issues and higher rates of suicide. Regularly feeling lonely can impact our physical health too, from raised blood pressure to a higher risk of obesity, and problems with our immune system and heart.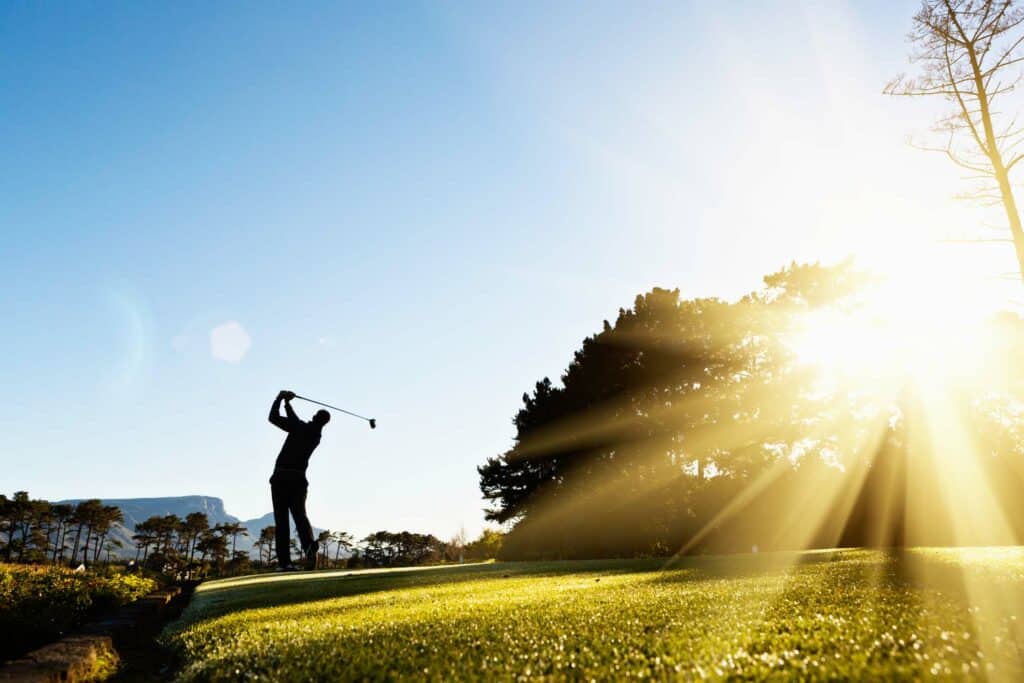 Time in nature
The lush green landscapes of golf courses offer so much to be thankful for, beyond the game itself. Not only do the picturesque views help us cultivate gratitude for natural beauty on an aesthetic level, they also provide a connection to nature that's inherently soothing. Spending time outdoors, breathing in fresh air, and appreciating the earth's tranquillity can promote an innate sense of calm and rejuvenation.
In fact, studies have shown that spending at least 20 minutes a day outdoors, three times a week, can help to significantly lower our stress levels. The advantages of time in nature extend even further. It's also been proven to improve our mood, reduce feelings of anger and fear, raise our confidence levels, help us to concentrate and achieve a better night's sleep.
Mindfulness
Golf demands a high level of focus and being in the current moment. Planning shots, analysing the course, and executing swings with precision require mindfulness and grounded presence. Paying attention to the here and now in this way acts as an effective form of meditation, allowing you to temporarily escape from life's worries and find respite in the game.
When we become aware of our thoughts rather than getting lost in them, it's much easier to put some distance between what is real and what isn't. We can notice what's going around us and appreciate the preciousness of life as it happens, rather than ruminating on the past or worrying about what will unfold in the future. Instead of living in our heads and letting patterns of thinking rule our lives, mindfulness lets us observe how we feel in our bodies and enjoy each sensation much more viscerally. This is another great reason why golf is good for your mental health, as you're generally giving more attention to what is happening in each moment as the game takes place.
Mind-body harmony
Golf offers plenty of physical benefits. Walking the course and carrying clubs for several kilometres, as well as repeatedly performing controlled movements with your whole body, contribute to cardiovascular health and overall fitness. The release of endorphins during exercise gives added positives for our mental health, including improved mood, reduced tiredness and lowered stress levels.
Golf's winning combination of physical activity and mental focus creates an inner synergy that is often lacking in a switched-on world. The connection between skilful swings and successful shots promotes a sense of unity, fostering a sense of contentment and reinforcing the mind-body relationship.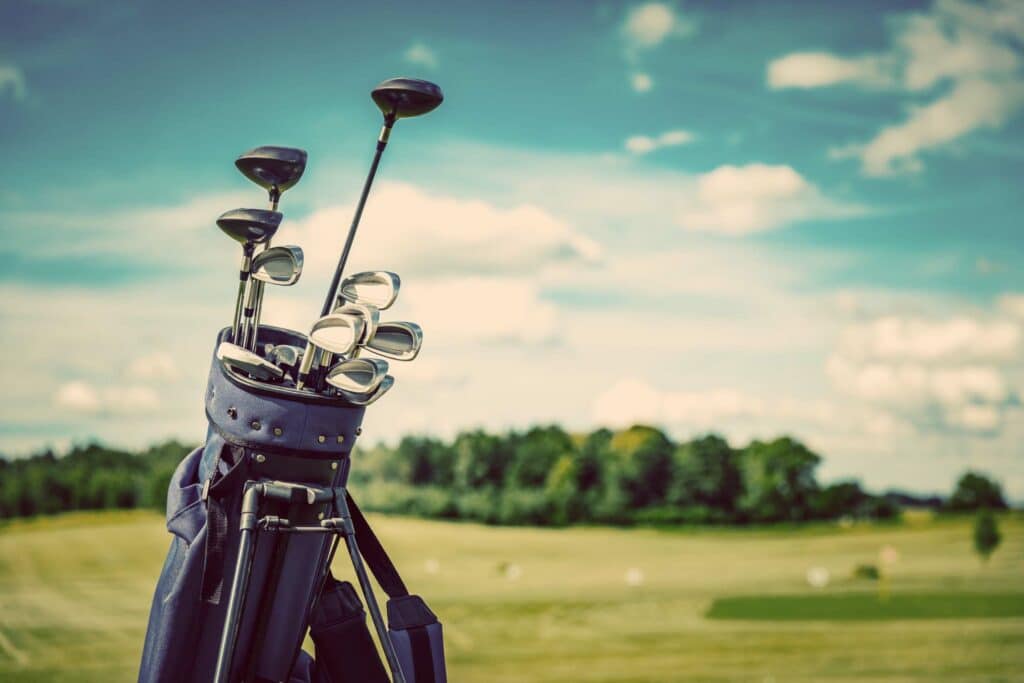 Stress relief
Playing golf can directly reduce stress in many ways. The reliably repetitive nature of each swing and the rhythmic walking between holes provide a comforting sense of the familiar. This can have a deeply calming effect on the mind, as anxiety is often caused by uncertainty. Of course, there can still be many surprises to enjoy in golf, adding to the sense of healthy competition. However, to a certain degree, you know what to expect each time you play, which can feel reassuring. Golf is also fairly low-risk, so you're less likely to worry about potential injuries than you might with other sports.
The steady pace and routine nature of golf can act as a form of relief from the strains of day-to-day life, with enough physical exertion to act as an outlet for releasing pent-up tension and helping you to feel more relaxed.
Mental resilience
Golf is a sport of ups and downs, requiring you to navigate successes and setbacks in every game. This builds mental resilience, teaching you patience, adaptability, and emotional control. These attributes can translate into many areas of everyday life, enabling you to handle challenges with a more balanced perspective.
When you can accept failures and adopt a growth mindset, you'll be more self-aware and appreciative of your wins. Being open to constant improvement takes off the pressure of perfectionism, helping you to see that we're all works in progress. Knowing that there's always something else to learn helps you see life as a journey, not a destination. You can apply this mindset to every aspect of your life, using it to further your professional success and work on healthy relationships with the people around you.
Cognitive stimulation
Golf requires strategic thinking and decision-making, as you assess factors like wind direction, course layout, and club selection. Regularly challenging yourself increases your problem-solving abilities, keeping your mind sharp. This contributes to your long-term cognitive development and encourages you to believe in yourself and your abilities, which enhances your self-worth.
Successfully overcoming a series of goals and obstacles on every hole offers a sense of accomplishment that can boost your self-esteem and positively influence your mental health. It can also feel incredibly fulfilling to set and achieve numerous incremental goals throughout every round of golf.
Time away from technology
As our lives are undoubtedly dominated by screens and devices, golf offers a welcome escape from the digital noise. Spending time on the green allows you to disconnect from constant notifications and immerse yourself in the real world. This break from technology can reduce mental clutter, allowing you to clear your mind and feel better able to manage your daily responsibilities.
Every year, nationwide studies show us the latest increases in average screen time, reflecting our collective need to switch off more and reconnect with the wider world. Even a small digital detox can help us find the space to enjoy greater mental clarity and focus on what's important in our own lives. We get a better sense of what matters and what we can control, rather than seeing the whole world's lives unfold on social media and feeling helpless to keep up. Not to mention that unplugging from work emails will help us to exercise better boundaries and work smarter, rather than longer.
Destressing breathing techniques
Lastly, the mental health benefits of playing golf include controlled breathing. Golf's slow pace naturally tends to encourage focused breathwork, which has many advantages. Taking controlled, deeper breaths has a calming effect on the nervous system, which helps to regulate your heart rate and reduces your stress hormones.
Intentional breathing not only improves your concentration and performance during a round of golf, it is also a powerful tool for managing challenges in everyday life. Incorporating mindful breathing techniques from the golf course into your daily routines can contribute to greater emotional resilience and mental wellbeing. It also reduces anxiety, depression, anger and the symptoms of grief, as well as helping you develop a greater sense of sense of safety in your body and trust in your own mind.
Get golf insurance with SportsCover Direct
We understand that the benefits far outweigh the potential risks when it comes to your favourite sport. However, there are ways of protecting yourself should anything go wrong. Taking out the right golf insurance from the outset means you can focus on your game, without letting financial worries get in the way of your enjoyment.
From accidental injury or property damage to theft and loss, SportsCover Direct's golf insurance offers cover for a range of different situations. Whether someone hits you with a ball or you misplace your clubs, our comprehensive policy gives you protection against golfing mishaps at home or abroad.
Find out more about SportsCover Direct's golf insurance and get an instant quote that fits your requirements. Our friendly team are on hand to help if you want to discuss your needs in more detail.
This blog has been created as general information and should not be taken as advice. Make sure you have the correct level of insurance for your requirements and always review policy documentation.