Watched from afar, learning how to get better at shooting looks like it's so simple. But the mechanics and routines involved in an excellent shot are much more complex than you might think.
Anyone who has just taken up shooting for the first time – or is struggling with a loss of form – will understand just how difficult it can be to get everything right. But don't worry: there's plenty you can do around how to improve shooting skills – and you've come to the right place!
This guide is full of helpful, practical tips on how to get better at shooting. Some of them cover the actions involved in your shot, while others are things you can do away from the range without guns or ammunition. But all of them can help you improve your accuracy and performance, and ultimately get more enjoyment out of the sport you love.
Feel comfortable with your gun
Familiarity with your gun is absolutely essential for successful shooting accuracy, particularly if you don't have much previous experience with firearms in general. A good place to start is just to get used to holding your gun, without any ammunition, and to feel comfortable with it in your hands. General gun maintenance and cleaning gives you a good opportunity to do this, and ensures that you can keep your equipment in tip-top condition all the time.
Check your eye dominance
Every target-based sport requires participants to use their dominant eye to aim. This won't necessarily be on the same side as your dominant hand, and neither is this a problem: Phil 'The Power' Taylor is right-handed but left-eye dominant, and won the World Darts Championship 16 times!
It's also possible for eye dominance to change over time, especially as you get older. It's worth trying to aim with both eyes if you can, because this gives you better depth of vision and allows you to judge speed and range more accurately. If you aren't able to do this, however, then you should check your eye dominance every now and again to ensure you're aiming through your 'best' eye.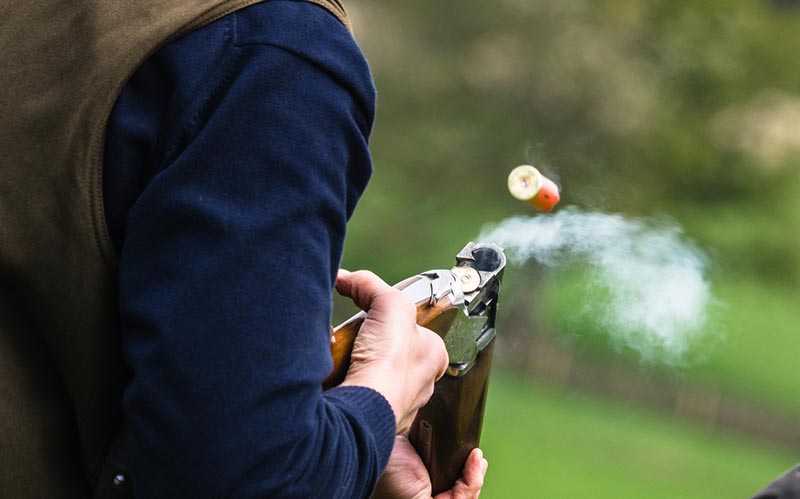 Practise your grip
If you aren't holding your gun tightly enough, then you run the risk of it veering away from your intended target when you fire. It's also important to ensure the butt of the gun is nestled in the right place near your shoulder – it should be well-positioned to give you control, without the risk of you getting hurt by the recoil.
Practising your grip is something that you can do at home, perhaps in front of a mirror so you can see any adjustments that you're making. Ultimately, once you have a grip that you feel perfectly comfortable with, it will become second nature to you and a firmly embedded part of your routine.
Refine your stance
Similar to the grip, a rock-steady stance is vital when looking at how to get better at shooting. The key principles to it are simple: having both your feet planted firmly on the ground around a shoulder-width apart, then a slight lean forward for extra stability.
This is an area where it's very easy for bad habits to creep in over time, so it's definitely worth revisiting your stance on a regular basis if you feel you're struggling. Practising it in conjunction with your grip at home can help you replicate exactly what you need to do when you're shooting for real.
Dry-fire for practice
One of the biggest contributors to a lack of accuracy is fear of, or at least anticipation of, the recoil when you fire your gun. If you're likely to flinch when pulling the trigger, then everything else you do to get the right aim is pretty much pointless.
To solve this problem, you need to get used to firing the gun without the recoil, so that you know exactly where the bite point is on the trigger to fire at exactly the right time. The best way to do this is to dry-fire without any ammunition, so you can focus on the trigger without any other distractions. Make sure you check the specification of your gun before you start, though: while some are OK to fire with an empty chamber, others may need you to have a dummy round in place.
Ease your trigger action
If you're new to shooting, then you might be tempted to pull the trigger firmly and decisively, almost as if you're in an action film. But in the world of sport shooting, this isn't the approach that will get you the results you're looking for.
The best way is to learn exactly where your bite point is, and to squeeze the trigger slowly and carefully. This ensures that there is minimal movement in the gun at the time of firing, maximising your chances of hitting your intended target.
Keep your breathing under control
Breathing is a tricky one to get right because different people have different preferences, but there is one constant: you should avoid breathing in or out while you're shooting if you possibly can. This is because the movement of your chest will naturally move the gun while it's in place, throwing out your accuracy.
If you're unsure which breathing technique is right for you, experiment at a range with the three most common approaches: inhaling and firing with full lungs, exhaling and firing with empty lungs, or exhaling a little and pausing halfway before firing. Whichever feels most natural to you is the one that you should try and stick with.
Remain receptive to advice
Nobody is a perfect shot, however easy they might make it look when they're on the range. The best shooters have taken a long time to hone their skills, and they work tirelessly to keep themselves sharp and pick up new ideas.
So whether you've had a good day or a bad one, and whether you've been shooting for two weeks or 20 years, you should always seek out advice and constructive criticism when you can. If you can take away one area for improvement after every shoot, then you can constantly evolve and enhance your ability.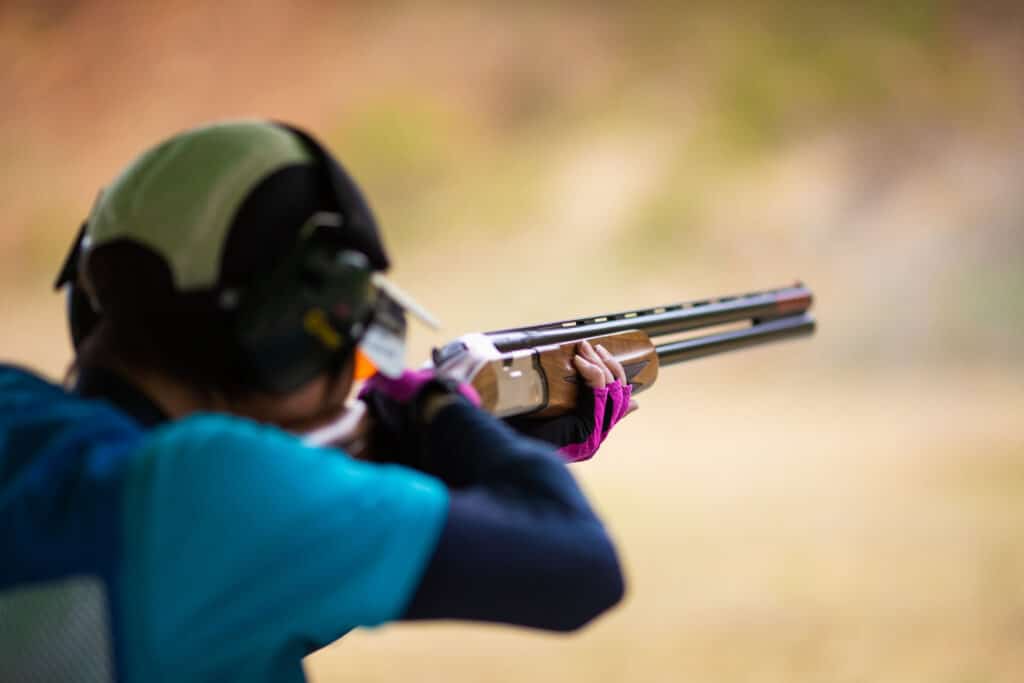 Take your time with shooting drills
Unless you're in a time-pressured competition, shooting is not a race. There are no prizes on offer for rattling through your training routine faster than anybody else, and failing to take in whatever it is you're trying to learn. Instead, you'll be far better-served slowing things down, working through things methodically and assessing what you're doing right (or wrong) with each shot and drill. This gives your brain more time and space to soak up the information and remember what you need to do to get your shots right in the future.
Practice makes perfect
If you only get the opportunity to shoot on an occasional basis, then you'll find it difficult to make meaningful improvements to your abilities over time. It's vital to find some regular time to practise – finding the same slot in your weekly routine can help new ideas become ingrained, even if you can only spare half an hour or so. Stick with this over a few months and you'll find your abilities will increase considerably, especially if you mix up your training and try different things from week to week.
Don't over-train
However, if you're having a bad day or struggling with some of the tips mentioned above, don't keep going if you're frustrated – you're just going to make things worse. Don't be afraid to call a session at the range short if you don't feel that you're getting anything out of it. It's better to go home, reset and try again another day, before too many negative thoughts creep in and stop you from wanting to go shooting.
Get shooting insurance with SportsCover Direct
If you're willing to embrace the tips mentioned in this guide, then there's no doubt that you take your sport shooting seriously. And if you take it seriously, then you'll need to make sure you're taking all possible precautions, and that your investment into your guns and equipment is protected. This is why specialist shooting insurance is a must.
SportsCover Direct has been insuring shooters like you for around three decades. Whether you have an accident injury; suffer loss, theft or damage to your guns and kit; or need public liability insurance to access shooting locations, our affordable cover is here to help. With flexible payment plans and premiums from just a few pounds a month, we can give you peace of mind and financial protection that doesn't break the bank.
Take a closer look at the details of our shooting insurance policies today.