Greensomes golf is an exciting variation of standard strokeplay, where you team up with your playing partner and work together as a team of two. It's similar to the foursomes format that the European and American pros play in the Ryder Cup, but it's a fun way to take in a round of golf for all abilities.
This guide explores the most important rules around playing greensomes, key strategies that can help you succeed more often, and how to make sure you've got appropriate cover for your next greensome round.
What are the key rules in greensomes?
In greensomes golf, a two-player team will each take a tee shot at the start of each hole. They'll then select the best of the two drives, then keep playing that remaining ball as a team, alternating each shot. The player whose drive is discarded plays the second shot, and the team alternates thereafter. Scores are recorded in normal strokeplay format, but it's important to check out whether the course or competition requires a minimum number of tee shots from each player to be used.
If you're playing with handicapping taken into account, then a special formula is applied to the final score of the two-player team. Generally, 60% of the lower handicap and 40% of the higher handicap is applied. For example, if a team is made up of players with handicaps of 12 and 20, then the greensome handicap applied would be 15 (60% of 12 plus 40% of 20, so 7.2 plus 8, makes 15.2, which is then rounded to the nearest whole number).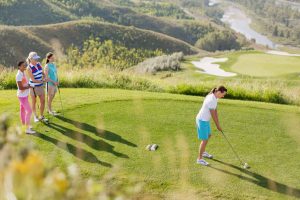 How can you win a greensome?
Because you're sharing a round with another player, greensome golf requires a very different mindset. There are a number of tips that we recommend bearing in mind:
Choose your partner wisely
A better player is not always the best partner for greensome golf. A supportive player who can stay positive, and who won't criticise bad shots is far more valuable.
Think about more than just drive length
The longest drive might seem like the best one to take forward, but that isn't necessarily the case. Make sure you consider the positions of each shot, and who will go next, when making your decision.
Putt with teamwork in mind
Similar to the previous point, remember the skills of your team-mate when taking on longer or more complex putts. Sometimes it can make more sense to lay one up so that your partner can safely finish the hole next time.
Prepare to compromise on balls
Different playing styles between partners can mean a major divergence in the types of ball used. Finding a happy medium that suits both players reasonably well is a good idea before you start your round.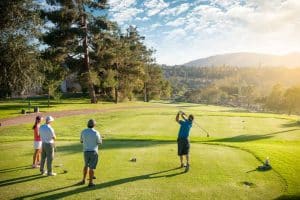 Get covered for your next greensome golf event with SportsCover Direct
Next time you play a greensome, whether at home or abroad, make sure you and your clubs are covered with SportsCover Direct. Our range of golf insurance options include personal liability, professional indemnity, equipment cover and more, and starts from just a few pounds per month. Take a closer look at all our golf insurance policies.