Whether you're playing a fun round with family or friends, or you're aiming to become the next Rory McIlroy, a golf handicap is the easiest and most universally recognised way of measuring your ability and progress. Used around the world, they're used to help players qualify for tournaments, make comparisons between different players, and allow players of different abilities to compete against each other fairly.
In this guide, we'll give you a detailed answer to the question 'what is a handicap in golf?', including how they work, how you can estimate your own handicap, and how your handicap can help you unlock new opportunities to play golf across the globe.
How do golf handicaps work?
A golf handicap is a figure that quantifies how many shots a player would typically be over par on a typical 18-hole round. The World Handicap System is the universally deployed handicap system for golfers all over the world and is recognised by the most important bodies in the game, such as the Royal & Ancient (R&A) and the U.S. Golf Association (USGA).
A player with a handicap of zero is often known as a 'scratch'' golfer and would therefore be a professional or highly competent amateur. The lower the handicap figure, the better the player, and vice versa. At the other end of the scale, if you're asking what the maximum handicap in golf is, then your answer is 36: this means that a player is giving away two shots to par on every hole.
The difference in handicap between different players is used to create fair contests. For example, in stroke play, a player with a handicap of 24 is effectively given eight extra strokes against a player whose handicap is 16. For the same two players in matchplay, the player with the 24 handicap would be given one extra stroke on each of the eight hardest holes on the given course (as assessed on the scorecard).
In either case, each player has a theoretically equal chance to win as each is trying to beat their own handicap score by as much as possible.
How to assess your golf handicap
There are lots of factors that influence the calculation of an official golf handicap. Recent performance plays a major role (more on that in a moment) but other considerations like weather, course difficulty, which tees you play off, and performance relative to other players on a particular course are also taken into account.
Because of this, making a precise calculation of your handicap can be extremely difficult, which is why there are many mobile apps and other subscription-based services that can do it for you. If you need an official rating for a specific reason (such as entering a tournament), then these can be very useful. But if you're looking for a less official guide to your handicap, then it is possible to make a fairly good estimate with relative ease.
To do this, compile your scores from your last 20 full 18-hole rounds of golf, and rank them in order of best to worst (in terms of your score over par). Take the best eight of these scores, and then take an average of them by adding them all together and dividing them by eight. Round this figure up or down to the nearest whole number and you have your estimated handicap.
As you play more rounds, you can recalculate using the same methods, and therefore judge how your handicap goes up or down (hopefully down!) over time.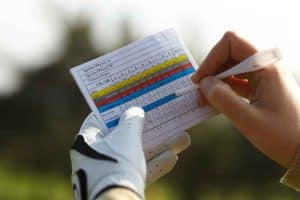 What is a good golf handicap and why is having one so important?
How long is a piece of string? It's natural for all golfers to aspire to a better handicap, so it's all relative: if your handicap is 25, you'd be very happy with a 20; but if you're already at 20, then you're probably looking towards 15, and so on.
As a general benchmark, any golfer whose handicap is in single figures has developed a real aptitude for the game. It also means that in a matchplay situation against a scratch golfer, they'll be playing on equal terms on at least half of an 18-hole course.
However, a handicap isn't the be-all and end-all of golf, and no player should define their experience solely on their handicap number. Enjoying the game, the surroundings and the company is always core to the game of golf. So, while setting a target to reduce your handicap by a certain amount next year gives you something to work towards, you shouldn't get too downhearted if you don't make the progress you were hoping for.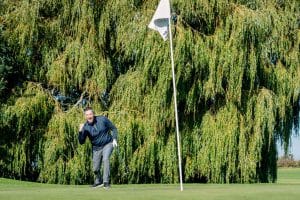 Enjoy your golf, insured by SportsCover Direct
However good your game is, the unforeseen can always happen on the golf course, so it's vital to be as prepared as you possibly can be. And if you're travelling long distances to take in some play, either elsewhere in the UK or overseas, there is an extra layer of complexity around the things that can go wrong, and the consequences if they do.
Striking someone with a ball, getting hit by someone else's shot, or suffering damage to your precious clubs are just three of the hazards of golf trips. In the case of the latter, many people assume that golf clubs are covered by home insurance, but this isn't always the case. The only way to make sure that you're covered for every eventuality is to take out specialist golf insurance.
At SportsCover Direct, we have a wide range of golf insurance policy options available, which can be tailored to your specific needs and arrangements. We can protect you and your clubs, cover any compensation claims that may be made if an accident or injury occurs, and even provide hole-in-one indemnity so you don't get stung with a big bill at the 19th hole!
Our cover is flexible and starts at just a few pounds per month. Take a closer look at our golf insurance policy options.