Emanating from the Lowlands of Europe, korfball has become a sport of real popularity in the UK in recent years, with a large number of Brits adding to the 200,000 people that take part worldwide.
For those who may not know about the sport, it is a mixed-sex sport (four men and four women on each team) that is a combination between basketball and netball.
Players score points by shooting a ball through a bottomless basket, mounted to a pole 3.5m in height.
One of those 200,000 people is England korfballer, Rachel Turner.
For Rachel, to succeed in the sport you need "great hand-eye co-ordination, excellent fitness and a good shot on you".
Having represented her country, Rachel knows all too well what it takes to do well in the game. She described to us how it was donning the England jersey.
"Playing for England is an honour. An enjoyable experience, yet extremely testing at times. We are currently ranked third in the world behind the Netherlands and Chinese Taipei, and that gap is narrowing all the time."
"Last year I went to Olomouc, Czech Republic, to represent the England Under 23's at the IKF World Championships. Overall we came seventh, which on a personal level I felt was disappointing considering the talent in the team, but an amazing experience nonetheless."
"A lot of the players in the team have grown up playing together at national level. It is interesting to see how each team member has a different style of playing and how they merge together."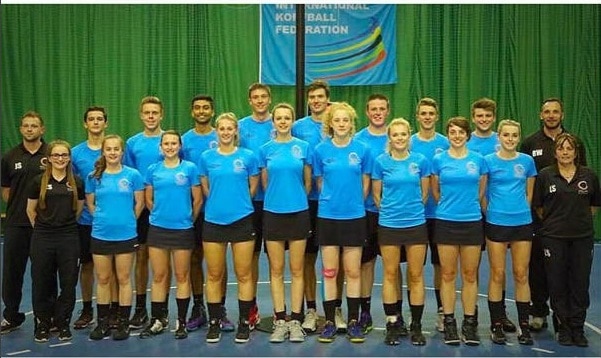 Next on the agenda for the England korfball team is the World Games held in Poland. Having improved from a seventh-placed finish in 2009 to ending up fifth in 2013, the signs of improvement are there.
However, judging by past tournaments, it would be a shock if GB could even land a silver medal.
Korfball has featured in the World Games eight times since 1985. On each occasion the Dutch have come out on top, with their neighbours Belgium claiming the runners-up spot.
Chinese Taipei have made inroads in displacing the dominant pair, but for Rachel, Britain needs to continue to improve it's exposure of the sport.
"To get more people playing korfball in the UK we need to be teaching it in schools," Rachel told us.
There are, however, some signs that things are on the up: "Clubs themselves are becomingly increasingly proactive in promoting korfball to students. I know that University Students' korfball has improved considerably in recent years in the number of people playing as well as the talent that is coming through."
On a personal level, Rachel has her sights set on not only team glory but also on sibling bragging rights.
Trojans, a side based in south London, are on the hunt for their 10th-straight England Korfball League title. One member of that team is none other than Rachel's sister, Amy.
"Trojans are an extremely strong opposition, they have been playing together for years and this could well be the reason. But they also have a very talented combination of the different types of players from rebounders to shooters to feeders."
As things stand at the time of writing, title-win number 10 is on track. Trojans sit atop the table unbeaten all season with just one draw spoiling their perfect record.
For Rachel and her Kingfishers team, it's all about playing the long game. To win that title, they must first tussle for a top four spot and a place in the season's Final Stages.
If you're a korfball player, make sure you have comprehensive insurance. Whether you are taking part at home or abroad, click here to get an instant quote.