So winter is turning to spring, which means for British skiers, the season is coming to an end. For the next several months, you'll be restricted to indoor skiing, dry slopes or a long hot summer dreaming about your next trip to the Alps, right? Well, not necessarily.
Skiing has long been such a European and American-centric pastime for British snow sports enthusiasts that it's easy to forget that there's another half of the globe waiting to be explored. Below the Equator in the southern hemisphere, the winter months coincide with our summer season, and there are a host of resorts and runs to explore across three continents on the other side of the world.
It may not be easy or cheap to get there, but if you want a ski trip like no other, then southern hemisphere skiing is the way to go. This guide highlights why it's so great and picks out the best ski resorts in the southern hemisphere.
Get ski insurance with SportsCover Direct
Any ski trip to the southern hemisphere will naturally involve a significant outlay if you're travelling from the UK. That's why it's vitally important not to cut any corners and make sure that you have the right insurance cover in place.
For over a quarter of a century, SportsCover Direct has been providing specialist ski insurance cover to skiers travelling all over the world. With one of our policies, you can be sure that you don't end up out of pocket if you need private medical care while you're away, if you require the use of rescue services, if your travel plans are disrupted, or if your equipment and luggage is lost, damaged or stolen.
Our policies start at just a few pounds a month, a tiny fraction of the cost of your holiday. So why leave it to chance? Take a closer look at all our options for ski insurance.
Why is southern hemisphere skiing so great?
The first thing to say is that a trip that far to ski isn't going to be as easy or cheap as a run down to the Alps. But in many ways, that's a benefit as you can combine your skiing with a longer trip to nearby cities and areas that you wouldn't otherwise get the chance to explore.
If you take your skiing really seriously, then the southern hemisphere represents the perfect opportunity to keep your real-piste skills sharp in time for the next European winter. There's only so much you can do on an indoor or dry slope in the UK, and there's no substitute for the real thing.
Another thing to consider is the bragging rights among your mates and fellow ski enthusiasts. There probably aren't many in your social circle who have skied that far afield, meaning a trip to the southern hemisphere can stand you out as a truly global skier.
Our picks of the best ski resorts in the southern hemisphere
You might not have thought that there were enough cold areas in the southern hemisphere to find decent skiing conditions (unless you were to venture to Antarctica!). However, these five resorts spread across three different continents comfortably dispel that myth:
The Remarkables, New Zealand
There are very few places in the world where a name describes the place so well as this one. The Remarkables really are remarkable because there is something for everyone: freeride adventures for experienced skiers, a large area for beginners, and the southern hemisphere's only Stash run for snowboarders. The complex of seven ski parks is easily reachable from the nearest city, Queenstown, and the excellent views and sledding opportunities mean there's plenty else to do while you're there.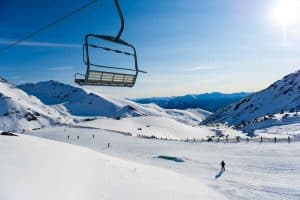 Cerro Castor, Argentina
How does skiing at the end of the world sound? Cerro Castor is on the island of Tierra del Fuego just 16 miles from Ushuaia, the southernmost city in the world. It's set up as an exclusive, high-end resort, where 36 trails across all levels of ski ability combine with luxurious lodges and top-quality dining. Its location at the southernmost tip of South America means it also benefits from a particularly long season: anywhere between June and October is normally good for skiing, with a peak of snowfall in September
Perisher, Australia
The largest ski area in the entire southern hemisphere is located between Sydney and Melbourne, making it accessible by road from either. Perisher is made up of four linked regions delivering thousands of acres of on and off-piste runs to explore, linked by the special Skitube train that runs between each area. But perhaps where Perisher stands out is in the nightlife, which is unmatched against any of the other resorts mentioned here. There are bars and restaurants by the bucketload, giving you the amenities of a European resort but with a distinctly Aussie vibe.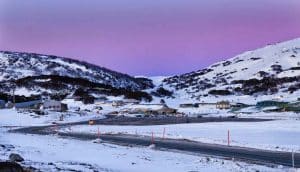 Tiffindell, South Africa
If the length of the flights of some of these destinations is off-putting, then how about somewhere a little bit more accessible (and without the time zone difference or jet lag)? On the slopes of Ben McDhui and 3000 metres above sea level, Tiffindell is South Africa's highest ski resort and normally offers good skiing in June, July and August.  It's a compact resort with a handful of lifts, a hospitality centre and a ski school among its facilities, and it is a firm favourite with families as well as putting conservation at the heart of what it does.
Portillo, Chile
If you want to go right off the beaten track, then Portillo is the resort for you. It's around 100 miles from the Chilean capital, Santiago, and there is only one hotel up there. However, don't feel that you'll be stuck on your own: the resort has a real community feel and everyone who makes the effort to visit is made to feel welcome by staff and fellow skiers alike. It's a place for the hardcore: there are no TVs in the hotel rooms, and passes are limited to 450 people so there are no lines for the lifts. No wonder, then, that it's a favoured off-season training destination for many professional ski teams from Europe and North America.