Andorra is such a small country that it often gets overlooked by skiers looking for a European adventure each winter. But while it may only have a population of just over 80,000, this sovereign nation high in the Pyrenees is a bit of a hidden gem for skiers of all abilities.
This guide covers all you need to know: how many ski resorts in Andorra, where to ski in Andorra, the best times of year to go, and what to remember when planning your trip.
Why go skiing in Andorra?
If the thought of overcrowded pistes, long queues for lifts and complex runs generally put you off the idea of a skiing holiday, then Andorra is probably the resort for you. It rarely gets congested even at the busiest times of the winter, and it's a mecca for beginners and intermediate skiers, who take full advantage of big, wide pistes and top-quality ski schools.
There are two other advantages that stand Andorra, and indeed the rest of the Pyrenees, out from the Alps.
First, the cost: Pyrenean resorts tend to be much cheaper than the Alps and so are an excellent choice if you're on a budget; although as you'll read later on, this is tempered a little by the time and effort of getting there.
The other benefit is reliable snowfall: where many Alpine resorts have regularly struggled for snow in recent years, there's been far more snow far more often in the Pyrenees, making Andorra a much safer bet when booking a trip.
What time of year can you ski in Andorra?
Generally speaking, the ski season in Andorra starts in the first half of December. But the high nature of Andorra ski resorts, many of which are situated well over 2000 metres above sea level, means that the season normally carries on well into April. This altitude counteracts the fact that the Pyrenees are a fair way further south than the Alps, and so are normally a bit warmer in ambient temperature terms. Read on to discover which resorts are best for different months of the year.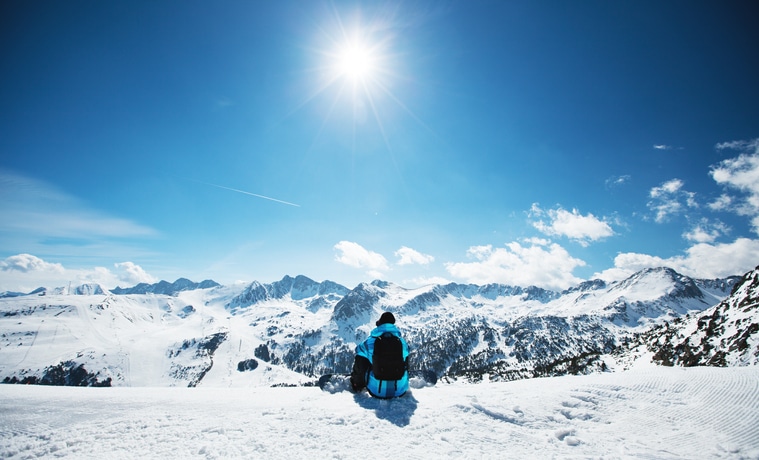 Which is the best ski resort in Andorra?
Andorra has three main skiing areas – not really a surprise in a country that's so small! But the great thing is that there's plenty of variety between each one, meaning every type of skier is covered, one way or the other:
Ordino Arcalis
If you're a more advanced skier and you enjoy some off-piste runs as part of your trip, then Ordino-Arcalis is definitely the place to base yourself. As Pyrenean resorts go, it's much more Alpine in nature, with top-quality snow and a beautiful natural landscape. There's plenty to enjoy in the area: 25 pistes, 14 lifts, as well as a snowboarding park and plentiful off-piste opportunities.
Grandvalira
So, where can you ski in Andorra in December? Start by looking at the Grandvalira ski area, which comprises a selection of resorts across the eastern side of the country, and around 130 miles of slopes in total. These include Soldeu and El Tarter, which retain some traditional charm and a more fun, family-friendly vibe that's perfect for beginners.
At the other end of the season, if you're wondering 'is Andorra good for skiing in April', then think about going further east to Pas de la Casa, at the other end of the Grandvalira area. This is a much more lively resort that's well-known for its apres-ski and party atmosphere, with a host of bars, restaurants and hotels all packed into a small area and easily reachable from each other.
Vallnord-Pal Arinsal
Over in the west of Andorra is the Vallnord ski area, where the station at Pal-Arinsal should be your first port of call. It's also handy for the capital city Andorra la Vella, which gives you ample opportunity for a day trip away from the slopes.
The slope distance comes in at nearly 60 miles and more than half of that is rated for beginners, meaning there's nothing to fear for the inexperienced. But you can get a little bit of everything by staying in Arinsal: a lively atmosphere in the evenings, as well as the ability to access Ordino-Arcalis through the same ski pass.
If you're looking for the best place to ski in Andorra in February half-term with your family, this is probably the best choice.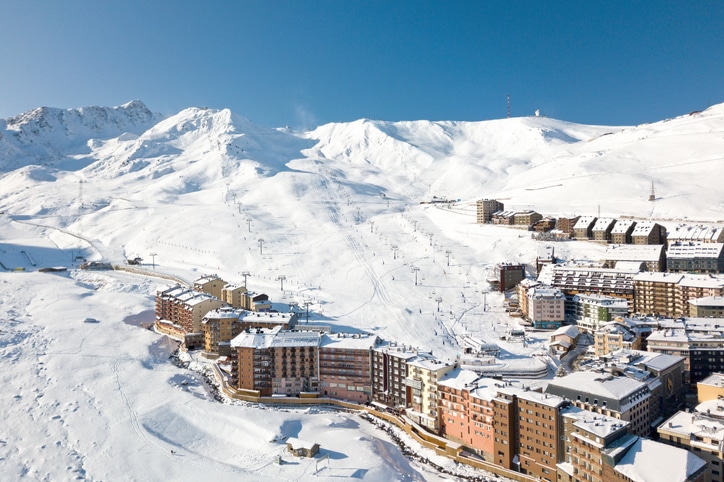 Is Andorra difficult to get to?
Compared to a drive through France to an Alpine resort, Andorra is tricky to get to – but the quality of the skiing and the relatively quiet nature of the resorts there makes it well worth the effort.
If you're travelling by air, then you should remember that Andorra doesn't have an airport of its own. The nearest airports with flights from the UK are Toulouse and Perpignan in south-western France, and Girona and Barcelona in Spain. It's around a three-hour drive from any of these airports, although there are a range of bus transfer services available. Alternatively (if you have deep enough pockets!) you could book a helicopter transfer from one of these airports into Andorra heliport.
It's also possible to travel to Andorra by train. There is a French overnight train service that runs from Paris to the village of L'Hospitalet-pres-l'Andorre, which is still on French territory but right on the Andorran border. From there, you can get a taxi to your destination: while it's a fair way from the capital, Andorra la Vella, it's much closer to the ski runs at Pas de la Casa (a journey of around seven miles) and Soldeu (16 miles).
What else do I need to know?
As you may not be familiar with Andorra, there's plenty to read up on before you book and before you travel. Firstly, although Andorra is not a member of the European Union, the Euro is still the official currency of the country. And while the official language is Catalan, you'll find that English is fairly widely spoken, especially in the ski schools where there tend to be lots of British and Australian instructors.
Other things to watch out for when planning a skiing holiday in Andorra include:
Apres-ski
Andorra has previously had a reputation for being a cheap and cheerful ski destination where the parties often got particularly wild. While things have calmed down a little bit since then, it is still a place where the apres-ski can lead to some legendary late nights. Many bars in Pas de la Casa in particular will offer shots for low prices or even for free to entice you in. While this might well appeal, you may be best looking towards a Vallnord village like La Massana if you want something quieter or more family-oriented.
Andorra la Vella
The capital city of Andorra isn't a ski destination, but is well worth a visit in its own right if you have time. It's the highest capital in Europe and is full of shops and restaurants that make for an excellent day trip. It won't surprise you to learn that it's a very hilly place, so make sure you've got decent walking boots on!
Booking and planning
As always, the old adage 'fail to prepare, and prepare to fail' applies here. The more research and pre-booking you can do before you go, the lower the risk of disruption or unnecessary stress when you travel. This is especially the case given the long transfer times involved if travelling by air.
Healthcare and medical cover
The quality of healthcare in Andorra is very good, as you'd expect in most western European countries. However, it's important to remember that healthcare abroad can be very expensive. While you may have a European or Global Health Insurance Card, this will only cover you at a basic level. If you need emergency rescue, surgery, repatriation or a long stay in hospital, you may face a sizeable bill if you don't have insurance cover in place.
Get ski insurance with SportsCover Direct
If you're planning a skiing trip to Andorra this winter, then one thing you definitely shouldn't be without is specialist travel insurance. That way, you can hit the slopes without having to worry about any major financial impact if something goes wrong.
SportsCover Direct has been insuring skiers of all abilities and levels of experience for more than a quarter of a century. Our affordable policies cover personal accidents and injuries, medical expenses that go beyond the scope of your European or Global Health Insurance Card, travel disruption, and any loss, theft or damage to your luggage.
Our policies represent just a tiny fraction of the overall cost of your trip, but could turn out to be one of the most important purchases you'll make. Find out more on our ski insurance today.
This blog has been created as general information and should not be taken as advice. Make sure you have the correct level of insurance for your requirements and always review policy documentation.