It's very rare to come away from the golf course in the belief that you have played the perfect round. At some point there's bound to have been a mis-hit drive or an overzealous putt to ruin a hole, however things can get much worse than the odd bogey or two.
Although golf is a relatively relaxed and genteel sport, frustrations, injuries and serious mishaps are never far away.
And (somewhat refreshingly) being a pro doesn't exclude you from enduring a nightmare on the golf course. We picked out a handful of instances where being near the top of the PGA rankings wasn't enough to evade an ordeal on the fairways.
Rory McIlroy – Accenture World Matchplay Championship 2014
We've all seen drives from the tee in big championships sliced with venom towards a crowd of spectators, only losing velocity once the ball comes into contact with a unwitting fans' head. However, for Rory McIlroy in the Accenture World Matchplay Championship, it was slightly different.
Having already managed to find the "rough" – in this case the Arizona desert sand – the Northern Irishman attempted to find his way back on to the fairway. However, his pitch manages to strike a member of the watching crowd before rolling further into the hazard. It got worse for the fan, who was knocked over by the impact, falling into a Jumping Cholla Catcus, leaving him feeling a bit prickly. See if you can spot the moment, McIlroy realises he might have needed a bit more loft on his shot…
Unknown competitor – Long Drive Tournament
We're not sure of the origins of the next clip, however it's a painful and darkly funny in equal measure.
One hooked drive is bad enough, but how about two? Our main protagonist manages to completely mis-hit her first drive, firing her ball left and low towards the shins of onlookers. Without a moments pause she tees up again, only for a similar outcome!
Either she needs a bit more practice, or had a real grudge against one of the nearby fans.
Wes Patterson – World Long Drive Championship 2017
Wes Patterson might not be a overly familiar one to casual golf fans. However, back in September 2017 he certainly made a name for himself at the World Long Drive Championships, but not necessarily for the reasons he might have hoped.
On his fist attempt in the event, the former pro baseball player swung his driver with such velocity that it snapped clean in half on recoil. Things were bad enough for Wes, however his horror had not yet fully unfolded. His dismantled club continued on it's journey with some pace towards the grandstand to his side, giving a handful of spectators an almighty fright.
Andrew Loupe – Puerto Rico Open 2014
This one isn't quite as bad as the others but still frustrating for the golfer involved nonetheless. Andrew Loupe had just laid-up on the 16th green in the Puerto Rico Open, leaving himself a relatively straightforward two putt for par.
However, after his ball had come to rest, one of the course residents decided that it wasn't happy with where Loupe's ball ended up. The inquisitive (or hungry?) iguana proceeded to nudge the American's ball around the edge of the green before realising it wasn't lunch and scampering off into the undergrowth.
Richard Finch – Irish Open 2008
Winning your first few tour events is bound to be a major achievement for any golfer. And for Hull's Richard Finch, his second success on the European Tour probably sticks in the memory.
Coming home on the 18th hole in the Irish Open, Finch narrowly avoided the water hazard with his drive, coming to rest on the river bank leaving him a tricky, but not impossible pitch onto the green. Finch's approach shot onto Adare Manor's final hole was good in itself, but unfortunately for Finch, his momentum sent him stumbling backwards into the drink. All that was left was for him to hole out and pick up his winners trophy, albeit with slightly damp trousers!
Pablo Larrazabal – Malaysian Open 2014
Combining our last two clips of nature and water hazards is Pablo Larrazabal. In the 2014 Malaysian Open, the Spaniard was addressing his ball at the 14th hole when a swarm of hornets objected to him being there.
Despite Larrazabal attempting to swat the insects away with his sweater, they persisted. Encouraged to run by his caddie, he dumped his shoes and scorecard and took a plunge in one of the on-course lakes. It seemed to work as the hornets relented, allowing Larrazabal to birdie the hole en route to a four-under-par 68 – not before drying off and having a couple of injections to relieve the pain from more than 20 stings, that is.
Lee Trevino – Western Open 1975
As frightening as being attacked by a swarm of hornets is, Larrazabal has nothing on the ultimate golfing horror story endured by Lee Trevino back in 1975. The six-time major winner was seeking shelter from a heavy downpour under one of the trees on-course at the Western Open in 1975, when a bolt of lightning struck his umbrella.
The force was so strong that Trevino's heart even stopped, but the golfing Gods were evidently looking down on 'The Merry Mex'. Trevino himself summed it up perfectly; "It was a nice warm feeling. Evidently, I was gone. The electricity stopped my heart. When I woke up I was in pain. The doctor said if I hadn't had such a strong heart, I'd be dead."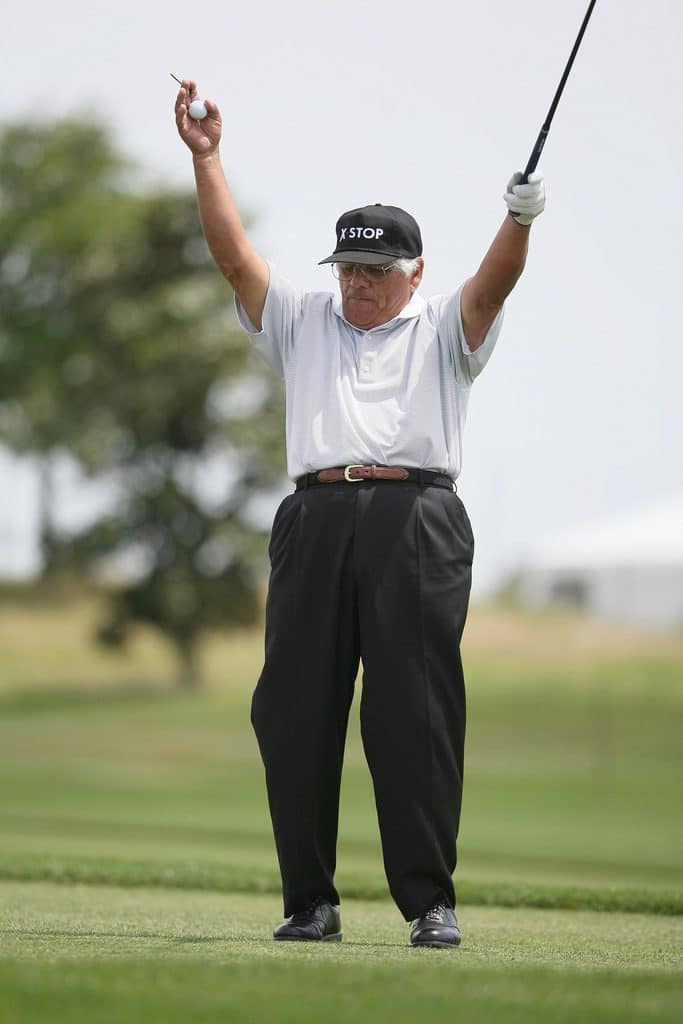 Although all of the golfers featured above lived to tell the tale with little more (Trevino aside) than a few scrapes and an air of frustration, it's not always so simple.
Accidents do happen on the golf course and protecting yourself and those around you as best you can is paramount. SportsCover Direct's Golf Insurance provides protection for personal accident, liability and equipment cover for golfers up and down the country. Get your quote and instant cover today.