Many Brits will be well aware of the high costs they must pay to travel around the UK by rail. Our latest research suggests that exploring the UK by train will cost you twice as much as similar journeys in 77% of other European countries. An average January price hike of 3.4% means that those using the British railways will have to now dig even deeper to get to their destinations.
What will be unsurprising to many is that the UK was found to be far and away the most expensive country to travel by rail in Europe. A journey from London to Manchester will set visitors back £82.90 if they pay on the day (more if they travel in peak time), a huge outlay for the 200 mile journey. Although that particular journey hasn't been affected by the latest rises, it still doesn't compare favourably with the rest of Europe.
We compared those costs with long distance journeys available in other countries on the continent. Germany (£3.34 per 10 miles travelled), Spain (£3.24 per 10 miles) and France (£3.16) were the only other nations to charge on average, more than 30p a mile.
ABOUT US
We have been providing specialist Sports Travel Insurance for over 25 years to UK citizens. Our comprehensive policy can protect you to take part in over 500 different sports and activities across the globe. Get an instant quote for Sports Travel Insurance online now! Some of our other products include Golf Insurance and Shooting Insurance.
How does that compare?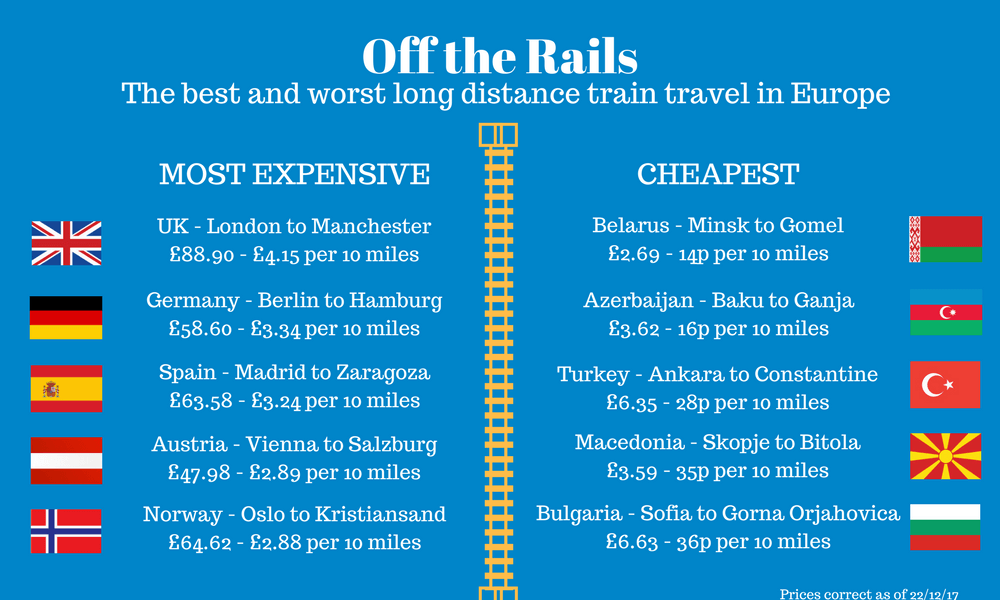 Comparing that to some of the cheaper countries around Europe doesn't improve the outlook. Of the 35 countries* that we investigated, Belarus came out top of the pile.
A 192 mile trip from the Eastern European capital of Misnk to Gomel, close to the Belarussian border with Ukraine, sets commuters back 7.27 rubles – just £2.69! At just 14p per 10 miles, you certainly get some bang for your buck when it comes to distance travelled.
With £2.69 in your pocket on these shores you aren't given much in the way of choice, and you certainly aren't going to get very far. You might opt for the two mile journey from Warwick to Royal Leamington Spa (£1.80) or maybe the one-and-a-half mile Yorkshire excursion from Dewsbury to Batley (£2.20). Whichever journey you decide to take, it won't last very long.
Other countries that put us to shame when it comes to pricing are the likes of Macedonia, Bulgaria and Serbia, all giving you the option to travel at a rate of less than 50p per 10 miles.
Looking at another country in Eastern Europe, Slovakia, shows our train fares in an even worse light. A 204 mile trip from Bratislava to the town Poprad, at the foot of the Tatras Mountains costs travellers a very fair £13.25 each-way. And with return airfares from London Stansted starting at just £40, you could fly out to Slovakia, undertake the 408 mile round-trip across the country, come home again and still have spent £16.40 less than a single from London to Manchester.
Time is money
What the UK does have in it's favour though, is speed. While we may berate the seemingly constant delays or engineering works, the British people are somewhat blessed when it comes to travel time.
The aforementioned London-Manchester journey is completed in around two hours. At just under 100 miles travelled per hour, that compares very favourably with other long-distance train journeys on the continent.
Of our sample, only the trains from Zaragoza to the Spanish capital Madrid (196 miles in one hour, 20 minutes), Paris to Nantes (236 miles – two hours, 15 minutes) and Rome to Florence (170 miles in one hour, 20 minutes) rank more favourably.
Spare for a thought for the folk of Moldova travelling up to the border town of Ocnita. The direct line takes a tiresome six hours to complete a journey of 173 miles.
Although most will be happy that the UK rail system moves a slight faster pace than that of most of Europe for that matter, costs remain a concern. The latest 3.4% rise in fares is the largest increase for five years and continues to put some journeys out of reach for some people.
Some journeys in the UK rose as much as 8% in January, an increase that will only serve to put the country further behind our neighbours on the continent when it comes to cheap rail fares.
*We compared long-distance journeys from all European countries where it was possible to travel at least 100 miles on a single train, without connections. Prices and conversions to GBP correct as of 22/12/2017. Prices stated are the cheapest available on-the-day price of the journeys selected.