Thinking of taking your bike with you on holiday? Here, in this blog we consider the pros and cons of different transportation methods.
Don't forget, however you travel with your bike, make sure that you get appropriate sports travel insurance for your holiday. SportsCover Direct offer a range of insurance options including Cycling Travel Insurance, so that you can have peace of mind and focus on your cycling.
Flying
The most popular way of getting away with your bike is by airline. The fact that it's the quickest mode of transport means that there is more time for cycling! The main drawback is the potential cost and hassle of taking a bike on a flight. Airlines have varying transportation policies e.g. maximum weight of bike boxes and pricing systems, which can not only be costly, but also confusing. Most airlines do not classify bike boxes as standard luggage, so you will have to add them to your booking as sports equipment. Some airlines, such as British Airways, allow your bike box to be part of your 32kg luggage allowance. So, say your bike box weighed 20kg, you can still take other luggage items to the weight of 12kg. Each airline has its own policy, so you will need to check this beforehand.
A risk when taking your bike on a flight is potential damage. Most airlines require you to pack your bike in a box or bike bag to protect it but there are often stories on social media about bikes being damaged on route. There are various types of bike bags and boxes on the market and to be honest you get what you pay for. Soft shell bags are cheaper than hard boxes but offer less protection. I use a 'Bike Box Alan' as it is very sturdy and gives me peace of mind. Even if you use a hard bike box it's wise to wrap your frame and wheels in packing material such as bubble wrap or copper piping insulating foam to avoid damage on route. A major drawback of taking your bike on a flight is that you will have to disassemble and then reassemble it. This can be stressful if you've never done it before but there are guides online which show you how to do this. Some bike shops hire boxes and if you pay extra will even disassemble and reassemble your bike.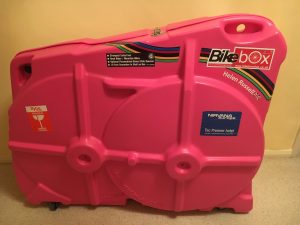 Pros
-Quickest form of transport
Cons
-Potential hidden cost of including bike in luggage
-Different airline policies can be confusing
-Risk of damage or loss of bike
-Having to disassemble and reassemble bike
Rail
It is possible to get to Europe with your bike via Eurostar. To travel with your bike, you need to book a space separately to your train ticket. You will need to book in advance and it costs from £30. You can't take bikes on all routes or trains but they can be taken on Eurostar trains between London, Paris and Brussels. Bikes can be carried either fully assembled or in a bike box but it is cheaper if you use a box. Of course, if you live outside of London you will need to check that your connecting train allows you to travel with a bike.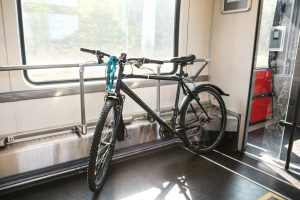 Pros
-Don't have to disassemble bike
-Comfort of rail travel
Cons
-Cost
-Not all routes take bikes
Bus
If you want to go to Europe, then bus is an option. Not all bus companies allow you to take your bike, but European Bike Express is a bike specific coach service that transports you and your bike from fourteen UK points to twenty-one points in France and Northern Spain. You can travel to, and return from one drop off point, or create your own itinerary with the opportunity to get off at any of the drop offs and be picked up at another point, as long as it coincides with the timetable.
The main benefit of this travel option is that you can travel with your bike fully assembled. The bikes are transported in a trailer at the rear of the coach – all you need to do is turn your handlebars 90 degrees to the left and ensure your front wheel mechanism can be released. Tandems and recumbent bikes are also permitted.
Pros
-Generally cheaper than flying
-Don't have to disassemble bike
Cons
-Takes longer than air travel
-Not all bus companies take bikes
-Potential discomfort of coach travel
-Limited destinations
Car
In theory the most convenient way to take your bike with you on your holidays is by car. You can simply step out of your front door and go with your bike wherever you wish! There is no worry about your bike being lost or damaged on route and you are free to choose your own route and itinerary. There are however a few drawbacks. With petrol, tolls and overnight accommodation on route, car travel can turn out to be very expensive. It is also risky to leave your bike in your car overnight, so check that you can take your bike into your hotel at night or that there is secure car parking. It can also be quite stressful driving overseas with unfamiliar roads and varying rules of the road. Be careful how long you spend behind the wheel, as your muscles won't thank you for riding big mileage after sitting down for hours in the car.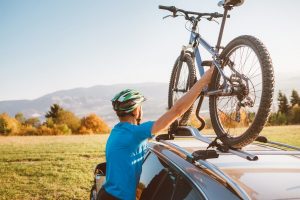 Pros
-Independence – can choose your own route and travel times
-Don't have to disassemble bike
Cons
-Surprisingly expensive
-Can be stressful
-Discomfort
Bike Hire
Of course, one option is to forget about taking your own bike and hire one at your holiday destination. This is my preferred method as it is totally stress free! Most bike hire shops have good quality bikes, including some top range carbon options. The main benefit is that you don't have to disassemble and reassemble a bike and if you have any mechanical issues during the week they can be fixed by mechanics at the shop. You might think that this is the most expensive option but often the hire cost is little more than the airline cost. The main drawback is that the bike won't be set up exactly as your own, which can cause discomfort. However, if you send your measurements to the bike hire shop in advance, they will usually set up the hire bike to your specifics, ensuring a comfortable ride. I would however recommend taking your own saddle and don't forget that if you wear cleat shoes you will need to take your own peddles. One thing that is often confusing when using a hire bike is that in many overseas countries the brakes are on the opposite side of the handles than in the UK. Be careful as sudden braking on the wrong side can lead to a dangerously sudden stop!
Pros
-Don't have to disassemble bike
-Mechanical support
Cons
-Bike won't be an exact fit to your own
-Different set up of bike, especially brakes
-Potential cost