Putting can be one of the trickiest parts of golf to get right, in no small part, because it demands care, precision and absolute concentration. But what makes it even more difficult is the fact that no two putts are ever the same.
Every hole on every golf course is different, as are the greens surrounding them. Whilst you might often think that the 12-foot putt you're lining up looks simple, the contours, surface and weather conditions are just some of the complex factors to take into consideration. That's why learning how to read golf greens is so important: it isn't easy to do, but it can make a major difference to your performance and your scores.
In this guide, we'll highlight some of the key tips around how to read a green, and how to go about putting them into practice on your next golf trip.
Key tips on how to read greens in golf
Ask 100 experts how to read golf greens and you'll probably get 100 different answers, based on their own experience and tips they've picked up over time. To try and give you a more general starting point, we recommend these five practices:
Start on the way there
Once your ball has reached the green, your reading should start straight away as you travel up towards the hole. Before you even reach the green, you'll be able to notice many of the undulations on the green, and start to take those into account. Walking tends to be better for this than driving or riding on a buggy, as you have more time to process what you're seeing.
More often than not, greens are higher behind the hole than they are in front of it, meaning that any approach shot that sits short of the pin will be hit uphill. This can be advantageous, as you'll need to hit them harder to counteract the slope, and won't run as much risk of a miss running too far away from you.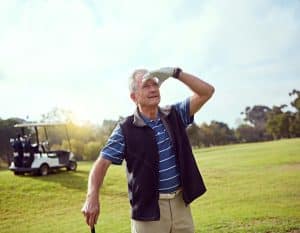 Read from behind the hole – and use your feet
It is always good practice to read from behind the hole, so that you can visualise the path the ball will need to take once you strike it with your putter. Depending on your mobility, try to get as low to the ground as you possibly can, so that you can get a better view of the ball's likely trajectory. While you might be tempted to read from multiple angles, this can quickly cause confusion, not to mention holding up other players unnecessarily.
It's also important not to neglect how valuable your feet can be in green-reading. The position of your feet as you stand can give you an idea on the scale of the gradient, helping you make a better judgement of how hard you need to hit the ball.
Choose your pace, but read the conditions
The two points above make things sound simple, but there are other external factors to consider, too. Surrounding conditions can play a major role, such as the weather on the day (in terms of both wind and precipitation), the type of grass the green is made up of, and how it's designed. There are also highly local characteristics you can pick up on individual courses, too, so take any chance you can get to glean information off the course regulars.
Don't forget to account for the grain of the grass, too. A down-grain putt means the grass lays in the direction you'll be putting, which reduces the resistance the grass will offer the ball, meaning it will run faster. Look for a lighter-coloured and shinier surface to work out if grass is laying down-grain or not.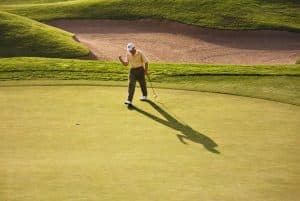 Develop a routine
As you develop a tried-and-tested routine for your drive off the tee, you should work just as hard on a similar process for your putting too. All of the points above can be incorporated into that routine, and spending some time on the practice putting green is worthwhile, so you can refine a strategy that is simple, easily repeatable, and that works for you.
Once you've got that routine in place, it's important to try to stick to it as much as possible. In particular, you should trust your gut feeling when you take your initial read, and not try to read a second time, because indecision will then creep in and ruin your confidence in your shot.
Learn from your playing partners
One of the great things about golf is that it's a constant search for perfection, and that there are always new things to learn, whatever your current ability. So, when you develop your putting routine, keep your mind open to new ideas you can incorporate, especially by observing your playing partners. They may well be able to read a green in easier or more accurate ways than you, and you can pick up vital information by keeping an eye on their routines.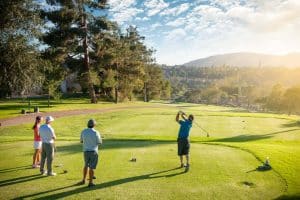 Putting these tips into practice on a golf trip insured by SportsCover Direct
If you're looking forward to perfecting your putting routine on your next golf trip, make sure you don't travel without wide-reaching insurance cover. From making sure you're compensated if your clubs are lost or damaged in transit, to covering you for liability if you strike someone with your ball, there are lots of different areas of cover worth pursuing for golfing at home and abroad.
At SportsCover Direct, we offer a comprehensive range of golf insurance options, including, but not limited to, personal liability, professional indemnity, 24/7 equipment cover. Take a closer look at our offerings and compare golf insurance, for golfers of all abilities, available from as little as a few pounds a month.